427610
3-delige tangen set
160 mm
---
---
Geharde en getemperde kaken
Geharde knipranden
Gevormd handvat met antislip bescherming
Langbektang, combinatie- en zijsnijtang
Lengte 160 mm
---
Koop online
Vind een handelaar
Beoordeel dit product
10 review(s)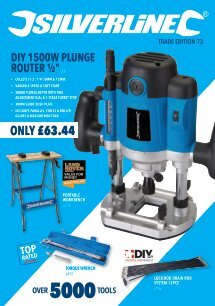 ---
Product specificaties
| | |
| --- | --- |
| Afwerking | Geolied |
| Capaciteit - kaak | 20 mm, 25 mm, 44 mm |
| Gehard | Inductiegeharde snijranden |
| Gewicht | 0,148 kg, 0,185 kg. 0,218 kg |
| Materiaal - secundaire constructie | Plastic |
---
Product beschrijving
Langbektang, combinatie- en zijsnijtang. Geharde en getemperde kaken met geharde knipranden. Gevormd handvat met antislip bescherming. Set bevat langbektang, zijsnijtang en comnbinatietang.
---
Doos inhoud
Combinatietang
Zijsnijtang
Langbektang
---
Klanten reviews
Door: Ian B
2020-03-28T00:00:00
Ordered a set of 3 pliers as i needed a new pair of side cutters. Amazing quality for 3 tools at less than 8 quid. Cutters are accurate and close together perfectly. Pliers seem to be of good quality and jaws close nicely. Recommended.
---
Door: Barry D
2020-03-20T00:00:00
Brilliant set of pliers, side snips are so sharp and cut so clean, good quality set
---
Door: Sergejs N
2020-03-01T00:00:00
---
Door: Toni R
2019-08-15T00:00:00
Good quality set with low cost and comes with a lifetime warranty! What more can basic diyer ask for!
---
Door: Martin H
2019-08-05T00:00:00
Very reasonably priced and very good quality. They do what they are made to do.
---
Door: Felipe C
2019-05-02T00:00:00
I bought the 3 piece set for a small DIY project (and as an excuse to start recomposing my toolbox after moving across the Atlantic) and was positively surprised by the product quality. Of course it will take a few years to be able to attest its durability and sturdiness, but so far I can say that I am completely satisfied with the product.
---
Door: Ethan B
2019-01-17T00:00:00
Brilliant product with lifetime warranty ande will buy again
---
Door: David S
2018-12-21T00:00:00
Great value.....they do exactly what they''re supposed to at a reasonable price.
---
Door: Keith V
2017-06-12T00:00:00
I purchased this set of pliers to replacement for others that I have used for many years and worn out. these pliers and side cutters are comfortable to hold with the blue handles. An added incentive in buying this set is the lifetime guarantee, which shows the confidence that Silverline place on the tools they make. I always look for Silverline before any other makes. Thanks Silverline Tools.
---
Door: Thomas F
2017-03-03T00:00:00
Bargain price, but high quality.