633957
Katrolset
180 kg
---
---
19,8 meter koord op 2 stalen, zinkgecoate runners
180 kg max takelcapaciteit
6:1 mechanisch voordeel
Takelhoogte 3,1 m
Sterk & betrouwbaar
---
Koop online
Vind een handelaar
Beoordeel dit product
13 review(s)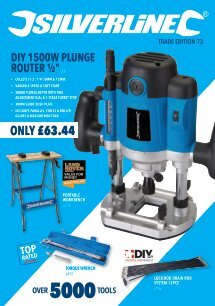 ---
Product specificaties
| | |
| --- | --- |
| Capaciteit - hijsen | 3,1 m |
| Afwerking | Verzinkt |
| Hoofdruimte | 300 mm |
| Testlast | 2 x SWL |
| Capaciteit - gewicht | 180 kg |
| Materiaal - haak | Verzinkt staal |
| Gewicht | 0,55 kg |
---
Product beschrijving
Katrol set met een maximale hijscapaciteit van 180 kg. 19,8 meter koord op 2 stalen, zinkgecoate runners. 6:1 mechanisch voordeel.
---
Doos inhoud
2 x koppelingen
1 x koord
1 x touwstop
1 x veiligheidsblad
1 x katrolwielen
---
Klanten reviews
Door: Rob R
2017-07-25T00:00:00
I have two challenges as grow older: where to store things and how lift them into the space! The cable pulley set is the perfect answer one of these problems. It was ideal, not expensive and not over engineered. A simple straightforward toolkit!
---
Door: Lance W
2017-05-16T00:00:00
Bought to life heavier items in the loft. Works brill - easy to fit. Would have been useful if the set contained and carabineer
---
Door: B. v
2020-05-27T00:00:00
You get what you are, quick and easy. And it''s value for money...
---
Door: Heather S
2020-05-17T00:00:00
Does the job well and excellent value for money. Would recommend
---
Door: Peter W
2020-05-07T00:00:00
An excellent pulley for what I needed getting items into my loft rather than trying to man handle them up or down through a hatch, I load them in a bucket and lower or raise them without worry of something falling on my head. Obviously I'm not using this for heavy items so just to reduce trips up and down a ladder or awkward items. I have replaced the supplied rope with some better 4mm para cord for easier use, hence the loss of a star but very happy with the purchase.
---
Door: Gary A
2020-03-13T00:00:00
Really well made and robust 6:1 ratio manually pulley. Was delivered ready to use and worked brilliantly. Made light work of what could have been a difficult job. Follow YouTube link to see pulley in action. https://youtu.be/MZ1cE2_zG9I
---
Door: J B
2020-02-02T00:00:00
Used to lift heavy fence panels into slotted posts.
---
Door: Clive P
2019-12-26T00:00:00
This was an excellent purchase - very good price and good quality. Doers the job well.
---
Door: Ashley H
2019-12-05T00:00:00
This is an excellent bit of kit. It is great value for money and fulfilled my expectations.
---
Door: Alan F
2019-10-12T00:00:00
I had to lift new loft boards into my roof (2.4M x 0.60M) which ordinarily I would have managed, but I now have osteoarthritis and basically can''t do much especially lifting. So I set the pulley into the roof off the ''A'' frame, made a sling to fit the lower end of the board, and using the ladder to the loft like a chute, I hoisted away. The pulley was superb and they went up easily with guidance. At a certain point they flipped down in to the roof space, so all I had to do was remove the sling and push the boards into position. It made my day, as initially I wondered how I was going to get them up there, but saw the pulley set by chance and that gave me the idea of how to do it. Thanks for a brilliant product. Highly recommended.
---
Door: Ken B
2019-07-28T00:00:00
The pulley system works well and is excellent value for money.
---
Door: Steve R
2019-01-12T00:00:00
Used two of these pulley sets to lift a Myford Super 7 lathe from its base and lowering to a wheeled trolley for removal to another workshop. I built a timber frame of two posts at each end of the machine font and back. I cut pockets into these with a Forstner bit and set steel bars into these then attached the pulley set onto these and lifting straps onto the lathe. This was then lifted and lowered by myself. Only point to watch out for is to make sure all the rope is untangled before use. Lifted a lot easier than I thought it would.
---
Door: Matthew
2018-11-03T00:00:00
I purchased this to lift a 6 max tent (30kg) into the loft space of my garage. I needed to buy a "Ceiling Wall Mount Hook Heavy Duty Anchor Diamond Pad Eye Plate" with a ring (https://www.amazon.co.uk/gp/product/B079JW8Q9H) to secure it to a joist in the roof space. The cable pulley attached to the ''ring'' of the eye plate perfectly. I also used a Carabiner to attach the pulley to the thing I wanted to lift up, my tent! The rope is fine, but I see why some people complain, it just gets tangled in itself, not with the pulley system, but just with its own length. The rope length is perfect for lifting from the floor into a loft space one story up. I''d happy recommend this product.