675062
Pneumatische spijkermachine, 32 mm
18-gauge
---
---
Lichtgewichte spijkermachine met een soft-grip, rubberen handvat
Inclusief 1/4" mannelijke snelkoppeling
Veiligheidsmechanisme voorkomt accidentele afvuring
Geschikt voor 18-gauge, 10-32 mm spijkers
Ideaal voor secundair bevestigingswerk
---
Koop online
Vind een handelaar
Beoordeel dit product
4 review(s)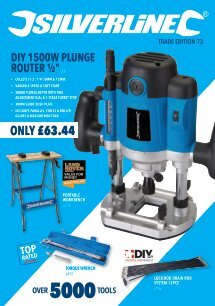 ---
Product specificaties
| | |
| --- | --- |
| Luchtverbruik | 4 - 5 cfm |
| Koppeling formaat | 1/4" snelkoppeling |
| Hoofdhandvat afwerking | Rubber |
| Materiaal - secundaire constructie | Aluminium tacker |
| Gewicht | 1,089 kg |
---
Product beschrijving
Lichtgewichte spijkermachine met een soft-grip, rubberen handvat en een veiligheidsmechanisme. Ideaal voor secundair bevestigingswerk. Voor het afvuren van 18-gauge (10-22 mm) spijkers. Inclusief 1/4" mannelijke snelkoppeling.
---
Doos inhoud
1 x pneumatische spijkermachine, 32 mm
1 x 1/4" snelkoppeling
---
Klanten reviews
Door: Ramon b
2019-01-05T00:00:00
The silverline minibradnailer is an amazing tool. I havn''t had a singel problem with it.
---
Door: Finn K
2017-03-25T00:00:00
I would recommend this tool to anyone who wants a value for money nailer. It may not be finest nailer on the market, with tool free adjustment on the body. But it''s not real haste to change the pressure of the airline to dial in the power. If you are looking for a robust tool that is fit for purpose at an amazing good price then this is the tool for you. I've been using it for a couple of weeks and I can''t complain about anything. It is supplied (but not fitted) with a PCL 19 connector which doesn''t suit the rest of my setup so I fitted a High Flow 25 connected which was a breeze.
---
Door: Krzysztof P
2016-11-20T00:00:00
Quite compact but capable of doing the job. So far tried firing few 15mm nails into different woods and worked just fine. Users manual is a joke. Not a single word how to load nails, how to lubricate the tool (oil included which is a plus) so no good for newbies. Can''''t tell about reliability as just did few nails to test compressor and the gun. Overall looks very good for the price except the manual.
---
Door: Brian M
2016-09-27T00:00:00
I have quite a few SILVER LINE TOOLS and find them generally speaking good value for money. This etem has been working well untill now and just allow air to escape in the body as though a seal is giving out. I have added oil as advised and some times this corrects the faul. Any advise would be helpful