845318
9-delige elektrische soldeer set
100 W / 30 W
---
---
100 W soldeerkit voor gebruik op kabels en plaatmetaal
30 W soldeerbout met fijne kop voor precisie werk
Voor elektronica, huishoud en autobedrading
Inclusief: soldeerhouder, harsfluxvet, soldeerdraad, soldeerverdeler, desoldeerpomp,
reserve soldeerpunt en magnetische hulphand met vergrootglas
---
Koop online
Vind een handelaar
Beoordeel dit product
8 review(s)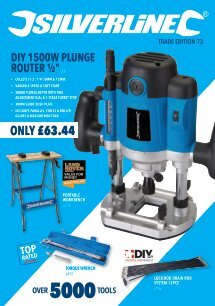 ---
Product specificaties
| | |
| --- | --- |
| AC bereik | 220 - 250 V |
| Snoerlengte | Soldeerbout: 1200 mm, soldeerpistool: 500 - 550 °C |
| Temperatuurbereik | Soldeerijzer: 390 - 450 °C, soldeerpistool: 500 - 550 °C |
| Bereik | 390 - 450 °C |
| Materiaal - punt | Nikkel geplateerd koper/nikkel geplateerd ijzer |
| Gewicht | 1,988 kg |
---
Product beschrijving
100 W soldeer set voor gebruik op kabels en plaatmetaal. 30 W soldeerbout met fijne kop voor precisie werk. Voor elektronica, huishoud en autobedrading. Temperatuur bereik van het soldeerbout: 390-450 °C, soldeerpistool: 500-550 °C. Inclusief: soldeerhouder, harsfluxvet, soldeerdraad met verdeler, desoldeerpomp, extra soldeerkop voor het soldeer pistol en een volledig verstelbaar hulphand met vergrootglas. Dit alles in een sterke draagkoffer.
---
Doos inhoud
1 x soldeerbout
1 x verstelbaar hulphand
1 x soldeer zuiger
1 x harsfluxvet
1 x soldeerpistool
---
Klanten reviews
Door: Jay A
2020-05-06T00:00:00
I have only used this product ones, haven''t got an issue with it. It has great reviews on amazon and haven''t got anything wrong so far
---
Door: Zvonimir g
2020-03-20T00:00:00
Well made.very strong..hoping it will.last
---
Door: Adrian R
2019-11-08T00:00:00
I wanted a boxed kit to replace an old set that i kept together in a carrier bag. This is neater and has everything needed for many varied jobs. I looked at many and found this to be the best all round set at a reasonable price. Exactly what I wanted. Perfect.
---
Door: brian b
2017-01-18T00:00:00
ideal little kit for d.i.y , modelling and some larger jobs also great that everything you need is in one box
---
Door: Benjamin C
2016-10-11T00:00:00
For the first 2 uses of the soldering iron... it worked perfectly, however it stopped functioning after that use.
---
Door: david
2016-10-03T00:00:00
I PURCHASED THIT ITEM ,AND IT WORKS BRILLIANT ,THE QUALITY OF THIS IS EXCEPTIONAL IT IS A 1000 X BETTER THAN THE LAST KIT I BOUGHT AND I HAVE ALLREADY GOT THE PURCHCHASE PRICE BACK WITH THIS 10 X OVER BY NOW IT IS A TRULY PROFESIONAL KIT THAT IS SO EASY TO USE AND OPERATE ONLY ONE REGRET. I SHOULD HAVE BOUGHT THIS KIT INSTEAD OF THE LAST ONE I PURCHASED AS THE OTHER WAS RUBBISH, I AM DELIGHTED WITH EVERYTHING IN THIS AMAZING KIT, I WILL STICK TO THIS BRAND FROM NOW ON , AS I HAVE PURCHASED OTHER ITEMS FROM THIS BRAND FROM SHOPS AND EVERYTHIG IS GREAT IT DOES EVERYTHING YOU COULD WISH FOR ,THANK YOU FOR SUCH FANTASTIC PRODUCTS AT SUCH A FANTASTIC PRICE I DONT KNOW HOW YOU DO YOUR PRODUCTS SO CHEAP AND AT SUCH OF EXCEPTIONAL QUALITY, DONT GET SECOND BEST ,(BUY THE BEST THIS PRODUCT
---
Door: andrew h
2016-09-26T00:00:00
Great kit, every thing you need
---
Door: Paul R
2016-08-31T00:00:00
Everything so far that had been purchased far exceeded my and others expectations, to the point where you say to yourselves ''who needs Snap on '' 😆