868544
Pneumatische spijkermachine, 50 mm
18-gauge
---
---
Lichtgewichte aluminium behuizing met soft-grip handvat
Veiligheidsmechanisme voorkomt accidentele afvuring
Voor 18-gauge (10-50 mm) lange spijkers
Ideaal voor verschillende werkzaamheden
Max. werkdruk: 7,5 bar (108psi)
---
Koop online
Vind een handelaar
Beoordeel dit product
32 review(s)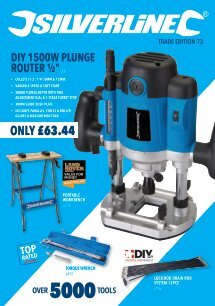 ---
Product specificaties
| | |
| --- | --- |
| Luchtverbruik | 4 - 6 cfm |
| Koppeling formaat | 1/4" snelkoppeling |
| Hoofdhandvat afwerking | Rubber |
| Materiaal - secundaire constructie | Aluminium tacker |
| Maximale druk | 7,5 bar |
| Gewicht | 1,2 kg |
---
Product beschrijving
Lichtgewichte aluminium behuizing met soft-grip handvat. Veiligheidsmechanisme voorkomt accidentele afvuring. Voor 18-gauge (10-50 mm) lange spijkers. Ideaal voor het werken met sierlijsten, plinten, panelen, laminaatvloeren, etc. Inclusief 1/4" snelkoppeling. Werkdruk 7,5 bar.
---
Doos inhoud
1 x pneumatische spijkermachine, 50 mm
1 x 1/4" snelkoppeling
1 x pneumatische olie
2 x zeskantsleutels
1 x instructie handleiding
---
Klanten reviews
Door: bouamar
2020-03-20T00:00:00
---
Door: Jim B
2020-02-09T00:00:00
The title say`s it all, lightweight very well made and easy to load and use . It makes woodworking so much easier, wish I had bought one years ago.
---
Door: Usman K
2019-12-18T00:00:00
I''ve has the pleasure of using this Brad mailer for a kitchen refurb project and say it works beyond expectation. The build feels solid with it''s full aluminium body but is still incredibly light. I''ve put in hundreds of nails with not a single misfire. I have however ended up nailing without any nails in the gun with it being so fast and efficient with its work. It would be a bonus to include some sort of indicator though I feel this would be difficult while maintaining this excellent products price point. Would buy again and again!
---
Door: CHRIS P
2019-12-08T00:00:00
Hi i own a few silverline tools ,they have never let me down and have a very good build quality at a very keen price range, the brad nailer was bought for general use round the house and has worked superbly well with no issues.
---
Door: Jortijn
2019-11-10T00:00:00
Just bought a 50mm air gun it is brilliant easy setup and just works. It would be great if it would have depth adjustment but well worth the money.
---
Door: Harry
2019-11-10T00:00:00
Excellent product.Very robust & does the job.A+++
---
Door: Harry T
2019-11-03T00:00:00
Great product.Would recommend.Value for money.A+++
---
Door: Mora F
2019-07-11T00:00:00
Sono rimasto piacevolmente colpito dalla robustezza e leggerezza di questa sparachiodi, davvero molto facile da usare e mantenere...a 4 bar pianta i chiodi da 5 cm completamente senza sbagliare un colpo e non segna il legno Mi ritengo davvero soddisfatto dell''acquisto
---
Door: Jeremy m
2019-06-24T00:00:00
Really great nailer, great price, very happy with perchase.
---
Door: Fred M
2019-05-31T00:00:00
It is one of the best fool i have got in a long time the price is very good for what you get buy one today worth every penny
---
Door: Earl W
2019-04-29T00:00:00
Excellent bit of kit for the price, would definitely recommend
---
Door: gary j
2019-04-24T00:00:00
i have only had this tool for week or so and have only tested it on a couple of bits and works great. i bought this because of the reviews on youtube and internet sites. up to now great tool and will surely love working with it rather than electric nailer
---
Door: Justen
2019-04-10T00:00:00
What''s to say? I wish I''d bought one of these years ago... Only fired a 100 or so nails so far but no issues yet. Simple to load and use. Running it of an Aldi 24L compressor and it powers them into hard wood no problem. Now thinking of getting the 90mm framing nailer too....
---
Door: Mike W
2019-01-06T00:00:00
Bought the nailer for £20 from Amazon as I needed one for a few basic projects, nothing heavy. I only have a small (10 litre) compressor but it works great with it. I followed the instructions and attached the quick release adaptor with PTFE tape and there are no leaks at all. I haven''t had the gun long but it performs faultlessly, indeed I cannot imagine the ones that are three times the price are three times as good. After all, it fires nails so what more do you want. The gun will happily fire 50mm brads through pin and the nails will sit just under the surface of the wood, which is ideal for sanding. Overall you just can''t beat it for the price.
---
Door: Stephen B
2018-11-22T00:00:00
Excellent air nailer comes complete with fitting and uses nice range of nail sizes
---
Door: JOHN R
2018-10-30T00:00:00
Worked perfectly straight out of the box. Only used with 35mm brads but tried on a range of materials and worked better than expected. At this price you can''t go wrong. I would confidently recommend to a friend.
---
Door: Ben H
2018-07-05T00:00:00
For how much this Brad nailer costs. It is worth every penny. It feels good in the hand. Works with no issues. If anyone is on the fence about buying this I''m here to say DO IT. it''s hardly anything in cost and with the length of warranty you receive. What''s to loose?
---
Door: Chris D
2018-05-22T00:00:00
Read the reviews online and was a bit worried about buying this, but I needn''t have worried. I have only used it a hand full of times but haven''t experienced any issues. Have used 25mm and 38mm brads so far and drives them in as it should. Nice to have the 1/4" male adapter supplied and not the shorter euro adapter.
---
Door: Darren B
2018-04-13T00:00:00
Great little second fix nail gun worth every penny, not had any issues with it and have been using it a full two weeks and don't know how I've been living with out it for so long.
---
Door: Jon S
2018-04-02T00:00:00
Jon - Does exactly what it says on the tin, its a cracking little brad nailer for the price and when you consider the three year warranty its a belting deal - Wish Id bought one sooner.....
---
Door: Mr E
2018-03-26T00:00:00
10 out of 10 Just used on my fence and saved hours with a hammer
---
Door: Paul T
2018-02-19T00:00:00
I needed a low cost air nail gun for 18g pins. I did not want to spend hundreds on a top of the range expensive make pin gun so I bought this Silverline model. I was really surprised at how well this works. The only thing missing is a nail depth stop. The method of adjusting the depth of the nail is by adjusting the air pressure. I have used a range of pins from 19 to 50mm with great results. This seems well balanced and very quick to use.
---
Door: Leslie w
2017-11-13T00:00:00
Brilliant tool first class, would recommend this to anyone!!!!
---
Door: Robin R
2017-06-17T00:00:00
Great piece of kit,works well and easy to operate.So far so good.
---
Door: MaRic
2017-05-11T00:00:00
Great excellent quality product that has nothing to fear from the more high-end brands offered at a price that is more than good. Used already to shoot over 500 nails, never a jam. On soft woods adjust the compressor pressure to 4 atmospheres and the safety foot to the minimum height. Really satisfied.
---
Door: Garry R
2017-05-11T00:00:00
Great,Awesome nailer !push your nail into wood plank like fondling butter,so light and handy forget about your manual hammer and get this one for all your homework and projects!
---
Door: jason p
2017-04-21T00:00:00
excellent bit of kit easy to use well worth buying this product
---
Door: Angelo V
2017-03-21T00:00:00
I am very satisfied. Excellent product
---
Door: Alasdair T
2017-03-09T00:00:00
I bought this nailer to go with my new compressor, and I''m amazed. It''s hard to believe that you can buy such a solid tool for the price - a little oil every so often and it hasn''t let me down once. I bought it for building my shed but it''s made the job so much easier than I thought, I''m even considering doing sheds as a sideline! Excellent
---
Door: Phil W
2016-09-26T00:00:00
This saves me so much time &amp can leave hands free when fixing light panel work. Good quality tool at a reasonable price.
---
Door: Kevin M
2016-09-05T00:00:00
Does the job. Very happy.
---
Door: Philip R
2014-06-26T00:00:00
I bought this for just over £17 along with a selection of the brads as I have an electric nailer that uses the same up to 32mm. Have used this with the 50mm brads and its fantastic. set the pressure to mid range and wow fired the 50mm nails into studding hardly leaving a mark. Definitely recommend this tool and will be buying the larger version.