868596
1/4" lamellenfrees
Nr. 10 en 20
---
---
TCT snijranden
Sterke, gehard stalen schachten
Dubbele fluit voor een fijne afwerking.
Voor het frezen van gleuven en groeven
Max. 12.000 min-1
---
Koop online
Vind een handelaar
Beoordeel dit product
6 review(s)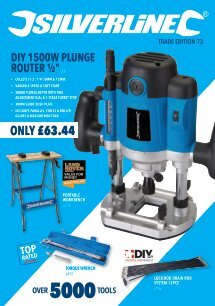 ---
Product specificaties
| | |
| --- | --- |
| Max. toerental | 12.000 min-1 |
| Constructie methode | Gepolijst, gefreesd en gesoldeerd |
| Frees bit afmeting - B | 1/2", 3/4" |
| Frees bit afmeting - C | 5/32" |
| Frees bit afmeting - D | 1 5/8" |
| Afwerking | Geverfde fluit, gepolijste schacht, droge roestbestendige coating |
| Gehard | Ja |
| Gewicht | 0,036 kg |
| Materiaal - secundaire constructie | Hardmetaal YG8 |
| Schacht lengte | 40 mm |
---
Product beschrijving
TCT snijranden. Sterke geharde stalen schacht. Dubbele fluit voor een fijne afwerking. Voor het frezen van gleuven en groeven. Max. 12.000 min-1. Gebruik 13 mm lager voor nr. 20 lamellen en 19 mm lager voor nr. 10 lamellen.
---
Doos inhoud
1 x 1/4" lamellenfrees nr. 10 en 20
1 x 1/2" lager (bevestigd)
1 x 3/4" lager
---
Klanten reviews
Door: Alessandro
2020-01-27T00:00:00
I bought it because one of the most renowned brands in my possession has lost its sharpening. I was very impressed with the quality. I use it often and I''m very happy with the purchase, but I''m even happier to have discovered a new partner for my hobby. Thank you, see you soon
---
Door: conrad k
2018-12-01T00:00:00
Excellent little cutter works at lower price compared to some of the more expensive cutters
---
Door: Mr D
2017-11-25T00:00:00
Excellent value for money with the added bonus of the extended guarantee, can''t go wrong. I would definitely recommend. AA++
---
Door: Dylan J
2017-02-17T00:00:00
I needed to add buscuits to a worktop but couldnt justify buying a Jointer. So, I bought this little bargain and a bag of No 20''s. Line up the work and witness mark both items. Set the router depth. Carefully enter the work at those points. About 1/2" ech way. Then its done. Ideal for worktops where you already have your Router out. The recesses were perfect. Not sloppy, nice push fit with your fingers.
---
Door: Teddy
2016-09-27T00:00:00
Great piece of kit, wish I had bought this sooner
---
Door: David
2016-08-30T00:00:00
The biscuit cutter is a solidly build tool which, if you have a decent router/router table will allow you to cut accurate biscuits. It is easy to adjust