871414
Magnetische gereedschapsschaal
150 mm
---
---
Hoogwaardig roestvrijstaal
Voor het opbergen van bouten, moeren, schroeven en kleine stalen onderdelen
Zachte onderzijde laat geen markeringen achter
---
Koop online
Vind een handelaar
Beoordeel dit product
12 review(s)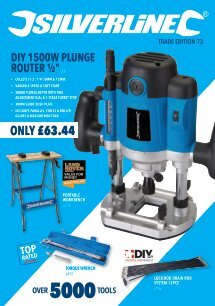 ---
Product specificaties
| | |
| --- | --- |
| Afwerking | Gepolijst roestvrijstaal |
| Materiaal - secundaire constructie | Magneet met rubber coating |
| Gewicht | 0,297 kg |
---
Product beschrijving
Roestvrijstalen schaal met zachte onderzijde. Voor een stevige bevestiging op ijzerhoudende oppervlakken zonder het achterlaten van markeringen.
---
Doos inhoud
1 x magnetische gereedschapsschaal
---
Klanten reviews
Door: Paul D
2022-10-05T00:00:00
Door tijdens de demontage van elektrische toestellen de schroeven in het magnetische schaaltje te leggen, zijn er bij de terug montage geen schroeven kwijt: er vallen er nu ook geen meer op de grond, dus zoekwerk gespaard. Door de grootte van deze schaal kan je ze ook vlot schikken: bovenaan, links-rechts, onderaan. Zo vind je snel de juiste schroef terug bij montage.
---
Door: Laurence
2020-06-11T00:00:00
Does what it must do. Strong magnet and good size
---
Door: Nicholas R
2020-05-31T00:00:00
I've been using this magnetic bowl for quite some time now and it's been so useful on keeping all of my screws together. Skipped a few mini heart attacks with this thing
---
Door: Robert L
2018-09-13T00:00:00
Great product and does the job well. Would recommend
---
Door: Pablo S
2018-04-25T00:00:00
Una bandeja muy útil y que te da un salto de calidad en tus trabajos. Todos los tornillos siempre a mano. Se pega en cualquier lado incluso boca abajo y tiene suficiente fuerza para sujetar varias herramientas.
---
Door: david e
2018-03-03T00:00:00
a must for keeping screws, washers, bolts altogether in one place no hunting for the missing screw
---
Door: Miroslaw
2017-09-27T00:00:00
This is pretty much a perfect execution of a simple idea. The tray looks surprisingly good, the magnet is very strong and the overall quality is superb - not at all what I expected considering the price.
---
Door: Gilles P
2017-01-20T00:00:00
---
Door: Gilles
2017-01-13T00:00:00
Regarding to the price, this tray is excellent and very useful
---
Door: Rafael N
2016-11-11T00:00:00
This tray is great. The magnet is very strong and you can put it over any metallic surface without marking it thanks to its rubberized base. You will never lose a bolt again!
---
Door: Simon H
2016-10-10T00:00:00
Great quality. Decent size and high sides on the bowl. Rubber protection on the magnet is good. The magnet also is very strong holding nuts and bolts well and the dish itself to the car body etc. I haven''''t lost any nuts, bolts, sockets or small tools since I''''ve had it!
---
Door: Terry
2016-08-30T00:00:00
I bought this because I had a bolt, and then I didn't, it fell in a place too much hassle to get at so I went and paid LandRover silly money for a new one. This tray grabs the wing of the car with a strong grip, paint work is protected by a layer of rubber it then firmly holds (or it would have if I'd bought it before starting the job) the bolt until needed. Its a great bit of kit, very strong and very shiny, its stuck on my fridge door right now. When you get one you'll wonder how you managed without it.