951855
2400 W haakse slijpmachine 230 mm
2400 W
---
---
Krachtige 2400 W haakse slijpmachine met zachte start
Draaiend hoofdhandvat voor optimale hantering en 2-positie hulphandvat
Voor het slijpen, snijden & schuren van metaal, steen en beton
Te gebruiken met komborstels, en wielen voor een snelle roestverwijdering
Inclusief slijp- en snijbeschermkappen en pinsleutel
---
Koop online
Vind een handelaar
Beoordeel dit product
11 review(s)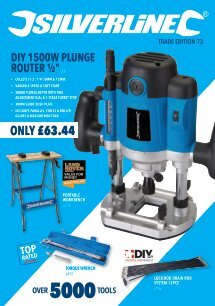 ---
Product specificaties
| | |
| --- | --- |
| Blad diameter | 230 mm |
| IP waardering | IPX63 |
| Zachte start | Ja |
| Draad formaat | M14 |
| Slijp formaat | 230 mm |
| Vermogen | 2400 W |
| Onbelaste snelheid | 6000 min-1 |
| Gewicht | 4,5 kg |
---
Product beschrijving
Krachtige 2400 W haakse slijpmachine met zachte start. Draaiend hoofdhandvat voor optimale hantering bij slijpen en snijden. 2-positie hulphandvat. Soft-grip voor minimale trilling en comfortabel gebruik. Gemakkelijke toegang borstel covers. Voor het slijpen en snijden van metaal, steen en beton. Te gebruiken met komborstels, en wielen voor een snelle roestverwijdering. Inclusief slijp- en snijbeschermkappen, pinsleutel.
---
Doos inhoud
1 x 2400 W Haakse slijpmachine, 230 mm
1 x Slijpbeschermkap
1 x Snijbeschermkap
1 x Draadflens
1 x Binnen flens
1 x Hulphandvat
1 x Pensleutel
1 x Handleiding
---
Klanten reviews
Door: LES
2019-07-25T00:00:00
Used extensively over the past 2 weeks and would highly recommend to the odd jobber! Easy to use, efficient and a great price -just the job..
---
Door: David
2019-06-21T00:00:00
Excellent well balanced grinder. Nice soft start and not too heavy. Would recommend as a great DIY tool.
---
Door: Jimmy n
2019-06-06T00:00:00
It''s the Rolls Royce of angle grinders
---
Door: Jimmy n
2019-05-29T00:00:00
The angle grinder is perfect.....a nice tool to work
---
Door: Scott G
2019-04-26T00:00:00
Great tool does what it says on the box. It's niceband powerful.
---
Door: bennie w
2017-10-08T00:00:00
een zeer goede haakse slijper voor een scherpe prijs
---
Door: MICHAEL G
2017-04-18T00:00:00
GREAT TOOL (LOCKABLE HEAD) WITH THE CORRECT DISCS FOR THE JOB IT CUTS MASONRY LIKE A KNIFE THRU BUTTER! LOVE IT....
---
Door: C B
2017-04-15T00:00:00
Very convenient and an excellent replacement for my old machine. Very good value for money
---
Door: Frederick W
2017-04-10T00:00:00
A first class article. It has done the job for which it was purchased with ease. Very comfortable to use. I just wish that the flex was a little longer.
---
Door: Harry B
2017-03-05T00:00:00
I''ve only just got this so I haven''t any long term experience, but it feels really solid. The smooth start is slower than some others, which I like as it puts less strain on the windings and gears. I am impressed with the two guards. I normally will only be using the cutting guard, but there is a chance that the job I''m working on at the moment will require some grinding so it''s really useful to have the guard available for it. The revolving handle seems a very smooth action compared to other I have used. It comes with a spare pair of brushes - I hope I get the chance to use them - every other angle grinder |I''ve had has worn out or broken before the brushes needed replacing. The key for changing the blade is good and solid. All in all a well made piece of kit, and a three year warranty gives a lot of confidence.
---
Door: Anjam a
2017-02-25T00:00:00
The tool is easy to handle as well as I was very impressed with how you can rotate the handle from left to right. Also like the soft start.