PL52
Krimp- en striptang
230 mm
---
---
Gehard staal
Kabels strippen van 0,75, 1,0, 1,5, 2,5, 4,0 en 6,0 mm2
Geïsoleerde krimpen van 1,5, 2,5 en 6 mm2; niet-geïsoleerd 1,5, 2,5 en 4,6 mm2
Bout afmetingen M2,6, 3,0, 3,5, 4 en 5
Inclusief draadsnijder
---
Koop online
Vind een handelaar
Beoordeel dit product
4 review(s)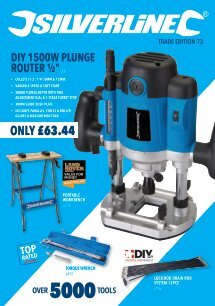 ---
Product specificaties
| | |
| --- | --- |
| Functie 01 | Kabels strippen van 0,75, 1,0, 1,5, 2,5, 4,0 en 6,0 mm2, geïsoleerde krimpen van 1,5, 2,5 en 6 mm2; niet-geïsoleerd 1,5, 2,5 en 4,6 mm2 |
| Dikte (gauge) | 4 mm staal |
| Hoofdhandvat afwerking | Glad |
| Gehard | Ja |
| Gewicht | 0,28 kg |
---
Product beschrijving
Gehard stalen tang. Kabels strippen van 0,75, 1,0, 1,5, 2,5, 4,0 en 6,0 mm2. Geïsoleerde krimpen van 1,5, 2,5 en 6 mm2; niet-geïsoleerd 1,5, 2,5 en 4,6 mm². Bout afmetingen M2,6, 3,0, 3,5, 4 en 5. Inclusief draadsnijder.
---
Doos inhoud
---
Klanten reviews
Door: alun
2019-08-03T00:00:00
very pleased with the pliers and a lifetime guarantee what''s to go wrong
---
Door: Alun R
2019-07-27T00:00:00
It is early days yet, but the ease of stripping wires, plus the crimping really is good, also the weight of these pliers is reassuring thing, and am on the lookout for an excuse to use it more.
---
Door: Chesso
2017-03-13T00:00:00
Having lost my crimping tool, I searched through the Tool station catalog. Found a very reasonably priced item. On arrival I was pleasantly surprised with the quality and how sturdy the item is. I have to say that I am glad that my original ones went missing as this tool is far more superior.
---
Door: Graham
2016-10-15T00:00:00
I needed to do some crimping whilst repairing some garden lighting. These seemed inexpensive but robust enough to last. I haven''''t been disappointed. I''''ve only used the smallest crimps so can''''t comment on how they perform with the larger sizes. Because I haven''''t tried the larger sizes I didn''''t feel I could give 5 stars - but I would definitely recommend!