PL55
Ratel krimptang
220 mm
---
---
Gehard staal
Ratelmechanisme voor gecontroleerd, nauwkeurig krimpen
Ingestelde spanning
Handvat vergrendeling
Geïsoleerde krimpen van contacten van 1,5, 2,5 en 6 mm2.
---
Koop online
Vind een handelaar
Beoordeel dit product
17 review(s)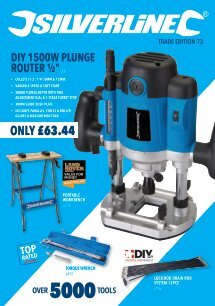 ---
Product specificaties
| | |
| --- | --- |
| Functie 01 | Geïsoleerde krimpen van contacten van 1,5, 2,5 en 6 mm2. |
| Hoofdhandvat afwerking | Glad |
| Gehard | Ja |
| Gewicht | 0,478 kg |
---
Product beschrijving
Gehard stalen krimptang met ratelmechanisme voor gecontroleerd, nauwkeurig krimpen. Ingestelde spanning en handvat vergrendeling. Geïsoleerde krimpen van contacten van 1,5, 2,5 en 6 mm2.
---
Doos inhoud
---
Klanten reviews
Door: Yannick M
2019-11-09T00:00:00
the clamp is great and very good quality or weight, I am completely satisfied
---
Door: Mark
2019-09-13T00:00:00
This tool has been brilliant! I bought it to replace a similarly priced combination wire stripper and crimping tool which ruined a number of wires and terminals. No issues with this one!
---
Door: Angus M
2019-01-18T00:00:00
Works really well, wasy to get a proper crimp, and excellent value.
---
Door: Bob P
2018-11-12T00:00:00
I have used similar more expensive tools professionally up until my retirement at 73, 4 years ago. I have done test crimps with all 3 sizes and all are good. Other budget crimping tools I have used have needed a vice-like grip but this is quite comfortable to use - even on yellow. It appears to be quite robust and should last.
---
Door: Michael b
2018-06-04T00:00:00
Very well made and very easy to use .
---
Door: Helmuth M
2018-02-01T00:00:00
---
Door: Foureau
2017-07-16T00:00:00
facile à utiliser, puissante et précise, permet de sertir sans abîmer et assure une prise des cosses solides
---
Door: k w
2017-04-07T00:00:00
Have used these several times since I bought them with excellent result. Also no more jarred wrist from using old basic non ratchet crimpers
---
Door: Tony S
2017-03-13T00:00:00
I bought this ratchet crimp and am really pleased with it, the quality of it is surprising for the price as it is easily as good as the one it replaced at less than a third of the price. I have found it to be a very capable little tool and with the lifetime guarantee it really is a no brainer in my opinion.
---
Door: Graham M
2017-02-12T00:00:00
---
Door: Michael R
2017-01-28T00:00:00
Have been using combined wire droppers and crimpers for a while before purchasing this. What a difference they make! With these you can hold the terminal in the crimpers whilst pushing the wire in with your other hand. These are great for crimping wires that are close together!!! Would recommend strongly!!!!!!
---
Door: Tony D
2016-11-27T00:00:00
Good quality good looking tool. Similar to the set of pliers it replaced which were worn out. Smooth action and does it''''s job perfectly.
---
Door: Fred s
2016-11-16T00:00:00
Ideal little tool secures the crimps on. Well built and for a good price
---
Door: Fred s
2016-11-09T00:00:00
Nice sturdy tool at a great price. Value for money
---
Door: Vincent S
2016-11-04T00:00:00
I bought this tool on Amazon, and I really enjoy it. Handling is just as it should be for a crimping tool. The ratio price/quality is excellent. I warmly recommend this product.
---
Door: adrian
2016-09-26T00:00:00
Just what I wanted and I was not dissapointed a good quality product
---
Door: Rik
2016-04-13T00:00:00
Tried these with red insulated terminals and 1mm^2 wire and the terminals pull off easily