TB01
Draagbare werkbank
100 kg
---
---
Sterke, lichtgewicht en draagbare werkbank
Maximale draagcapaciteit: 100 kg
Inklapbaar voor gemakkelijk transport en opberging
Twee 560 x 110 mm werkbladen
Assemblage vereist
---
Koop online
Vind een handelaar
Beoordeel dit product
33 review(s)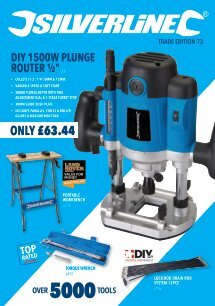 ---
Product specificaties
| | |
| --- | --- |
| Capaciteit - maximale last | 100 kg |
| Afwerking | Poeder gecoat staal |
| Gewicht | 4,54 kg |
---
Product beschrijving
Sterke, lichtgewicht en draagbare werkbank. Inklapbaar voor gemakkelijk transport en opberging. Inclusief twee 560 x 110 mm werkbladen. Maximale draagcapaciteit: 100 kg. Assemblage vereist.
---
Doos inhoud
---
Klanten reviews
Door: Sue H
2019-05-07T00:00:00
Great to have something that holds wood secure enough to cut. The bench does need some support though for applying much of a load into the workpiece, but worth the money spent as a temporary workbench if you haven''t got a proper vice.
---
Door: Doreen
2018-09-08T00:00:00
---
Door: Jamet T
2018-07-01T00:00:00
---
Door: Paul D
2018-06-27T00:00:00
This nice portable workbench is like a dream come true. It costs next to nothing but once assembled it is light yet strong and folded it takes up a minimum of space. The only drawback might be that you have to assemble it yourself. Take care to place two washers on the inside of each of the hinges because the leaflet that comes with it was not clear about that. Great bench!
---
Door: Darren G
2018-02-20T00:00:00
Lightweight yet solid for any job. Excellent quality
---
Door: James G
2017-12-25T00:00:00
Absolutely love this work bench my hobbie time has been even more pleasurable.
---
Door: Pamela S
2017-10-27T00:00:00
Perfect size and quality for the occasional DIY''er. Fantastic product.
---
Door: Roy H
2017-04-30T00:00:00
I was looking for a workbench but didn''t want to spend a lot. Had a look round and found this one at Toolstation and I thought would it be any good for the price, took a chance and bought it. Assemble it at home and was impressed with it, been using for the last week and I have no problems with it, it''s just the job for me.
---
Door: Pav A
2017-02-11T00:00:00
OMG why have I not bought if of these sooner!!!! Amazing piece of kit. Easy fold away. Value for Moby even better with a lifetime warranty. Well done silver line
---
Door: George a
2017-02-10T00:00:00
Just what I wanted folds away ideal for diy
---
Door: George a
2017-02-03T00:00:00
Quite satisfied took a while to assemble
---
Door: Gerry H
2017-01-13T00:00:00
a simple workbench, but well priced and its been used much, and still very happy with it!
---
Door: Patrick M
2016-11-04T00:00:00
The workbench is easy to put together and once done provides a very stable base for a wide range of tasks. The clamping action is smooth and holds various widths of materials thanks to the adjustable blocks. All in all an excellent bench that out performs many more expensive competitors products. Forgot to mention the convenient tool holder is a bonus too, allowing you to have everything you need within easy reach.
---
Door: John b
2016-10-10T00:00:00
Quality product at a great price
---
Door: Albert a
2016-10-10T00:00:00
Use this bench a lot and it has never let me down. It is now missing a corner but that is my fault cutting to close with circular saw. But still in use nearly every day a bargain at the price
---
Door: Steve S
2016-09-26T00:00:00
The workbench was purchased to help with some minor repairs on a vehicle I was rebuilding. It performed well, and although lightweight, was sturdy enough for most jobs. It is easily transportable, and excellent value for money.
---
Door: Sven M
2016-09-01T00:00:00
This workbench was given to me as a present and I''m very happy with it. It''s the perfect size and fit for some small works. In the beginning it was hard to open and close it, but this got better with using it more.
---
Door: Bruce K
2021-03-18T00:00:00
Assembly easy enough, albeit with minimal instruction leaflet. Very disappointed with quality.
---
Door: Roy R
2020-06-08T00:00:00
This comes for home assembly and instructions are not that wonderful (I put the legs on back to front). However although it is lightweight it suits my purpose. If you want something more robust and for regular use I would pick something else
---
Door: Terry G
2020-06-04T00:00:00
For the money and for what I''m going to use it its strong enough for the average diy jobs around the house.
---
Door: Joe g
2020-05-22T00:00:00
I received the work Bench built it up in 1/2 hr started using it straight away also bought attachment jigs to hold larger objects extremely happy with work bench and would recommend this,great value, great quality for the price thanks again silverline.
---
Door: David B
2020-05-09T00:00:00
Only wanted a compact light bench to us in conjunction with my hobby of restoring old Dinky/Corgi models. This has proved ideal, easily portable and the adjustable worktop is ample for my needs. Good price as well.
---
Door: Natasha
2020-05-06T00:00:00
The assembly instructions were easy to follow, although we did initially think they were just a component list. The item itself is lightweight, easy to store and proved to be very useful. The item represents good value for money too.
---
Door: Dave C
2020-02-26T00:00:00
Very handy workbench, versatile and appears solid enough for my purposes. Easy to assemble, quite compact when folded down, time will tell as to its durability
---
Door: michelle c
2020-02-16T00:00:00
Great value workbench, ideal as it folds away in my cupboard and is easily portable.
---
Door: Colin P
2020-01-11T00:00:00
This workbench is cheap and cheerful, but well designed and well made - a valuable addition to my heavier-duty workbench..Lightweight, easy to assemble, folds away for storage and does the job. Silverline''s lifetime guarantee makes it a no-brainer - well done Silverline once more.
---
Door: Russell S
2019-12-04T00:00:00
For an occasional DIY ,er it does the job in fact I am thinking of buying another one.
---
Door: George M
2019-10-05T00:00:00
Workbench OK. Instructions should be clearer. Last time I saw instructions like them I had to colour them in!!
---
Door: Hugh C
2019-08-09T00:00:00
Good value, light weight but quite stable although a little tricky to assemble as there were no instructions enclosed, just a pictorial image.
---
Door: John S
2019-07-06T00:00:00
Excellent workbench easy to put together. All parts labelled on guide. Really strong and sturdy bench. Used it loads. Great.
---
Door: Trudi K
2019-06-22T00:00:00
Easy to assemble. Works beautifully with the adjustment mechanism being smooth and light.
---
Door: PAUL F
2019-06-19T00:00:00
For years I have stupidly laboured on with balancing all my work on walls etc since my last workbench died. This was a sensibly priced aid that simplifies most jobs instead of relying on ''balancing acts''. Paul Fortescue
---
Door: Rafał
2019-06-06T00:00:00
Świetne narzędzie do sporadycznego, domowego maksterkowania. Wszystko za rozsądną cenę.