128891
Elektryczny strug ręczny 710 W, 82 mm
710 W
---
---
Głębokość strugania do 2 mm
Szerokość strugania 82 mm
Blokada włącznika oraz przyłącze do odsysania pyłu
Dwustronne ostrze TCT na bębnie
Zawiera: pasek napędowy, klucz, parę szczotek węglowych oraz torbę na pył
---
Kup online
Znajdź dystrybutora
Zrecenzuj ten produkt
73 recenzji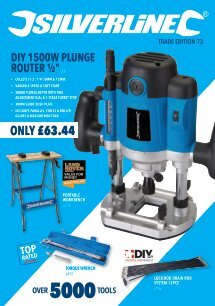 ---
Dane techniczne
| | |
| --- | --- |
| Ilość cięć na minutę | 34 000 |
| Moc | 710 W |
| Maksymalna głębokość cięcia | 2 mm |
| Szerokość strugania | 82 mm |
| Prędkość bez obciążenia | 17 000 obr./min |
| Waga | 2,8 kg |
---
Kluczowe funkcje
Dwustronne ostrze TCT na bębnie, oraz rowkowana wkładka do obróbki krawędzi. Zestaw akcesoriów obejmuje torbę na pył, pasek napędowy, klucz płaski oraz parę zapasowych szczotek węglowych. Szerokość ostrza 82 mm. Głębokość strugania do 2 mm w odstępach 0,5 mm. Prędkość bez obciążenia 17.000 obrotów/min.
---
Zawartość pudełka
1 x Elektryczny strurg ręczny 710 W
1 x Prowadnica równoległa
1 x Zapasowy pas napędowy
1 x Para zapsowych szczotek węglowych
1 x Klucz
1 x Torba na pył
1 x Instrukcja obsługi
---
Oceny klientów
Przez Jerry
2020-06-11T00:00:00
Great machine does what it says on the tin . One thing that could be better would be a bigger dust bag , but that's just petty.
---
Przez Gary w
2020-05-20T00:00:00
---
Przez James S
2020-04-18T00:00:00
This is a beautiful tool, perfect for the job, comes with spare drive belt and brushes and guide.
---
Przez Des
2020-03-29T00:00:00
Very good tool done the job I wanted perfect very pleased
---
Przez Mark W
2020-03-03T00:00:00
Great product for the price. I highly recommend
---
Przez Ian j
2020-02-24T00:00:00
Planer was good couple of things cable a bit short and the dust bag broke after planing two doors good for the price
---
Przez Peter F
2020-02-09T00:00:00
---
Przez Peter F
2020-02-01T00:00:00
Good Machine,pleased with my purchase
---
Przez deniscoe
2020-01-11T00:00:00
Excellent buy just what i wanted, makes planing a pleasure.
---
Przez Eliyas
2020-01-06T00:00:00
---
Przez Rob
2019-12-04T00:00:00
First time l''ve purchased one,it is superb! Great performance,great value. Be careful metal rod doesn''t break free from bag collar, or bag flops and the blade eats it- new bag to buy☹️
---
Przez Rob
2019-11-27T00:00:00
Been using this machine a lot- performing well and easy to use. Slight drawback with dustbag: it''s supported by steel rod in plastic collar. Plastic recess had broken so bag flops
---
Przez Derek J
2019-09-13T00:00:00
Excellent planer for my DIY jobs. Good adjustment for the depth of cut. Shavings collected in a small bag so not blown everywhere. For the price, I am very pleased.
---
Przez G M
2019-07-30T00:00:00
Great Product. Does what it states on the box
---
Przez James C
2019-07-18T00:00:00
very good tool well made and ready to work straight out of the box.
---
Przez Marek K
2019-07-08T00:00:00
Good planer for good price. Job done - ideal for doors.
---
Przez Geoff M
2019-06-24T00:00:00
I needed a new Planer when fitting 3 internal doors. It was a good price but that''s no consolation when it does not do what it is supposed to do. I am experienced in using power tools but there was no way that I could get this Planer to work. It would gouge when starting to cut & then just skid. I gave up with it & planed all 3 doors by hand which took 10 times longer than it should have. I returned the Planer to Toolstation who gave me a full refund. No way could I recommend this Planer to others.
---
Przez Martin T
2019-06-07T00:00:00
The initial unit that I bought had the adjustable front plate set at an angle of about 5 degrees. Consequently planed at that angle. Returned it for a replacement which is fine and works well, Robust enough and works well. Very pleased. Needs quality control.
---
Przez David
2019-05-23T00:00:00
Another great Silverline product at a great price. Collection bag is great to stop the shavings flying around the workshop. 2mm max cut removes wood quickly and gives a smooth finish. I would well recommend and the price is great value.
---
Przez Stephen G
2019-04-23T00:00:00
Nice tool for the price range. I like the 3 year warranty. I don''t like the fact that the cutter blades are not square tot he sole plate along their length - the cutters are higher at one end than the other. All-in-all though a nice tool for my DIY projects.
---
Przez Ray B
2019-04-18T00:00:00
Excellent product used on rough wood gave a smoothe finish very pleased would buy silverline products any time
---
Przez david h
2019-02-24T00:00:00
bought this planner to trim doors after having new flooring. Never used one before so bit nervous. Found it easy to use and worked perfectly. Feels well made and easy to handle. great product at a very good price.
---
Przez Jane S
2019-01-16T00:00:00
As delivered the cutting blades were wildly out of adjustment. This is a quality control issue that needs addressing urgently as it is a common error found on Amazons reviews. However correct adjustment is quick and straightforward;, using a steel ruler,6mm spanner and 2.5mm allen key. Perhaps adding advice on how to adjust the blades in the manual, although obvious to anyone used to power and hand tools, is not obvious to novices. The tool worked perfectly once set up correctly.
---
Przez Keith
2019-01-14T00:00:00
Very good and well made, good price also
---
Przez Paul W
2018-12-27T00:00:00
An excellent piece of kit. Great value with a solid feel of quality to it.. All you need to do a good job and a full warranty to back it up.
---
Przez Malc
2018-12-26T00:00:00
Excellent planer which I bought to plane down an oversized door. Two passes and it fits perfectly now. Collection bag is really handy too! All in all, this planer is excellent value for money and also carries a three year warranty.
---
Przez Richard D
2018-12-23T00:00:00
Bought electric planer to adjust a door - worked a treat !
---
Przez Mark K
2018-12-13T00:00:00
Taking off 2mm at a time, I used my new planer to take 10 to 15mm off the bottom of a sticking garage door and it did a great job. Time will tell if it''s reliable too, but I''m very pleased with it, especially for the price.
---
Przez Michael E
2018-11-28T00:00:00
Could not have done the jobe with out the Diy 710 planer.
---
Przez Steve E
2018-10-29T00:00:00
I bought this planer as I needed one quickly to complete a job I was working on. As I don''t very often need a planer I didn''t want to spend a lot of money, so wasn''t expecting much. I was very surprised by the robustness and weight of the planer, as for the price I expected something flimsy. I have only used it on the one job at the moment but I expect it will cope (easily!) with many more in the future. This is obviously not an industrial type planer but I would recommend this for the DIYer, going on the one job I''ve used it on.
---
Przez James w
2018-10-23T00:00:00
Hi I bought this reasonably priced tool to do 10 doors. It neatly done what was required with no problems Easy to set up and use. Bag needs regular emptying Jim.
---
Przez cliff s
2018-10-08T00:00:00
great value first class product
---
Przez Steve H
2018-07-30T00:00:00
Bought this planer to use on putting up three new doors, easy to use . An inexpensive tool ideally suitable for these kind of projects. Well recomended
---
Przez Ben M
2018-06-10T00:00:00
Having used the planer a couple of times I''ve decided that whilst it does represent good value, it could be a little easier to use. The safety button is a little oddly placed, making it a little awkward to change grips from starting, to planing. Also the handle is a bit uncomfortable. It is however, better by far, than planing with a traditional hand plane. Well done, Silverline, I just hope it lasts as long as my old one.
---
Przez James C
2018-05-07T00:00:00
I bought this planer to plane the doors after carpet was fitted with a better underlay. For £26 I wasn't expecting anything special. In reality the tool has outperformed my expectations, it planes with ease, replacement blades are reasonably priced and it's more than done the job. I have used Silverline tools before and will continue to.. the cost vs functionality element means why pay more?
---
Przez Peter T
2018-03-25T00:00:00
Just brilliant - don''t know how Silverline can make such a super product for the money.
---
Przez Andrew P
2018-03-08T00:00:00
Great for home DIY projects at a fraction of the price of alternatives - highly recommended
---
Przez Barbara D
2017-07-07T00:00:00
Did the job we needed it to do, our only concern was the fact that the dustbag kept continually ''blowing off'' the end. It could be better if the dustbag was more securely held instead of a push fit.
---
Przez darren
2017-06-23T00:00:00
very easy to use but the collection bag is a little small for deep cut collection but its quite easy to attach a plastic bag over it to extend the bag collection size. overall very pleased with the performance, would buy again for def.
---
Przez Nick W
2017-06-13T00:00:00
Does what it should at a good price.Had to readjust blades after 1st use but ok now.
---
Przez Martin
2017-06-04T00:00:00
For the price does the job very well. Would recommend wholeheartedly for occasional use.
---
Przez Gavin L
2017-06-02T00:00:00
First Silverline product bought, to help create a media unit for living room from very thick timber. Tested it first to get an idea, and feel of it, with in 10 mins I was flying through the timbers. Very easy to setup, and use, and with a 3 year warranty upon registration I''m very impressed, and will be returning for more tools.
---
Przez Robert T
2017-05-09T00:00:00
Light and easy to use, excellent value for money.
---
Przez Paul T
2017-05-06T00:00:00
This electric plane is great at doing the job. The depth gauge allows precise shaving and overall the quality of cut, weight of the tool and price too are excellent. The only negative is the bag that collects the shavings, it fell apart on the first day of use.
---
Przez Darren R
2017-04-17T00:00:00
This planer has been a fantastic addition to my collection. I didnt expect such good results for the price. The depth incraments are very accurate and its not difficult to use. On my first couple of attempts i used it on a piece of scrap pallet wood to get used to it. The first time i scuffed the front of the wood and caused a nice circular indent, but thats my fault as i was pressing on the handle and the depth knob at the front which made it front heavy. On the second pass i let go of the front knob and it worked a treat. I havent used the guides yet but have used the bevel grove which was spot on. Im fast becoming a Silverline convert as this is my 3rd product.
---
Przez keith b
2017-04-16T00:00:00
DIY great tool just what i required,made it very easy planing many pieces of decking to make a garden planter.
---
Przez Phil P
2017-04-11T00:00:00
I bought this to replace an older version that I have had for a number of years. This is a basic, simple plane for use by the occasional diy''er like me! I have used it to plane down two doors and it performed very well - much faster than using a traditional plane. For the money it is excellent value and comes with two guides and a spare belt. I have purchased many Silverline tools in the past and I am delighted with this latest addition. Go and buy one!
---
Przez Mick
2017-03-28T00:00:00
An excellent planer.Although not expensive it does a good job and the guide provided makes trimming doors a doddle.
---
Przez Malcolm T
2017-03-27T00:00:00
Excellent item for the price the only downside is the size of the dust bag it was completely full half way along the door but it won''t put me off buying again
---
Przez den w
2017-03-22T00:00:00
Great plane at a great price. Does what it said on the dox
---
Przez D. F
2017-03-20T00:00:00
I must admit I was surprised at the quality of the planer after seeing the low price compared to others. After a few practice runs (never used one before) took on the job of trimming the doors within minutes I had finished what would have taken me hours to do with my hand plane. Wish I had purchased one before, will be using Silverline again.
---
Przez Jamie K
2017-03-07T00:00:00
A reasonable tool for a very reasonable price, capable of planing oak and would buy again.
---
Przez Antonio D
2017-03-05T00:00:00
Great buy. Very easy to use and low noise level. Highly recommend this product.
---
Przez Kevan D
2017-03-02T00:00:00
Just planed and fitted several new hardwood doors, with no effort and leaving a professional finish. Great product, great price !
---
Przez Jamie K
2017-02-28T00:00:00
Although this is a DIY planer it''s well worth its money, I''m over ten years into the skilled trade of bespoke joinery and found that this not only can provide a even clean cut if used properly, but also doesn''t get clogged up where the chippings exit like a lot of more expensive brands. My only criticism is that I wish it came with a carry case but considering the price I would still buy again.
---
Przez Nigel B
2017-02-27T00:00:00
Very useful, good value tool. Slight issue on first use, cut not level. Found blades to be not level with base plates. No instructions for reset blades, but found elsewhere. After blade resetting tool works fine.
---
Przez kenneth m
2017-02-24T00:00:00
great plane. people often say cant be that good it only takes 2mm off i say so i just go over the wood 3 times if i need 6mm. comes with spare belt, motor brushes etc plus plane guide . makes i nice finish. i also like the fact it comes with a dust bag which just slots into the side
---
Przez M B
2017-01-23T00:00:00
Very good for diy work. Spare carbon Brushes and V belt are added bonus.
---
Przez John H
2016-12-04T00:00:00
Very easy to use and leaves a smooth finish. Very good value for money. I have never used a power plane before but using the built in guide found it easy to create a level smooth and even finished surface.
---
Przez Brian S
2016-12-03T00:00:00
Bought the planer from Toolstation which was a good start. The planer is a solid piece of kit and having had new carpets fitted all the doors in my home needed a trim. So at just under £25 the planer paid for itself having trimmed the first door. All doors now done, I not only saved a whole load of money but have a good piece of kit for any future planing job, and not only that it''''s guaranteed for 3 years. The only criticism is that the collection bag needs frequent emptying.
---
Przez Andrew M
2016-10-29T00:00:00
This product saved me over £200 which it would have cost me for someone to plan all my doors. I spent half an hour with some scrap wood, and then set this baby to work on all my my doors. Life saver of a product at the fraction of the price paying someone to do it for me.
---
Przez stephen w
2016-10-25T00:00:00
used for first time yesterday 24/10/19 sizing 2 doors feels great in your hand,lovely to use great value its a must to have in your tool bag.
---
Przez JAMES K
2016-09-26T00:00:00
Planing oak it works ok for a relatively short time (30 minutes work) before the blades are very blunt and damaged.
---
Przez Stephen
2016-09-13T00:00:00
This planer is brilliant value for money and performs very well!
---
Przez kenny
2016-09-12T00:00:00
Had other makes but this one for some reason seems more powerful and does the job a lot faster than others. Well pleased with this item and have purchased more from the Silverline range since, worth the money and reliable.
---
Przez martin t
2016-09-12T00:00:00
Great item. Does the job perfectly and at a great price.
---
Przez Peter S
2016-08-15T00:00:00
Certainly beats an old hand plane.Easy to use .Does the job
---
Przez Chris B
2016-08-15T00:00:00
First class product. First class service.
---
Przez JEFF R
2016-08-15T00:00:00
I rate this a poor product. The drive belt broke after the first 30 minutes of use of a new machine.. The Depth Adjustment handle is so tight that it is almost impossible to turn. It appears very difficult to purchase replacements for the drive belt in future. I feel I have wasted my money.
---
Przez Ross G
2016-08-15T00:00:00
I had been making a new kitchen farmhouse style table which was a first for me and needed a small and inexpensive planer to finish off some of the joins. The table now looks great, it passed the wife test and was allowed to move from the garage to the house, and is now centre piece in the kitchen. It cut a lot better than I was expecting, was smooth in operation, and now I''ve got a planer with a 3 year warranty for future projects! Overall very happy, and very impressed!
---
Przez Nilesh P
2016-08-15T00:00:00
Good Planer and Reasonable Priced. Item as discribed.
---
Przez C J
2016-08-08T00:00:00
good value for price paid
---
Przez Clive B
2016-08-08T00:00:00
This is a very inexpensive electric planer that works well straight out of the box. Ideal for DIY tasks, it''s been vey useful. The planer has a good solid feel about it, still can''t believe that it cost so little. If I could make one very minor observation it would be for silverline to include a video of how to fit the enclosed attachments or write more detailed instructions with a diagram. However, that did not detract from a very handy power tool. Would recommend.