241469
Silverstorm wiertarko-wkrętarka 18 V
18 V
---
---
Akumulator 1,3 Ah Li-Ion, ładowarka 1 h
Samozaciskowy uchwyt wiertarski 13 mm oraz 2-biegi
Liczba zakresów momentu obrotowego: 16 +1, wsteczny bieg
Średnice wierceń w drewnie: 18 mm, w stali 8 mm
W komplecie futerał oraz zestaw akcesoriów 13 częściowy
---
Kup online
Znajdź dystrybutora
Zrecenzuj ten produkt
11 recenzji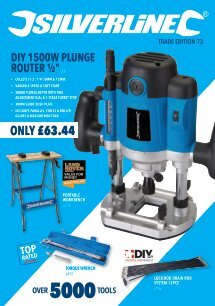 ---
Dane techniczne
| | |
| --- | --- |
| Pojemność uchwytu | 13 mm |
| Stopień ochrony | . |
| Moc | 18 V |
| Rodzaj baterii/akumulatorów | 1,3 Ah Li-Ion |
| Ładowarka | 1 h |
| Prędkość bez obciążenia | 0-350 / 0-1250 obr./min |
| Maks. moment obrotowy | 32Nm |
| Rozmiar uchwytu | 13 mm |
| Typ uchwytu | Uchwyt samozaciskowy |
| Biegi | Metalowe |
| Rodzaj skrzyni biegów | Podwójna prędkość |
| Regulacja prędkości | Tak |
| Maks. śred. wiercenia w drewnie | 18 mm |
| Maks. śred. wiercenia w stali | 8 mm |
| Ilość baterii/akumnulatorów | 1 |
| Waga | 2,2 kg. |
---
Zawartość pudełka
1 x Wiertarko-wkrętarka 18 V
1 x Akumulator 18 V
1 x Ładowarka z adapterem do wtyczki UK
6 x Bitów
6 x Wierteł
1 x Adaptor
1 x Walizka narzędziowa
---
Oceny klientów
Przez Tom K
2018-05-17T00:00:00
Why wouldn''t you buy one of these, as a first-line tool if you''re an amateur DIY-er or as a backup if you''re a professional? The thing''s well made, comes in a good carry-box and includes a few accessories and the charger, of course. It works well both as a drill and a driver. If you were using this a lot, you''d probably want a second battery. I like Silverline stuff; it''s all guaranteed for three years and, for the cost of the tools, you just can''t go wrong.
---
Przez Ken P
2018-04-17T00:00:00
Very good value for money and an unbeatable warranty.
---
Przez David Z
2017-09-20T00:00:00
I still have not been able to use the product to the maximum, but the first impression is very good. The kit received is enough to start using it, has good performance and power (for its price), does not weigh too much and the charger is very fast. At the moment, I am very happy with the purchase.
---
Przez Luigi F
2017-05-31T00:00:00
I have had many brands of Drill Driver of high-end brands as well, but the level of this product does not reach it, very accurate and powerful, the battery charges extremely fast and the included high-quality accessories also them .... I would recommend it at all
---
Przez Terry H
2017-03-22T00:00:00
The new drill/driver is a pleasure to use as it is relatively light but powerful and the battery recharges commendably quickly. My local merchant did not have this particular model in stock but phoned after two days to let me know that that one had been delivered. Good work everyone. It is too early to comment in detail but if it matches other Silverline tools in my collection I shall be well pleased.
---
Przez Mike O
2016-09-12T00:00:00
This is a very useful, powerful, tool, for both drilling and driving. The ability to reverse the driver, for removing screws, is an asset. It is a little heavier than normal but it is acceptable. the light shining onto the workplace is a bonus and useful, especially in poor light conditions. A good all round tool.
---
Przez Geoff R
2016-09-12T00:00:00
An excellent tool that has been used several times. Good for (not too hard surfaces) and excellent at driving screws in or out! I certainly recommend this tool!
---
Przez Gordon C
2016-09-12T00:00:00
I have found this tool entirely satisfactory except in one respect. The button for changing gear is far too stiff. In fact, the first one i bought was so stiff I just could not move it, and I returned it for a replacement, but the second one is still unacceptably stiff to move.
---
Przez Arthur G
2016-09-12T00:00:00
I never used this product as the chuck was out of line &amp was no use whatsoever.
---
Przez Fuzz
2016-09-12T00:00:00
What a fantastic tool Has the feel of a tool costing much more Great price!
---
Przez SE
2016-08-13T00:00:00
Excellent product far better than I expected