245060
Zestaw znaczników punktaków 5 szt.
5 szt.
---
---
Zawiera: skręcony świder 3, 4 i 5 mm, szpicak 3 mm oraz 3 mm szydło stolarskie
---
Kup online
Znajdź dystrybutora
Zrecenzuj ten produkt
7 recenzji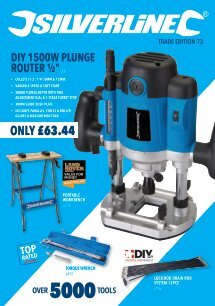 ---
Dane techniczne
| | |
| --- | --- |
| Wykończenie | Plastikowy uchwyt ze stalowym ostrzem |
| Waga | 0,115 kg |
| Długość trzpienia | Uczwyty typu T - 90 mm, uchwyty okrągłe - 40 mm |
---
Kluczowe funkcje
Zestaw zawiera: skręcony świder 3, 4 i 5 mm, szpicak 3 mm oraz 3 mm szydło stolarskie.
---
Zawartość pudełka
1 x Skręcony świder 3 mm
1 x Skręcony świder 4 mm
1 x Skręcony świder 5 mm
1 x Szpicak 3 mm
1 x Szydło stolarskie 3 mm
---
Oceny klientów
Przez Peter E
2020-02-21T00:00:00
This set of gimlet and bradawl tools is exactly as I require and work well. Used them several times already and no problems at all. Ideal set for my carpentry.
---
Przez Paul
2019-11-02T00:00:00
Can't fault them. Does exactly what you would expect them to do..
---
Przez Eifion
2019-10-26T00:00:00
---
Przez Pat R
2019-10-14T00:00:00
A very handy set of items that save time and hassle - well worth the money.
---
Przez pat r
2019-10-07T00:00:00
Very handy little tools for the craftsmen. Cheap to buyyet good quality too.
---
Przez Pat V
2019-06-04T00:00:00
Arrived on time. Great set of tools. I am his them for craft work. E.g. Putting holes in leather,holes in despatch work. The tools have been very successful for my needs, and much better than the end of a pair of scissors.
---
Przez Ms R
2017-07-20T00:00:00
Small gimlet snapped on day 3 of use, leaving the twisty bit stuck in the piece of double plywood I was trying to create a hole in. Managed to get the bit out so no harm done there. Will be calling Silverline to check up on their ''lifetime guarantee'' statement. No problems with any of the rest of the set - each piece very workable in its own right. Will update further in due course...