250115
Mini ścisk, 2 szt.
---
---
Rozwarcie szczęk 150 mm
Głębokość szczęk 34 mm
Idealny do małych projektów
---
Kup online
Znajdź dystrybutora
Zrecenzuj ten produkt
2 recenzji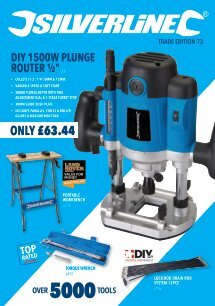 ---
Dane techniczne
| | |
| --- | --- |
| Rozpiętość - szczęk | 150 mm |
| Waga | 0,082 kg |
| Wykończenie | Pręt pokryt powłoką nylonową |
---
Kluczowe funkcje
Mini ścisk doskonale się sprawdza przy drobnych projektach. Szybki mechanizm zwalniający. Rozstaw szczęk 34 mm.
---
Zawartość pudełka
---
Oceny klientów
Przez Michael W
2019-10-08T00:00:00
These are surprisingly sturdy for plastic clamps. Fine for most small jobs. With a lifetime guarantee and at this price, you can''t really go wrong. It''s not mentioned in the specs but they can also be reversed and used as spreaders.
---
Przez Brian
2017-10-06T00:00:00
I just had a new carpet laid and was told that the door would have to come off as between the carpet and underlay the door would need about an inch taken off the bottom. I decided the best way would be to clamp a straight edge across the bottom to use as a guide for the saw. No clamps, so on line I go and found these great little clamps at a really good price they arrived next day half an hour later the door was an inch shorter and hung back on the wall. I went to register the clamps and had a look at what else Silverline supply and now I have bought, used and registered several Silverline tools and I believe that you will find it hard to find better quality tools at such a reasonable prices as those produced by Silverline. anytime I need a tool for a DIY job I will go straight to silverline for it.