259306
Podwójne reflektory LED na statywie
2 x 10 W
---
---
2 x 10 W reflektory LED
Regulowane
700 lumenów
Ochrona IP44
---
Kup online
Znajdź dystrybutora
Zrecenzuj ten produkt
3 recenzji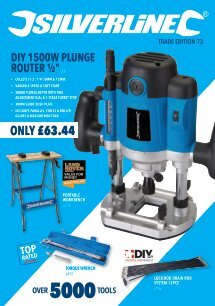 ---
Dane techniczne
| | |
| --- | --- |
| Długość przewodu | 2,9 m |
| Natężenie światła/Lumeny | 700 lumenów |
| Funkcja - 01 | Pełna moc |
| Stopień ochrony | IP65 |
| Moc | 2 x 10 W |
---
Kluczowe funkcje
Podwójny reflektor LED z 2 x lampami 10 W w aluminiowej obudowie. Regulowana pozycja reflektorów oraz wiązki. Ochrona IP44. Wtyczka główna 240 V. Moc wyjściowa 2 x 700 lumenów.
---
Zawartość pudełka
1 x Reflektor LED na statywie
1 x Karta bezpieczeńśtwa
---
Oceny klientów
Przez Chiel
2018-12-15T00:00:00
Really awesome worklights separatly adjustable in direction. Also detachable from the tripod, so you can use it on the floor of the workspace. Perfect for my needs!
---
Przez Kenneth C
2017-01-26T00:00:00
Great product, great price. Easily assembled with excellent drawings. Not too heavy but it is made of quality materials. You can have one or both lights on or off and it is simple to change the angle to get the illumination exactly where you need it, well done Silverline this is a winner.
---
Przez Kenneth C
2017-01-20T00:00:00
I ordered this light one day and it arrived the next, brilliant, great seller and communicator. But, back to my review:- Easily assembled with excellent instructions and drawings. Not too heavy and easily moved around. Very stable with a wide base. Good light and each light is individually controlled. The cable is good with quality connections and well insulated. The top portion can be removed for portability and or low lighting if required. I recommend this and would also be interested in a bigger version if Silverline were to make one.