261362
Polerka orbitalna samochodowa 110 W, 240 mm
---
---
Losowy ruch orbitalny
Podwójna gęstość podkładki
Wygodny podwójny uchwyt
Przeznaczona do polerowania karoserii auta
W komplecie nakładka tekstylna oraz z syntetycznej wełny
---
Kup online
Znajdź dystrybutora
Zrecenzuj ten produkt
27 recenzji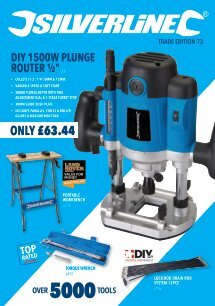 ---
Dane techniczne
| | |
| --- | --- |
| Stopień ochrony | IP20 |
| Moc | 110 W |
| Średnica tarczy | 240 mm |
| Prędkość bez obciążenia | 3100 min¹ |
| Waga | 2,095 kg |
---
Kluczowe funkcje
Wykorzystuje ruch orbitalny, aby zapobiegać śladom i spiekom wirowym. i aby zapobiec mieszając i pieczenie śladów na karoserii samochodu. W komplecie 2 nakładki tekstylna do nakładania pasty oraz "baran"z syntetycznej wełny do polerowania, aby nadawały się do 2 warstwowej podkładki o średnicy 240 mm.
---
Zawartość pudełka
1 x Orbitalna polerka samochodowa 110 W
1 x Syntetyczna nakładka tekstylna
1 x Syntetyczna nakładka z wełny
1 x Instrukcja obsługi
---
Oceny klientów
Przez Jack R
2016-09-26T00:00:00
Great polisher, easy to use, saves a huge amount of effort and gives a great finish. When you''re polishing a 70ft narrowboat, these things are very important!
---
Przez brian l
2016-09-12T00:00:00
haveing only had to use on 1 accasion over a period of 2 days on my car i did find it a bit difficult to hold.but returned a great result.
---
Przez Y. R
2016-09-12T00:00:00
The results achieved exceeded out expectations. Red cars tend to fade to pink and ours was in a very bad state. The polisher was easy to use and brought the colour back to its former glory. We had to go over the worst areas a few times but it wasn''t hard work and the effort was definitely worth it.
---
Przez PERCY
2016-09-12T00:00:00
As I have COPD and heart problems I find that I can now polish my car again, I was unable to polish it because I cannot get my breath, I can now and I don''t get out of breath so much,
---
Przez Nigel g
2016-09-12T00:00:00
Very good buffer does a great job with ease
---
Przez Des K
2016-08-08T00:00:00
Excellent producy for the price. Easy to use so long as you dont put too much polish on at a time and keep it moving over the panel. Changing pads ok although velcro pads would be easier but for the price no problem.
---
Przez John S
2022-03-21T00:00:00
Well made very powerful and work well
---
Przez alan h
2021-06-08T00:00:00
perfect product, labour saving works fine, makes polishing a pleasure
---
Przez Hugh
2020-06-07T00:00:00
Good product but the fixing method for the polishing bonnet would benefit from a better securing piece than tying a knot in cord.
---
Przez alex w
2019-10-02T00:00:00
Can anybody tell me the kind of knot to use to attach the polishing bonnet? 3 times now the VERY thin polyester string has wrapped itself around the drive shaft in spite of double reef knots, triple bows topped with double reef knot & more!
---
Przez d k
2019-06-29T00:00:00
does exactly what it says on the box, at a really good price :-)
---
Przez M B
2019-06-22T00:00:00
Excellent polisher for the beginner producing stunning results to my car''s paintwork. One minor suggestion if both bonnets had elasticated fitment rather than the corded/tie-on type use would be easier. If Silverline decide to make a 125-150mm version I''d be first in the queue as it would be even more versatile.
---
Przez Brian R
2019-06-20T00:00:00
---
Przez M D
2019-06-16T00:00:00
Good product for the DIY''er. Pity both polishing bonnets are not elasticated as the corded one kept loosening. I wish Silverline would produce a smaller version inline with those used by professional dealers, I''m sure it would be a success.
---
Przez Joe
2019-06-10T00:00:00
Decent bit of kit, great price. Saves a lot of time vs doing by hand. Lets see how long it lasts!
---
Przez Peter S
2019-05-12T00:00:00
Brilliant product well balanced, easy to use.
---
Przez Peter W
2017-06-04T00:00:00
Perfect right price, right quality and does the job well done Silverline for a first class bit of kit!
---
Przez HENRIQUET
2017-05-05T00:00:00
---
Przez Antony K
2017-05-02T00:00:00
Used the product only once but works well and polished my van to a high sheen
---
Przez Keith M
2017-04-03T00:00:00
I have only used it once since I purchased it and i am suitably impressed with how easy it is to use. ( I am seventy years old) also the finish on the paint is brilliant. I was also impressed with the purchase price. I am still wuite active due to your power tools,they make life a little bit easier. Thank you. Keith from Spain.
---
Przez Kaz
2017-03-31T00:00:00
Excellent, works well and easy to handle. Very happy with this purchase.
---
Przez susan
2017-03-30T00:00:00
not had chance to use it yet as weather been rubbish so will leave a review once used
---
Przez Gav l
2017-03-30T00:00:00
Great purchase gives the paint a great polish
---
Przez Gavin l
2017-03-23T00:00:00
Bought the orbital car polisher and it''s brilliant
---
Przez Peter L
2017-02-14T00:00:00
Very good but the hardest thing is fitting the polishing cloth with the ties, the first time it came off so I put it on again this time the tie court in the motor so I had to cut free and start again
---
Przez Kalsi
2017-01-13T00:00:00
I like it but I expect more.
---
Przez Iain
2016-10-31T00:00:00
Easy to use, does a great job for the price. Highly recommended