264125
Szlifierka oscylacyjna prostokątna 150 W, arkusz 1/3
150 W
---
---
Podstwa szybkiej wymiany mocowana na rzep z dźwignią
Port odsysania pyłu
Duży spust z przyciskiem z blokdą włącznika w pozycji On
Profilowana rękojeść głowna oraz przedni uchwyt
Adapter portu odsysania pyłu wraz z 2 x arkuszami szlifierskimi
---
Kup online
Znajdź dystrybutora
Zrecenzuj ten produkt
19 recenzji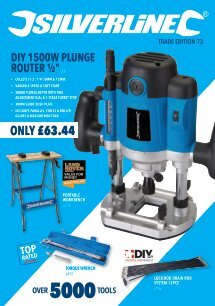 ---
Dane techniczne
| | |
| --- | --- |
| Ekstrakcja pyłu | Tak |
| Stopień ochrony | IPX9 |
| Moc | 150 W |
| Wykończenie rękojeści głównej | ABS oraz TPR |
| Wymiary arkusza ściernego | 90 x 187 mm |
| Prędkość bez obciążenia | 12 000 obr./min |
| Waga | 1,47 kg |
---
Kluczowe funkcje
Istnieją tysiące tysięcy rodzajów szlifierek na rynku, każda z nich zaprojektowana tak, aby skupić się swoim specjalnym zadaniu. Elektronarzędzia takie jak szlifierka oscylacyjna Silverstorm, są idealne do przygotowania drzwi i okien do malowania, a także do szlifowania zarówno gruboziarnistego i drobnoziarnistego ścian i innych większych powierzchni płaskich.
Napędzane przez silnik o mocy 150 W szlifierka wykorzystuje arkusze szlifierskie zmocowaniem na rzep 90 x 190 mm, a także konwencjonalne arkusze o wymiarach 93 x 230 mm, które można przyciąć na wymiar, a następnie zamocować za pomocą dźwigni. Przy wadze zaledwie 1,4 kg, otrzymujemy zarówno zwrotność, jak i kontrolę, podczas gdy szlifierka wciąż ma wystarczającą masę, aby docisnąć ją do obrabianego przedmiotu, aby osiągnąć pożądany efekt.
Solidna aluminiowa podstawa zapewnia wytrzymałość, a gładkie kontury głównego korpusu urządzenia, w połączeniu z gumowymi uchwytami, zapewniającymi wygodną i kontrolowaną pozycję podczas pracy. Wystający uchwyt przedni ułatwia precyzję i automatycznie poprawia wyniki szlifowania, kierując ciężar na obszar roboczy.
Wyposażony w przełącznik spustowy On / Off, który daje użytkownikowi kontrolę i, podczas używania przycisku blokady, zapewnia spójne wykończenie, które jest celem szlifowania.
Odsysanie pyłu odbywa się przez zintegrowany port, w celu zmniejszenia zapylenia i zanieczyszczenia, które mogą utrudnić postęp i spowodować zagrożenie podczas pracy. W komplecie z 1 x arkuszem szlifierskim mocowanym na rzep i 1 x konwencjonalnym arkuszem z możliwością przycięcia na rozmiar; oba arkusze o ziarnistości P100.
---
Zawartość pudełka
1 x Oscylacyjna prostokątna 150 W
1 x Adapter portu odsysania pyłu
2 x Papier szlifierski
---
Oceny klientów
Przez Keith T
2016-09-12T00:00:00
Excellent buy, works well, would recommend.
---
Przez PJ S
2016-08-15T00:00:00
Fits your hand nicely and sands the object with little vibration to your hands. Great tool for the ardent DIYer.
---
Przez Christopher R
2020-01-24T00:00:00
I found the sander very good and light to use
---
Przez Ian
2019-12-27T00:00:00
Previously I have purchased big name brands. However after reading reviews on the silverline sander I decided it was worth a punt. It is quite,efficient and a good work horse. For the price a great purchase!
---
Przez Keith W
2019-08-02T00:00:00
Really impressed with this tool ... Good quality sander for a budget price .... Powerful and efficient ... Lightweight and comfortable to use ... Plus a free extendable guarantee ... Would highly recommend this tool for the DIYer.
---
Przez Richard G
2019-08-01T00:00:00
A very effective, easy to handle, and relatively light weight sander which, with the correct hook and loop sheets, did a quick and thorough job of sanding weathered garden furniture
---
Przez Patsy A
2019-05-02T00:00:00
A fantastic Sander for everyday use !! I''ve tried many brands over the years but I have found that the Silverline 150W is by far the best. A good quality Sander at a budget price ...
---
Przez GORDON S
2018-05-16T00:00:00
It does just what it says on the box. Well made and feels it will last along time with very little care. It take free cut sheets or DIY cut your own with no problems. Just remember it''s only a 150w and don''t flog it to death. It does a good job even if it takes a little longer than the more powerful model.
---
Przez Don
2017-06-19T00:00:00
Ease of use, balance, no nonsense styling, quality of precision sanding.
---
Przez George C
2017-05-16T00:00:00
Recently cut and put up shelves and using fatmax loop and hook pads with a hoover attached the sanding went brilliantly and little or no dust to clean up.Fantastic , best buy so far.
---
Przez 'Seye O
2017-04-15T00:00:00
Affordable, very useful, easy to use and does the job well
---
Przez Harry
2017-03-29T00:00:00
This is a great little sander. It''s light so your arms don''t get tired when sanding at head hight for a long time, the sanding pads stay in place well and it''s not too noisy when sanding, there''s only one speed but that''s a fast one wich does the job. Very good value for money. H
---
Przez Caroline T
2017-03-18T00:00:00
It''s better than the cheapest version.
---
Przez Fred w
2017-02-21T00:00:00
Very good tool for finishing off after belt sanding and jobs around the house.
---
Przez Len W
2017-02-17T00:00:00
Great little sander. Good shape making it nice to use and good value for the money. Only one problem it''s not got a case just the cardboard box it came in. I like my tools in a case so I can stack them when not in use.
---
Przez Philip
2017-01-17T00:00:00
A great product does What it says on the box easy to use and a great price
---
Przez Martin G
2017-01-06T00:00:00
Worth paying a little extra for the ''''Silverstorm'''' series.,more powerful than standard item, seems to be working well ,fitting four new doors ,good for trimming edges. vibration well controlled.
---
Przez Bryan O
2016-09-12T00:00:00
Well made and easy to use
---
Przez ryan
2016-09-12T00:00:00
Best silverlinc power tool I have ever bought absolutely satisfied about this product will be buying more tools from here more often brill very pleased very smooth going and not very noisy sp very pleased with buy