421042
Szlifierka oscylacyjna trójkątna 130 W
130 W UK
---
---
Podstawa szlifierska z mocowaniem na rzep
Przyłącze do odsysania pyłu
Uszczelniony odporny na pył przełącznik wł./wył.
Uchwyt dopasowyany do kształtu dłoni z ogumowaniem softgrip
W zestawie przyłącze do odsysania pyłu i arkusze papieru ściernego
---
Kup online
Znajdź dystrybutora
Zrecenzuj ten produkt
12 recenzji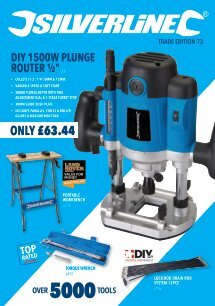 ---
Dane techniczne
| | |
| --- | --- |
| Wykończenie | Plastik oraz tworzywo TPE typu Softgrip |
| Ziarnistość | P100 |
| Stopień ochrony | IP20 |
| Moc | 130 W |
| Wymiary arkusza ściernego | 140 x 140 x 90 mm |
| Regulacja prędkości | Brak |
| Prędkość bez obciążenia | 12 000 obr./min |
| Waga | 0,96 kg |
---
Kluczowe funkcje
Kompaktowa szlifierka oscylacyjna trójkątna z działaniem orbitalnym do stosowania w miejscach o ograniczonym dostępie. Ergonomiczne ukształtowanie uchwytu do dłoni. Uchwyt Softgrip redukuje wibracje dla optymalnego komfortu i kontroli użytkownika. Przyłącze do odsysania pyłu można połączyć z systemem odsysania pyłu lub odkurzaczem. Kompatybilna z arkuszami papieru ściernego 140 mm, dla szybkiego i bezpiecznego montażu.
---
Zawartość pudełka
1 x Szlifierka oscylacyjna trójkątna
1 x Arkusz papieru ściernego
1 x Przyłącze odsysania pyłu
1 x Instrukcja obsługi
---
Oceny klientów
Przez C J
2020-03-12T00:00:00
Great machine easy to use and very light, fantastic price and highly recommended
---
Przez Nathan G
2019-10-13T00:00:00
Great tool for the price just as good as the more expensive ones
---
Przez Christine d
2019-10-06T00:00:00
We have been using our silverline sander while decorating and would highly recommend it it''s better than the black and decker 1 we replaced this with and very reasonably priced
---
Przez Christine d
2019-09-29T00:00:00
Very powerful sander for something so small,had different Sanders in the past but found this one by far the best
---
Przez John E
2019-08-23T00:00:00
great little detail sander at a fantastic price. Well made and comfortable to use. the vacuum cleaner attachment is a bonus! saves a lot of mess and it means I get less grief from partner! Would definately buy again.
---
Przez Kenneth M
2019-08-08T00:00:00
Priced exceptionally well for the type of product. Easy to use and performs well. Fits neatly into the palm. Has a good length of cable if just for bench use. Extension lead required for elsewhere. 3 year guarantee once registered.
---
Przez Rj
2019-07-31T00:00:00
I can''t fault this little sander, since Iv had it it''s seen some pretty hard graft sanding a variety of surfaces from decades old gloss paint to bare wood, both hard and soft wood and it hasn''t missed a beat. Iv found it works best if you apply very little pressure and let the sander do the work. If I had to find a fault it''d be that the Velcro on the pad isn''t the greatest and I suspect the day the sander gives up the ghost it will be because the Velcro no longer holds the sanding sheets and not because it burns out. All in I wholeheartedly recommend this sander.
---
Przez T w
2019-06-25T00:00:00
Purchased this sander to replace my old black and decker Found this to be a better product
---
Przez Peter L
2018-12-14T00:00:00
Wanted sander mainly for finishing off lathe work that had been parted off, but has been so useful for many other little sanding jobs Great little tool with bags of power.
---
Przez R M
2018-12-01T00:00:00
Really good value for money, seems just a good as my more expansive sanders. Great buy,
---
Przez Mrs a
2018-09-08T00:00:00
Very easy to use makes jobs a lot easier. Makes sanding more fun
---
Przez Mike C
2018-05-15T00:00:00
Great item &amp well worth the money.!!!!!!