868693
Wkrętak z grzechotką ze spiralnym grotem
300 mm
---
---
Pojedyńcze pchnięcie wkręca bądź odkręca śrubki
Solidna rękojeść do użytku przy intensywnej eksploatacji
Trójpozycyjna grzechotka z przełącznikiem: prawo, lewo, blokada
W zestawie bity 2 x płaskie i 2 x krzyżakowe Phillips
---
Kup online
Znajdź dystrybutora
Zrecenzuj ten produkt
10 recenzji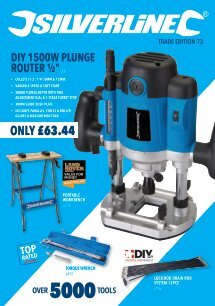 ---
Dane techniczne
| | |
| --- | --- |
| Waga | 0,350 kg |
| Wykończenie | Chromowane |
| Hartowane | Tak |
---
Kluczowe funkcje
Wkrętak o unikatowym kształcie, chowany grot spiralny z maksymalną długością do 430 mm. Grzechotka z przełącznikiem obrotów: prawo, lewo i blokada . W zestawie z 4 bitami: 2 x płaskie i 2 x krzyżakowe Phillips.
---
Zawartość pudełka
1 x Wkrętak z grzechotką ze spiralnym grotem
2 x Płaskie bity
2 x Bity Phillips
---
Oceny klientów
Przez Paul
2020-03-22T00:00:00
Fantastic bit of kit. Can''t go wrong with the life time warranty.
---
Przez Steve H
2019-12-27T00:00:00
Bought this as I was fed up constantly switched from drill bit to driver bit when using the cordless drill and didn''t want to fork out the money for another cordless drill. I would say using this is probably just as quick as using the cordless drill without the need to rely on a charged battery :) Very good
---
Przez Steve
2019-12-12T00:00:00
Very handy piece of kit. Makes putting together items with multiple screws easier than using traditional screwdrivers
---
Przez Diane S
2019-11-02T00:00:00
I love the ease of use and the fact it takes hex bits for drilling and screwing. This means easy replacement if these break or wear out. Very versatile, and light to use. Will recommend.
---
Przez David K
2019-10-27T00:00:00
Being of the older generation and doing D.I.Y when you have a bit of screwing ahead, the joints in the hands and wrists can''t manage like they used to. I found the yanky style screw driver a god send, things are now much, much easier.
---
Przez mike l
2018-03-27T00:00:00
Used to own the Stanley classic more than 20 years ago. In the process of building a deck in the back garden. Screws have T20 or T25 heads. Trying to screw in quickly using a power tool leads to stripped heads and bits. Not with the Silverline Spiral Ratchet Screwdriver. Perfect control every time. I bought a second one so my daughter could help build her own deck.....
---
Przez Eric C
2017-10-27T00:00:00
Perfect tool well made and makers the job sooo much easier .. why didn''t i get one sooner :-)
---
Przez Trent R
2017-06-18T00:00:00
Best screwdriver ever. Have been after a replacement for my aging yankee screwdriver for some time, and not interested in things that need to be charged prior to use. This screwdriver does everything that an old school yankee does, with the huge benefit of taking modern 1/4" hex bits, rather than the old Stanley standard. Thoroughly recommended.
---
Przez Derek S
2017-05-26T00:00:00
I bought the spiral ratchet screwdriver as a backup for when my cordless screwdriver was not charged and also as a sense of nostalgia as my father had one years ago. I was so impressed with it that I now use it all the time, my cordless screwdriver is now redundant! It is an excellent tool for DIY use and I''m so glad I bought it.
---
Przez C.MAC D
2017-04-23T00:00:00
This was a replacement for one that was borrowed and never returned. It''s just as great as my old one with even better results. Its sturdy and does the job without complaint, unlike using blistered palms on conventional screwdrivers. I''d recommend this without hesitation as it gives lots of torque when required due to its length and durability.