868778
Nitownica harmonijkowa
3,2 - 6,4 mm
---
---
Do użycia jedną ręką, do seryjnych powturzeń
Głowica i harmonijka z bardzo odpornej stali węglowej
Dysze: 3.2mm (1/8") 4.0mm (5/32") 4,8mm (3/16") 6.0mm (15/64") i 6.4mm (1/4")
---
Kup online
Znajdź dystrybutora
Zrecenzuj ten produkt
9 recenzji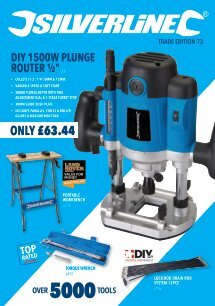 ---
Dane techniczne
| | |
| --- | --- |
| Rozmiar naboju/wkładu | Nity 3,2, 4,0, 4,8, 6,0, 6,4 mm |
| Wykończenie | Chromowane, malowane |
| Wykończenie rękojeści głównej | Malowane |
| Hartowane | Dysze |
| Waga | 1,558 kg |
| Rodzaj | Nitownica |
---
Kluczowe funkcje
Głowica i harmonijka z bardzo odpornej stali węglowej. Idealny do prac z seryjnymi powtórzeniami. W zestawie dysze: 3,2mm (1/8") 4,0mm (5/32") 4,8mm (3/16") 6,0mm (15/64") & 6,4mm (1/4").
---
Zawartość pudełka
Klucz
Dysze 3,2, 4,0, 4,8, 6,0, 6,4 mm
---
Oceny klientów
Przez Martin R
2020-03-05T00:00:00
I have a number of Silverline Tools and at with the quality and prices being so good, I''m going to keep adding to them. Excent Quality at Fantastic Prices.
---
Przez Ricardo
2018-05-19T00:00:00
Great tool, super easy to use and what's best the lifetime guarantee you get when you register it, totally recommend.
---
Przez Ryan b
2018-05-11T00:00:00
Very good product for the money
---
Przez martin s
2017-02-28T00:00:00
Only used about a dozen 3/16" rivets and the threads stripped in the aluminium body where the steel head screws in, will be requesting a replacement or refund.
---
Przez Dermot W
2016-10-10T00:00:00
Still working well no complaints
---
Przez Michael W
2016-09-19T00:00:00
good price, good tool, always pleased with silverline, never had a faulty tool yet.
---
Przez Tony w
2016-09-19T00:00:00
---
Przez John A
2016-08-30T00:00:00
I found that the Silverline Lazy Tong Riveter was ideal for the job of replacing double glazing sash window friction hinges. The windows in our property are over 20 years old and unlike more modern windows are secured to the frames using 5mm aluminium rivets instead of self tapping screws found on more modern installations. These rivets leave over large holes after removal preventing the use of screws. The riveter was both easy and convenient to use and I would definitely recommend the product to any DIY enthusiast who feels confident in tackling the job. The tool is robust and with a 2 year guarantee well worth the price.
---
Przez Phil E
2016-08-22T00:00:00
Having returned the first riveter when it broke after about 100 rivets , I tried again with it''s replacement ..... It lasted for 5 after which I took it back for a refund. Service from Tool station , however , was excellent . They replaced the original without any quibble and immediately refunded my money when I returned the second.