MS98
Zestaw pilników, 3 szt.
Dwukrotnie nacięte, 250 mm
---
---
1 x płaski, 1 x okrągły, 1 x półokrągły
Uchwyt typu Softgrip
Otwór do zawieszenia
---
Kup online
Znajdź dystrybutora
Zrecenzuj ten produkt
6 recenzji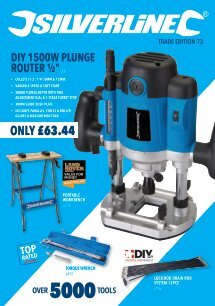 ---
Dane techniczne
| | |
| --- | --- |
| Hartowane | Utwardzone |
| Waga | 0,79 kg |
---
Kluczowe funkcje
W zestawie pilniki podwójnie nacięte: płaski, okrągły i półokrągły. Pilniki z uchwytem typu Softgrip i otworem do zawieszenia.
---
Oceny klientów
Przez Andrew M
2020-05-01T00:00:00
Sturdy tools at the right price. Made short work of fixing a sticky door.
---
Przez Jake H
2019-11-11T00:00:00
The files work well and can be used with both wood and metal. My only complaint is there isn''t much rubber on the handles, so they can get a little uncomfortable with prolonged use. With that said, I can''t complain for the price so I would definitely recommend.
---
Przez Grahame G
2019-10-20T00:00:00
Excellent set of files. The round one was especially helpful on the aluminium profile of the greenhouse I was erecting as I had to elongate several fixing holes.
---
Przez Rob
2019-10-17T00:00:00
A basic set of files which performed better than I had anticipated. Happy customer.
---
Przez Richard S
2017-03-04T00:00:00
A Good set Of 3 Files with both course and fine sides. Handles are light weight so do not give blisters when using. them. Great Value for money.
---
Przez Mark
2017-03-01T00:00:00
A great file set and excellent value for money. I''ve used these for plenty of jobs around the workshop and am really pleased with them. They sit alongside other tools of varying types and cost, but these are the ''go to'' files everytime. A lifetime warranty too! Don''t hesitate, just buy a set!