868784
Lötkolben, 100 W
---
---
Für elektrische und KFZ-Arbeiten
Zum Weichlöten, Starkstromkabel und filigrane Arbeiten
Temperaturbereich: 500–550 °C
Mit abgewinkelter Lötspitze
---
Online kaufen
Fachhändlersuche
Dieses Produkt bewerten
19 Bewertungen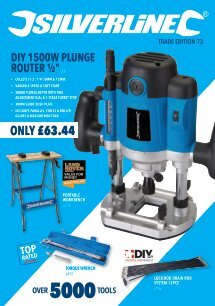 ---
Technische Daten
| | |
| --- | --- |
| AC-Geräte | 220–250 V |
| Netzkabellänge | 1200 mm |
| Temperaturbereich | 500–550 °C |
| Bereich | 500–550 °C |
| Spitzenmaterial | Spitzenmaterial: rotes Kupfer, Eisenbeschichtung: 0,2 mm Stärke |
| Gewicht | 0,240 kg |
---
Ausstattungsmerkmale
Lötkolben für Elektronik und Kraftfahrzeugarbeiten geeignet, inclusive Weichlöten, löten von Starkstromkabel und filigranen Arbeiten. Mit einer austauschbaren abgewinkelten Lötspitze geliefert. Temperaturbereich: 500–550 °C.
---
Lieferumfang
Sicherheitsdatenblatt
1 Lötkolben, 100 W
---
Kundenbewertungen
von: Kevin F
2020-05-23T00:00:00
I have had a few Soldering Irons of around 40/60 watt but on thicker items i found they struggled to melt exsisting soldered joints. The Silverline 100 watt version doesn''t struggle at all. The item is a bit bigger than my lower wattage irons but that i do not find an issue however Silverline could have have included a metal stand for the iron to rest it on. Perhaps Silverline should send me one out in the post.?
---
von: Neil
2020-04-02T00:00:00
Powerful machine with clean and pleasing design. The only drawback was I paid over the odds for it but that was my fault for not checking other prices
---
von: Alex B
2020-03-03T00:00:00
I needed this spldering iron for soldering items that need to be soldered in short tume and the tool I had was not powerful enough. I only noticed that a screw on the tip needed to be tightened after some time but this is not a problem.
---
von: Alex
2020-02-25T00:00:00
The 100 W soldering Iron is useful when I needed to solder in short time some items which cannot be heated too much such as rechargeable batteries. I also have a less powerful soldering Iron which i could not use in such cases.
---
von: Dave C
2020-02-14T00:00:00
Very good for use on the larger wires/terminals. Also has a good build quality about it. Very good for the price
---
von: Rob
2020-01-15T00:00:00
Good iron, does what it should
---
von: John B
2019-12-19T00:00:00
Wanted a bigger iron for a one off job and this was it good product good service 10/10
---
von: Nick
2019-10-29T00:00:00
I bought this soldering iron because I needed something that gets a lot of heat into thick wires quickly. It works well and my only issue so far is that after prolonged use the tip came loose and needed to be lightened up before I could continue to solder. Hopefully it won''t keep doing that because other than that it''s doing the job perfectly.
---
von: Andy
2019-05-10T00:00:00
Great product great price brilliant warranty does the job first time cheers
---
von: Scott D
2019-04-26T00:00:00
Needed a hot iron for outside work. Tried various ones in my stock but none were up to it. Bought this 100W silverline .... wow did it do the job!! Finished job in 10 mins. Brilliant
---
von: Peter W
2018-10-05T00:00:00
Got this iron to do stained glass work warms up quickly Would recommend for this work
---
von: Phil L
2018-09-21T00:00:00
I bought a 100w soldering iron at a great price. Better still I got a range of compatible tips that allow for any type of soldering need. The iron is well designed and made, using quality materials. Heating up time is very quick.
---
von: Mie B
2017-11-21T00:00:00
I do a lot of soldering, I haave a 50 volt iron and use this mains iron for quick jobs. It heats up quickly and the angle tip is hany
---
von: Rodger L
2017-02-16T00:00:00
This iron is good for medium sized jobs. It is quickly up to temperature. Very good for the price.
---
von: Bill E
2016-10-10T00:00:00
I needed a replacement soldering iron and it fitted the bill perfectly
---
von: DENNIS B
2016-10-10T00:00:00
This iron is Ideal for the medium size jobs, without having a bulky item to hold or position in tight spaces, once warmed up heat transfer is good and keeps retained.
---
von: Tom w
2016-10-10T00:00:00
Well worth the money superb
---
von: derek a
2016-10-10T00:00:00
excellent quality, low price and 3 year warranty. What more could you want
---
von: Adnaan
2015-08-20T00:00:00
This product is excellent. In about 5-10 minutes it is ready to solder anything.
---
Drei Jahre Garantie
Dieser Silverline-Artikel Lötkolben, 100 W verfügt über eine 30-tägige Garantie ab Kaufdatum, die ihn gegen Mängel infolge von Material- oder Verarbeitungsfehlern absichert. Um Ihre Drei Jahre Garantie wirksam werden zu lassen, registrieren Sie Ihren Artikel bitte auf der Silverline-Webseite. Mangelhafte Artikel werden kostenlos ersetzt oder repariert.