282400
Air Framing Nailer 90mm
10 - 12 Gauge
---
---
Cut-out mechanism prevents empty firing
Fires 50 - 90mm 34° paper collated, clipped head nails
Accepts 10 - 12 gauge nails
90pce magazine capacity
Includes 1/4" male quick connector
---
Buy Online
Find a Dealer
Review this Product
42 review(s)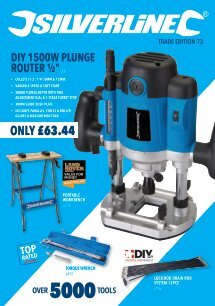 ---
Product Specification
| | |
| --- | --- |
| Air Consumption | 5L/s (10.69ft3/min) |
| Capacity - Bolt | Head size - Ø6.8-Ø7.2mm. Shank - Ø2.87mm-Ø3.33mm |
| Connector Size | 1/4" Quick connect |
| Gauge | 10 -12 |
| Handle - Primary - Finish | Rubber |
| Material - Secondary Construction | Aluminium body |
| Maximum Pressure | 120psi |
| Product Weight | 4.2kg |
| Working Pressure | 5-8Bar (75-115psi) |
---
Key Features
Powerful nailer that fires 50-90mm 34° paper collated, clipped head nails. Accepts 10-12 gauge nails. Magazine capacity 90pce. Cut-out feature prevents empty firing. Lightweight magnesium housing. Adjustable penetration depth. For roof framing, fencing, decking and flooring. No-mark tip protects work surface. Includes 1/4" male quick connector.
---
Box Contents
1 x Air framing nailer 90mm
1 x 1/4" Male BSP Bayonet Quick Connector
3 x Hex Keys
1 x Air Tool Oil
1 x Instruction Manual
---
Customer Ratings
By: Hanin
2019-07-08T00:00:00
design épuré et efficacité sont au rendez vous. Je suis entièrement satisfait de ma cloueuse silverline
---
By: A. G
2019-06-13T00:00:00
Great tool, works well, I''ve worked it hard for the last week! and it didn''t jam or stick, just put a little oil on it now and again.... Recommend it
---
By: tony p
2019-06-04T00:00:00
had it over two weeks now and unable to get nails for the nailer have tried many firms with no luck
---
By: Jason
2019-06-02T00:00:00
Well priced for a first time purchase. holds plenty of nails so no need to carry loads in your pockets. Works well and am pleased with it
---
By: Fernandez x
2019-05-24T00:00:00
Really good air nailer, i''ve made some pallet projects and it works really nice. I will make some more intensive work in the future but i''m sure it will work fine !!!! Great product !!!
---
By: Chris g
2019-05-24T00:00:00
Purchased this nalier to fix feather edge it has plenty of power bit on the heavy side but is well built and easy to use i have recommended this and two off my mates have also purchased one
---
By: Mel R
2019-05-02T00:00:00
Purchased this framing nailer to replace our battery powered gun and we''re all delighted with it!!! The girlie wimp in me finds it slightly heavy but that''s just something I''ll have to get to the gym to resolve!!
---
By: Kevin
2019-04-09T00:00:00
Very impressed with nail gun and the quality is really good
---
By: richard h
2018-11-01T00:00:00
excellent value for money and does a good job with ease if usining a good compressor
---
By: ROGER H
2018-10-22T00:00:00
EXCELENT NAILER, BROUGHT THIS WHEN MY OLD NAILER DIED, AND HAVE USED IT MOST DAY SINCE I BROUGHT IT AND HAVEN''T HAD A SINGLE PROBLEM WITH IT, WOULD HIGHLY RECOMMEND SILVERLINE TO ANYONE NEEDING ANY NEW TOOLS.
---
By: ACCART
2018-05-19T00:00:00
Ceci est un très bon produit, cette cloueuse fonctionnev très bien. J''en suis très satisfait. Je la recommande.
---
By: David
2018-05-07T00:00:00
For the price does excellent job simple to use not to heavy in use
---
By: Colin c
2018-04-10T00:00:00
After researching nail guns, I found this to be the best quality for my needs. Really well made and sturdy.
---
By: Simon R
2018-03-15T00:00:00
Bought this nail gun to erect a 60 foot featherboard fence , put nearly a thousand 50mm nails through this gun and after the initial adjustment for depth it went without a hitch, lot easier and faster than a hammer and at a good price too.
---
By: Martin d
2017-12-28T00:00:00
Very good value compared to so called high ended. P Similar products. Throw in a 3 year warranty and you really can''t go wrong
---
By: Albert B
2017-10-06T00:00:00
Just purchased my2nd one of these had no1 for over2years used at lest 3 days a week and is still working well
---
By: LABADIE
2017-07-22T00:00:00
Etant un ancien charpentier j''avais l''habitude de travailler avec d''autre marque de référence et je suis antièrement satisfait de ce produit. Il est aussi performant que ceux que j''utilisais tous les jours professionnellement. C''est un excellent produit que j''assimile sans aucune retenue a un materiel de qualité professionnelle
---
By: Nico
2017-04-17T00:00:00
Vert good job with this product
---
By: Olivier
2017-03-31T00:00:00
I bought this nailer few weeks ago. It looks voluminous but not so heavy, perhaps still a bit at the end of the day. I don''t use it yet, just some trials and it seems powerful. Hope the life time will be good. Up to now I recommend this product.
---
By: Richard f
2017-01-11T00:00:00
Very effective tool, happy with this product!
---
By: Craig P
2016-10-10T00:00:00
A brilliant piece of kit, outstanding performance!
---
By: Gérard B
2016-10-10T00:00:00
Ce cloueur me satisfait complètement, ne pas hésiter à dépasser les 6,3 bars pour pénétration plus profonde des pointes de 90 mm striées
---
By: Eugene T
2016-09-26T00:00:00
Works super, never a problem after hundreds of nails; a tool that saves me lots of work and energy. Faster than old fashioned hammering. I use it for construction work and nailing a wooden ceiling; putting pallets together etc.
---
By: Nick
2016-09-26T00:00:00
One of the best things I have purchased. Built a 16x6.6" shed. It has been reliable no problems with it no jamming everything works fine.
---
By: Art W
2016-09-26T00:00:00
---
By: Graeme w
2016-09-26T00:00:00
Great product Lighter than most making it better for working overhead
---
By: Peter H
2016-09-26T00:00:00
Simply a great time saver ,Silverline have Nailed it both on price an quality
---
By: Joel o
2016-09-12T00:00:00
This is my first silverline tool and it is fab i have built a couple of large sheds 3mx5m and done loads of fencing in the back and front garden + tons of other jobs and it has not let me down once. 100% recomend it and would buy silverline tools again. Thanks
---
By: Andrew G
2016-09-05T00:00:00
Used This For Framing and Laying Flooring in a Loft Took Half the Time it would have Taken With Hammer and Nails. (An Excellent Product)
---
By: Tony k
2016-09-01T00:00:00
Brilliant and easy to use good tool for diy and professional use
---
By: Richard S
2016-08-30T00:00:00
Used to make a fence. After a few trial runs to get the pressure correct it was very fast and easy,cutting the time down dramatically. I did feel that the instructions could be more explicit and have more information in,ie which way to turn the distance adjuster
---
By: Albert l
2020-02-18T00:00:00
Could not find a more robust nail gun for the money. Very pleased with my purchase.
---
By: Shane H
2019-11-12T00:00:00
This is a quality nailer at a very reasonable price. I''ve recently larch clad my new extension and it performed better than expected. It is a tad on the heavy side but still easy to use
---
By: JP k
2019-10-28T00:00:00
Achaté en 2014, j''en suis à mon deuxième usage, donc moins de de 3000 clous. Jusque là un très bon rapport qualité prix. Mais: Le percuteur ne revient plus à sa position de départ. Je l''ai démonté, Il est bien lubrifié. mais les joints toriques sont à remplacer. Dans le cylindre près de l''échappement, il y a des projections de peintures, ce qui use les joints prématurément. Un peu plus de soins à la fabrication serait nécessaire pour la durée de vie de ce produit. Aujourd''hui le 282400 est un mauvais investissement pour moi, car il ne fini même pas mon bardage à cloué de 40m². ENtre le prix du cloueur et des clous inox, j''ai moins de dépense à l''achat de vis inox. Pouvez vous me donner les dimensions des joints toriques?
---
By: Shane H
2019-10-06T00:00:00
Bought this to use on larch cladding for my extension. Super product at a very reasonable price. Does what it says on the tin.
---
By: Peter B
2019-10-05T00:00:00
As a semi retired carpenter & joiner having to replace my very well used air nailer. I was a little dubious about the relatively low price for a Silverline one. Having used it all this week on a large studding job at home I was pleasantly surprised when it performed faultlessly with no issues firing some 1500 nails. I would highly recommend this nailer even for bigger jobs 10/10
---
By: John L
2019-09-24T00:00:00
Very fast delivery excellent product would definitely use again
---
By: Simon
2019-09-23T00:00:00
I have not used this properly yet however a few test runs with a clip of nails and I can say it works extremely well. It takes a bit of tweaking to get the pressure right for your chosen application but that is more the fact it is an air nailer rather than the product itself. Once you''ve got the pressure and the depth set right...you are off!! Its fast, it''s powerful, holds plenty of nails and so far no jams. Exactly what I need at a great price.
---
By: Paul M
2019-09-23T00:00:00
Good reliable tool. Makes framing a breeze. I used 3.5 inch nails to frame and 2 inch to board out and worked flawlesly. I thought it gone wrong once when refused to fire with a few nails still in magazine. I put more in and it worked again. Just be safety feature before fun out. I used Tacwise ring shank nails and beware don''t nail in wrong place as the nails have massive holding force.
---
By: John l
2019-09-18T00:00:00
Very fast delivery excellent product great warranty.
---
By: Derek S
2019-08-29T00:00:00
I connected this device to my Air Line and it worked fine for 6 nails then it started to blow the Air Line from the Nailer. This kept happening so I connected my Air Line to a friends Bosch 90mm Nailer and all was well. I returned my device to Toolstation who replaced it. I retuned from my 20 mile round trip having wasted 2 hours, connected the new one to my Air Line and the same thing happened. I then took a spray gun and removed the connector and fitted it to the Nailer and all is now well. I asked for compensation from Toolsation but they refused. So I am well out of pocket.
---
By: lionel l
2019-08-16T00:00:00
fonctionne tres bien , aucun souci pour moi. works very good, no problem for me.
---
3 Year Guarantee
This Silverline Air Framing Nailer 90mm is guaranteed for a period of 30 days from date of purchase against a fault developing in either the materials or the workmanship during manufacture. You can register for your 3 Year guarantee by registering your product online. Any faulty goods will be repaired or replaced free of charge.