571295
DIY 650W Angle Grinder 115mm
115mm UK
---
---
2-position auxiliary handle
Spindle lock
On / off automatic safety release switch for improved operator protection
For grinding & cutting of metals, stone & concrete
Suitable for use with wire cup brushes & wheels for rapid removal of rust & corrosion
---
Buy Online
Find a Dealer
Review this Product
15 review(s)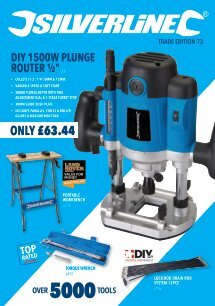 ---
Product Specification
| | |
| --- | --- |
| Blade Diameter | 115mm |
| Disc Diameter | 115mm |
| Finish | Plastic |
| IP Rating | IP20 |
| Thread Size | M14 |
| Power | 650W |
| No Load Speed | 11,000rpm |
| Product Weight | 1.77kg |
---
Key Features
Compact and versatile mini grinder for a wide range of grinding, cutting and sanding tasks. Adjustable safety guard and 2-position side handle. On / off automatic safety release switch for improved operator protection. Disc diameter 115mm. No load speed 11,000rpm.
---
Box Contents
1 x 650W Angle Grinder 115mm
1 x Threaded Flange
1 x Inner Flange
1 x Auxiliary Handle
1 x Pin Spanner
1 x Hex Key
1 x Spare Brushes (Pair)
1 x Instruction Manual
---
Customer Ratings
By: Gerald F
2020-06-15T00:00:00
Fantastic tool,nice soft start, does what it says on the tin, could do with it's own proper storage case, but for the price excellent value.!
---
By: Martin
2020-06-11T00:00:00
Nice little angle grinder great value easy to use and turn off and on when using it, came with handle disc removal tool and a spare set of motor brushes !
---
By: Dainius
2020-06-02T00:00:00
Great build quality. Sturdy and no wobbly parts. So far works like a charm. Managed to cut some metal and brush some rust. I''m sure I will have more things to do with my new toy. Small thing I liked is extra carbon brushes to replace
---
By: Angus M
2020-05-22T00:00:00
Excellent tool to work with, I always buy Silverline tools. Very happy with the product
---
By: m c
2020-05-12T00:00:00
nice tool easy to handle fairly light just right
---
By: Marilyn M
2020-04-29T00:00:00
My husband is thrilled with the results he''s got taking the paint off his Vespa. He bought the pads and I bought the buffer to go with it. The two wire brushes that came with the angle grinder are doing a great job.
---
By: Marilyn M
2020-04-22T00:00:00
My husband is thrilled with the angle grinder. He also bought the box containing grinding discs and wire brushes. I bought him the buffing pad. Extremely good value for money. Does what it says on the box.
---
By: Andrew S
2020-04-06T00:00:00
Quietly please and very satisfied with the smooth transition from switch it on, and the commencement of the rotation as a very smooth action, not jerking like many others I have had in the past, excellent quality, highly recommended.
---
By: Steve D
2019-10-23T00:00:00
Used the grinder to cut some tiles, did the job very well and controllable. Bought it for this purpose but I am sure it will be a very good piece of kit to have and come in very useful in the future for all sorts of jobs.
---
By: Christine W
2019-06-04T00:00:00
Excellent grinder did the job great no fuss just good simple instruction brilliant
---
By: Christine W
2019-05-28T00:00:00
Bought this for my son to get some bolts cut from a garden bench . He said it did the job was easy to use .
---
By: taimoor k
2019-05-12T00:00:00
you can''t get the better grinder in this price I am so happy with that it is working perfectly Thanks silverlinetools
---
By: Keith B
2019-04-23T00:00:00
Very good grinder works very well and of good quality, just as good as the more expensive makes
---
By: Robert G
2018-09-07T00:00:00
I needed an angle for a single job so didn''t want to spend to much money. My purchase was just what I needed. It did the job with ease and came supplied with everything I needed. I''ve since for it useful in other small jobs. Would definitely recommend it.
---
By: Shaun C
2018-04-19T00:00:00
Over the years I've got through a lot of angle grinders and always found issues with them but this grinder is incredibly pleasing. It's comfortable to hold, weighted just right, it's quite compact but packs a hell of a punch for such a small unit. Overall it's just perfect for what i need.
---
3 Year Guarantee
This Silverline DIY 650W Angle Grinder 115mm is guaranteed for a period of 30 days from date of purchase against a fault developing in either the materials or the workmanship during manufacture. You can register for your 3 Year guarantee by registering your product online. Any faulty goods will be repaired or replaced free of charge.