250575
Juego de punzones botadores, 28 pzas
Tamaños: 3/32" - 17/32" (2,4 – 13,4 mm)
---
---
Para transferir agujeros de una pieza a otra
Extremo en punta para marcar con precisión
Tamaños: 3/32" - 17/32" (2,4 – 13,4 mm)
---
Comprar online
Buscar un distribuidor
Comentar este producto
3 comentarios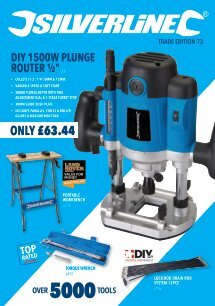 ---
Descripción del producto
Punzones para transferir agujeros de una pieza a otra. Extremo en punta para marcar con precisión. Tamaños: 3/32" - 17/32" (2,4 – 13,4 mm). Longitud: 125 mm.
---
Contenido en el embalaje
Juego de punzones botadores, 28 pzas
---
Comentarios realizados por nuestros clientes
Por: Paul n
2019-12-19T00:00:00
Great looking items in nice plasticky holder, well packed box and really pleased when opened, the finish is good and they work exactly as said on box!! Obviously they are not to be used as a drift or heavy punch but treated for what they are! A precision tool!!
---
Por: John G
2019-12-12T00:00:00
I''ve only used them on woodworrking projects and they are really great for transferring the exact hole centre from one piece to another, they are Imperial not metric, not a huge problem but the World (apart from the USA) is Metric
---
Por: David D
2016-11-23T00:00:00
This is a good set of punches that is doing its job - only quibble I have is that it is an imperial size range. It was originally described as 2mm - 13mm but this craftily was only a rough conversion to metric. This set is an imperial size so you will have to convert it to metric yourself - a bit of a pain!
---
Garantía de por vida
Este producto Silverline Juego de punzones botadores, 28 pzas dispone de 30 días de garantía desde la fecha de compra contra defectos de fabricación y materiales defectuosos. Registre su producto online para extender el periodo de garantía de por vida. Todas las piezas defectuosas serán reparadas de forma gratuita.