273197
Juego de sellos de letras y números, 36 pzas
36 pzas
---
---
Enurecidas y templadas
Juego de sellos de letras y números, 36 pzas
Caja de madera para su almacenaje
Acero al carbono
Ideal para usar en el taller
---
Comprar online
Buscar un distribuidor
Comentar este producto
3 comentarios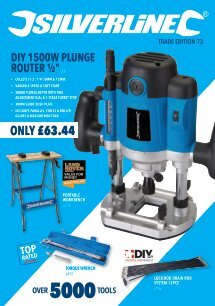 ---
Características técnicas
| | |
| --- | --- |
| Acabado - Empuñadura principal | Revestimiento de carbono |
| Endurecido | Sí |
| Peso | 0,0464 kg |
| Diseño | Sellos de letras y números |
---
Descripción del producto
Juego de sellos de letras y números de 5 mm. Enurecidas y templadas. Caja de madera para su almacenaje.
---
Contenido en el embalaje
Juego de sellos de letras y números, 36 pzas
---
Comentarios realizados por nuestros clientes
Por: Rob B
2019-08-15T00:00:00
Did the job easily and had no problems using this product. Would recommend them to anyone wanting to permanently mark their tools to safeguard them.
---
Por: Paul M
2017-11-29T00:00:00
So, the challenge was to make metal name labels for dozens of plants in a big garden. Ones that didn''t wash off or fade away after a few months out in all weathers. These letter stamps are providing an excellent answer. It takes a bit of concentration to make sure the spacing is fairly regular and level and that the stamps are completely upright so that you don''t just get the top or the bottom of the letter, but it''s not too difficult. I use the heavy-duty surface of a big, old machine to do my hammering, so there''s not movement and no bouncing and the letters cut in just fine. Somewhere on-line I read about problems with the wooden box not being strong enough, but that was either a competitor or they''ve improved it: this box is both practical and well-made for the job. I was worried that - at this price - these letter stamps would be ''cheap and nasty'', and I nearly chose something more expensive, because of that. But I need not have worried. I''ve stamped out dozens of metal plant labels and both the labels and these new letter punches will last for years. An excellent addition to the workshop.
---
Por: Richard H
2016-08-22T00:00:00
This does exactly what it should, good strong embossed letter and numbers. I looked on-line for a kit similar to this and all the ones direct from Asia contained less (only letters or numbers but not both) where as the silver line one contained everything for less money! Perfect.
---
Garantía de por vida
Este producto Silverline Juego de sellos de letras y números, 36 pzas dispone de 30 días de garantía desde la fecha de compra contra defectos de fabricación y materiales defectuosos. Registre su producto online para extender el periodo de garantía de por vida. Todas las piezas defectuosas serán reparadas de forma gratuita.