270462
Sierra de calar 350 W
350 W
---
---
Motor de 350 W con una sola velocidad
Botón de bloqueo, protector transparente y salida de extracción de polvo
Ángulo de corte: 0 - 45° (I y D)
Compatible con cuchillas con vástago en T y U
Incluye llave hexagonal, cuchilla para corte de madera y par de escobillas de carbón
---
Comprar online
Buscar un distribuidor
Comentar este producto
28 comentarios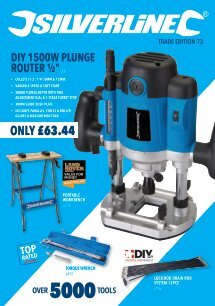 ---
Características técnicas
| | |
| --- | --- |
| Clasificación PPI | IPX0 |
| Potencia | 350 W |
| Capacidad máxima de corte | 55 mm (madera) |
| Velocidad sin carga | 2.800 min-1 |
| Peso | 1,36 kg |
---
Descripción del producto
Sierra de calar con mango ergonómico y protector transparente. Botón de bloqueo y placa de bisel ajustable en ángulo de 45°. Salida de extracción de polvo. Capacidad de corte máxima: acero 6 mm, madera 55 mm. Velocidad sin carga: 2.800 min-1. Compatible con cuchillas con vástago en T y U. Incluye llave hexagonal, cuchilla para corte de madera y par de escobillas de carbón.
---
Contenido en el embalaje
Sierra de calar 350 W
Cuchilla para madera
Llave hexagonal
Par de escobillas de carbón
Manual de instrucciones
---
Comentarios realizados por nuestros clientes
Por: Mazhar k
2020-01-28T00:00:00
What a lovely small jig saw. Small but powerful and accurate . Love it!
---
Por: Ken S
2019-12-20T00:00:00
I have reviewed it stop pestering me
---
Por: Ken S
2019-12-13T00:00:00
I have a Silverline power Drill and Jig saw. Now I am just an avid DIYer, before I retired was a self employed builder. Now I find Silver line tools more than adequate for what I want to do
---
Por: David
2019-12-07T00:00:00
No problem with this machine, does exactly what I need it for. Good price 👍
---
Por: Nathan B
2019-11-26T00:00:00
It''s great cut through most things
---
Por: Terence G
2019-11-16T00:00:00
Basic, but great tool, have used it a few times now on various types of wood, and it has done every job well.
---
Por: Terence G
2019-10-14T00:00:00
Very good jigsaw, single speed but has done all the work i have used it for very well. Good jigsaw.
---
Por: Khaleed M
2019-09-14T00:00:00
love this little machine. grate value, fantastic features
---
Por: Autumn
2019-06-05T00:00:00
This is a good looking product and was very reasonablely priced, love the colour 💙
---
---
Por: Ian b
2018-05-21T00:00:00
This is great value for money jigsaw
---
Por: Glyn p
2018-05-15T00:00:00
3 year garante what''s not to like
---
Por: philip t
2018-04-28T00:00:00
OK i suppose for the price, but action non too stable, no good for really accurate work as blade does not always cut vertically.
---
Por: Bernard B
2017-11-13T00:00:00
For the price this jigsaw is an excellent buy. It does the job as well as any more expensive jigsaw. Has a 3yr guarantee and even comes with a spare set of carbon brushes should those in the motor wear out. No complaints whatsoever for this tool. 5 stars from me.
---
Por: Paul B
2017-07-30T00:00:00
Glad I bought this item so easy to use and it just glides through wood so simple very pleased
---
Por: graham h
2017-06-30T00:00:00
ok for small jobs not rearly made for large jobs but ok for the price
---
Por: Chris
2017-05-01T00:00:00
Jigsaw seems to work OK under test, but has not been used to cut material yet. Instructions very basic, and do not explain how to fit blade or adjust blade guide. This was not a problem to me, since the jigsaw was a replacement for a similar model which had died after a number of years service, but might prove difficult for a new user. Also, what is the point of providing only one blade, which has the wrong shank to fit the saw??
---
Por: Alexandru C
2017-04-10T00:00:00
This is the perfect tool for a beginner DIYer. Easy to handle it. Comes with everything you need to start the job.
---
Por: John T
2017-03-27T00:00:00
The saw in General is good, does what it was made for, cheap n cheerful in colour, but its downfall is the blade changing, its the worst I''ve ever seen, and I go through quite a few saws with many hours work, the time it takes with the fiddly little screws to change the blade is ridiculous regards ,john
---
Por: John T
2017-03-20T00:00:00
Nice colour, good to use, the base plate is very slightly uneven and stops the free flow of the saw, if a blade breaks, this is the slowest, absolutely the worst blade changing set up I''ve ever had to use, my rating fr the blade changing would b star but ill give it 2 as one can''t expect all the fancy gear with a dear saw.
---
Por: Harry s
2017-03-08T00:00:00
Brilliant cuts nice and smooth
---
Por: Najia s
2016-10-30T00:00:00
Really this jigsaw very helpful to make your home nice very easy and you win a time.i like this company because they help us by their strange products goooood luck.
---
Por: mel m
2016-09-18T00:00:00
This jigsaw is very good value for money. ideal for household jobs.
---
Por: mervyn
2016-09-13T00:00:00
This jigsaw looks and works very well it just proves that you dont have to spend a lot of money to get what you need
---
Por: Larry s
2016-09-12T00:00:00
Have not used this item more than half a dozen times.used it at the weekend to cut a piece of ply and it packed up cutting no saw movement although motor running. Poor quality build. Will be getting in touch as still under warranty.
---
Por: Maurice
2016-09-12T00:00:00
It''s a decent cheap saw. We used it mainly for laying laminate and some other jobs around the house. It works well but when not in motion the blade can be moved slightly from left to right. This makes it a bit harder to cut straight though it''s still possible.
---
Por: roger h
2016-09-12T00:00:00
brilliant machine just wot i wanted does the job as it says on the tin
---
Por: al f
2016-09-12T00:00:00
brilliant bit of kit for the home diy, used it a lot on decking jobs, it just keeps going,and dose what it should.
---
Garantía 3 años
Este producto Silverline Sierra de calar 350 W dispone de 30 días de garantía desde la fecha de compra contra defectos de fabricación y materiales defectuosos. Registre su producto online para extender el periodo de garantía 3 años. Todas las piezas defectuosas serán reparadas de forma gratuita.