273193
Juego de varillas de drenaje
---
---
Varillas de polipropileno con puntas remachadas para mayor durabilidad
Varillas flexibles indicadas para limpieza de desagües en el hogar
Compatible con el juego de varillas de drenaje Silverline y otras marcas
10 varillas 920 mm, 1 desatascador 100mm, 1 tornillo doble espiral 50 mm
Incluye bolsa de transporte impermeable
---
Comprar online
Buscar un distribuidor
Comentar este producto
4 comentarios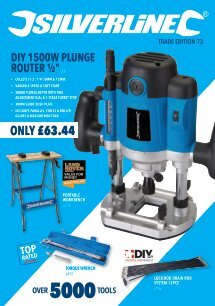 ---
Características técnicas
| | |
| --- | --- |
| Método de construcción | Varilla de polipropileno con extremos metálicos |
| Peso | 1,77 kg |
| Grosor | 2,4 mm |
---
Descripción del producto
Juego de varillas de drenaje y accesorios para la limpieza de desagües en el hogar. Juntas universales con varillas remachadas para mayor durabilidad. El extremo del tornillo de doble espiral y la presión ejercida con la varilla desatascan los espacios obstruidos. Flexibles y conexión de forma sencilla. Varillas de polipropileno de 920 x ø18 mm. Disponibles en juegos de 10 varillas y juego de 4 prolongadores. Compatible con el juego de varillas de drenaje Silverline y otras marcas. Girar siempre en sentido horario.
---
Contenido en el embalaje
Desatascador 100 mm
Tornillo doble espiral
Varillas de drenaje, 10 pzas
---
Comentarios realizados por nuestros clientes
Por: Debbie B
2020-03-07T00:00:00
Had to buy a new set of rods as the set I''ve had for more than 10 years broke on the drain and I hadn''t registered them and online. I''m hoping that now I''ve registered them if they break again I''ll have some comeback on the Guaranteed for Life claim.It''s a good set in a nice compact bag.
---
Por: christopher w
2019-06-27T00:00:00
great rods and lifetime guarantee what more can you say?
---
Por: Richard C
2017-11-01T00:00:00
These seem to have good reviews on almost every site, if you''re after a cheap set of rods for a simple job with small bends, then these maybe ok. From the pictures these look like solid, composite tubes, in reality they are thin walled plastic tubes, which kink very easily, especially near the rivets. The plunger is so pliable, it came off when withdrawing the rods, no metal insert to ensure it remains securely attached. After this happened, I didn''t trust them, so these will be going back.
---
Por: Pamela R
2016-09-05T00:00:00
Purchased earlier this year as we live in a house with a septic tank. They have proved useful on 2 occasions when deciding whether the tank needs emptying. Sturdy construction and easy to use.
---
Garantía de por vida
Este producto Silverline Juego de varillas de drenaje dispone de 30 días de garantía desde la fecha de compra contra defectos de fabricación y materiales defectuosos. Registre su producto online para extender el periodo de garantía de por vida. Todas las piezas defectuosas serán reparadas de forma gratuita.