868778
Remachadora extensible
3,2 - 6,4 mm
---
---
Para utilizar en tareas repetitivas con una sola mano
Fabricada en acero al carbono resistente
Incluye 5 boquillas de 3,2 mm, 4 mm, 4,8 mm , 6 mm, 6,4 mm
---
Comprar online
Buscar un distribuidor
Comentar este producto
9 comentarios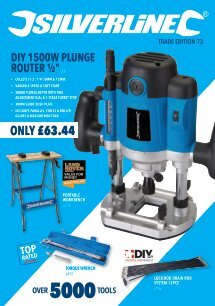 ---
Características técnicas
| | |
| --- | --- |
| Tamaño del cartucho de recambio | Remaches de 3,2 mm 4 mm, 4,8 mm , 6 mm, 6,4 mm |
| Acabado | Galvanizado y pintado |
| Acabado - Empuñadura principal | Pintado |
| Endurecido | Boquilla |
| Peso | 1,558 kg |
| Diseño | Extensible |
---
Descripción del producto
Fabricada en acero al carbono resistente. Ideal para aplicaciones repetitivas. Incluye 5 boquillas de 3,2 mm, 4 mm, 4,8 mm , 6 mm, 6,4 mm.
---
Contenido en el embalaje
Remachadora extensible
Boquillas de 3,2 mm, 4 mm, 4,8 mm , 6 mm, 6,4 mm
---
Comentarios realizados por nuestros clientes
Por: Martin R
2020-03-05T00:00:00
I have a number of Silverline Tools and at with the quality and prices being so good, I''m going to keep adding to them. Excent Quality at Fantastic Prices.
---
Por: Ricardo
2018-05-19T00:00:00
Great tool, super easy to use and what's best the lifetime guarantee you get when you register it, totally recommend.
---
Por: Ryan b
2018-05-11T00:00:00
Very good product for the money
---
Por: martin s
2017-02-28T00:00:00
Only used about a dozen 3/16" rivets and the threads stripped in the aluminium body where the steel head screws in, will be requesting a replacement or refund.
---
Por: Dermot W
2016-10-10T00:00:00
Still working well no complaints
---
Por: Michael W
2016-09-19T00:00:00
good price, good tool, always pleased with silverline, never had a faulty tool yet.
---
Por: Tony w
2016-09-19T00:00:00
---
Por: John A
2016-08-30T00:00:00
I found that the Silverline Lazy Tong Riveter was ideal for the job of replacing double glazing sash window friction hinges. The windows in our property are over 20 years old and unlike more modern windows are secured to the frames using 5mm aluminium rivets instead of self tapping screws found on more modern installations. These rivets leave over large holes after removal preventing the use of screws. The riveter was both easy and convenient to use and I would definitely recommend the product to any DIY enthusiast who feels confident in tackling the job. The tool is robust and with a 2 year guarantee well worth the price.
---
Por: Phil E
2016-08-22T00:00:00
Having returned the first riveter when it broke after about 100 rivets , I tried again with it''s replacement ..... It lasted for 5 after which I took it back for a refund. Service from Tool station , however , was excellent . They replaced the original without any quibble and immediately refunded my money when I returned the second.
---
Garantía de por vida
Este producto Silverline Remachadora extensible dispone de 30 días de garantía desde la fecha de compra contra defectos de fabricación y materiales defectuosos. Registre su producto online para extender el periodo de garantía de por vida. Todas las piezas defectuosas serán reparadas de forma gratuita.