PL61
Remachadora manual y 60 remaches
260 mm
---
---
Remachadora de acero al carbono
Boquillas intercambiables de 2,4 mm, 3,2 mm, 4 mm y 4,8 mm
Incluye 60 remaches
---
Comprar online
Buscar un distribuidor
Comentar este producto
7 comentarios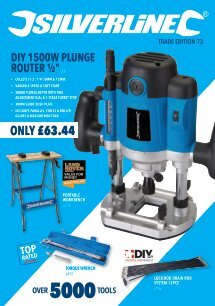 ---
Características técnicas
| | |
| --- | --- |
| Tamaño del cartucho de recambio | Remaches de aluminio de 2,4 - 4,8 mm |
| Acabado | Pintado |
| Acabado - Empuñadura principal | Liso, ergonómico |
| Endurecido | Boquilla |
| Peso | 0,503 kg |
| Diseño | Remachadora manual |
---
Descripción del producto
Remachadora de acero al carbono con boquillas intercambiables de ,4 mm, 3,2 mm, 4,0 mm y 4,8 mm. Incluye 60 remaches.
---
Contenido en el embalaje
Boquilla 2,4 mm
Boquilla 3,2 mm
Boquilla 4 mm
Boquilla 4,8 mm
Llave para boquilla
Remaches de 2,4 mm, 3,2 mm, 4 mm y 4,8 mm
---
Comentarios realizados por nuestros clientes
Por: C S
2020-06-29T00:00:00
useless: jammed first time it was used; unable to be cleared. Money down the drain
---
Por: Graham F
2020-01-21T00:00:00
Well made product for the price and so simple to rivet things.
---
Por: Lee d
2019-06-03T00:00:00
Very good hand riveter comfortable hand grip for easier grip on, with quick change bit fitments & tool.
---
Por: John R
2017-11-29T00:00:00
Exactly what was needed for the job, strong and with the added versatility of different sizes. First class product as indeed are all the Silverline tools. Many thanks
---
Por: william a
2017-10-04T00:00:00
Great value for money, easy to use, you can not go wrong buying tools from such a great company, Win Win with the life time warranty.
---
Por: Gilles P
2016-11-04T00:00:00
Fine quality. Must be confirmed in the time but do the job well
---
Por: chris
2016-10-26T00:00:00
works great, feels robust, but the handle can twist slightly in the frame but still works fine, only used once so far. rivet range with could have large flanges in also, but others worked fine.
---
Garantía de por vida
Este producto Silverline Remachadora manual y 60 remaches dispone de 30 días de garantía desde la fecha de compra contra defectos de fabricación y materiales defectuosos. Registre su producto online para extender el periodo de garantía de por vida. Todas las piezas defectuosas serán reparadas de forma gratuita.