972660
Lijadora de banda y disco 390 mm, 350 W
350 W (UK)
---
---
Mesa multi-ángulo de 390 x 125 mm ajustable en dos posiciones diferentes y guía de inglete
Lijadora de banda ajustable entre 0 - 90º
Motor por inducción con rodamientos sellados para mayor durabilidad
Longitud de la banda de lija: 390 mm / Diámetro del disco de lija: 150 mm
Incluye banda de lija grano 80, disco de lija grano 80 con cierre autoadherente, mesa multi-ángulo y guía de inglete
---
Comprar online
Buscar un distribuidor
Comentar este producto
25 comentarios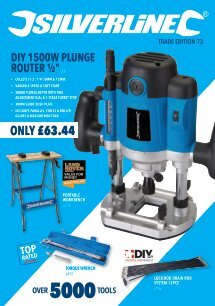 ---
Características técnicas
| | |
| --- | --- |
| Acabado | Metal pintado |
| Potencia | 350 W |
| Clasificación | IP20 |
| Tamaño de la banda de lija | 914 x 100 mm, 915 x 100 mm |
| Tamaño del papel de lija | 150 mm |
| Velocidad sin carga | 1.450 min-1 |
| Peso | 14,6 kg |
| Tamaño de la mesa | 390 x 125 mm |
| Diámetro del disco de lija | 914 mm |
| Tiempo de trabajo máximo | 30 min |
| Ciclo de trabajo | S2, 30 minutos (corta duración) |
---
Descripción del producto
Lijadora de banda y disco de 150 mm. Motor por inducción con rodamientos sellados. Doble salida para extracción de polvo. Mesa multi-ángulo ajustable en dos posiciones diferentes y guía de inglete. Lijadora de banda ajustable entre 0 - 90º.Interruptor de encendido/apagado con protección para polvo y patas engomadas. Indicada para lijar metales, madera y plástico. Banda de lija de 915 x 100 mm, superficie de lijado de 190 mm. Velocidad sin carga: 1.450 min-1 (lijadora de disco), 292 m/s (lijadora de banda). Incluye banda de lija grano 80, disco de lija grano 80 con cierre autoadherente, mesa multi-ángulo y guía de inglete.
---
Contenido en el embalaje
Lijadora de banda y disco 390 mm, 350 W
Disco de lija
Protector para el disco
Soporte para la herramienta
Salida de extracción de polvo
2 llaves hexagonales (3 y 4 mm)
Plato de soporte autoadherente
Disco de lija
Banda de lija
Guía de inglete
Mesa ajustable
Elementos de fijación
4 patas de goma
Manual de instrucciones
---
Comentarios realizados por nuestros clientes
Por: David G
2022-05-12T00:00:00
Does what it is meant to.
---
Por: harrison
2020-10-04T00:00:00
Following on from my prievious comments and Two star Rating. My belt Sander is a UK 972660, the item and instructions and picture are different to the same number on Silverlines website. Web pictures show a Belt Arm Support Rod halfway down the arm, Instructions shows the Bolt No.2 where you can adjust to fix the arm in the required position (By tightening or loosening). The instructions on my 972660 does not mention this. Upgrade my Review to reflect this.
---
Por: Harrison
2020-10-04T00:00:00
Received the above, very fast delivery and in general pleased with it, but nowhere does it state that the Belt Sander Arm has a Lock when it is in the 45degree and 90 Degree positions. Checking the Instructions for the Ninth time, even that does not mention a way to Lock the Belt Arm in these positions, Is there a Lock????
---
Por: Bernard F
2020-07-04T00:00:00
this is the second one of these i have had. The first one lasted 11years used nearly every day and is still working to a degree. !! Many many belts used, what more can i say.
---
Por: Bill p
2020-06-13T00:00:00
The reason I purchased this silverline belt/disc sander was the price from a well known tool supplier who were selling their last in stock at a very low price. Having researched the product online ( u tube harbour freight model) I knew what I was purchasing. Firstly I must say , all the reviews are accurate , but also all the fixes work. All the parts are supplied , and the quality at this price point is very acceptable. However , it has been thrown together at the manufacture very badly . The motor is badly aligned, the drive cogs need re aligning. The drive belt requires re-tensioning, and the instructions on fitting the table so it doesn''t foul the disc guard need to be improved. As I mentioned However , I knew what I was purchasing , and was prepared to carry out some adjusting because of the price. ( much less than 100 pounds) all in all, after about 3 hours of fettling I have a belt / disc sander that I am rather pleased with. The quality of the parts and build are quite good ( for a budget price) and the machine is a pleasure to use. The adjustable work table is pretty solid and accurate and I am more than happy to recommend to others as long as they understand that it is effectively a kit build.
---
Por: John G
2020-05-17T00:00:00
Very pleased easy to unpack and setup.Wish i had bought one years ago.
---
Por: Adrian C
2020-05-01T00:00:00
Excellent bit of kit thank you
---
Por: Adrian C
2020-04-29T00:00:00
Very happy good piece of kit
---
Por: Derek A
2019-08-23T00:00:00
This product is ideal for the many DIY projects that i am doing. Having only used it for the last week or so it is turning out to be a great bench top product for my workshop. I would recommend this item to all DIY''ers.
---
Por: Ron M
2019-08-13T00:00:00
It''s everything I hoped it would be, it does the job it is paid to do very well.
---
Por: renauld
2019-07-20T00:00:00
the product is good for the price I use it on wood / metal and i gave me good results. The only negative part are the support for the things to sand which are not really well donne. i will put to this tool a 7.5/10
---
Por: Richard J
2019-06-14T00:00:00
Bought table sander had to send first one back as not put together right, but amazon dealt with this very quickly and received new one next day this sander is perfect so very pleased with the outcome.
---
Por: John t
2019-06-03T00:00:00
Built to a price, not the best quality but does the job perfectly for a fraction of the price of the best quality. Very good value for home use. Recommended.
---
Por: David R
2019-04-13T00:00:00
After opening box, albeit 3 months after purchase, I find that almost all the screws are missing. After emailing the Company, I was told that it could be resolved by claiming on the Guarantee. To claim, the product had to be returned to the Company....at my cost. Cost over £10 to get 5 screws which should have been supplied with the product. Poor show!
---
Por: James o
2019-01-01T00:00:00
Its exactly what i was looking well worth the price would recomend this
---
Por: Andre S
2018-03-13T00:00:00
Very solid and enough power for DIY use.
---
Por: Van L
2017-08-02T00:00:00
A. dd to my previous review. The disc guard proved to be too flimsy it cracked in two places when fitting and the holes did not seem to be correct. To get the disc to run true was a major headache and it was impossible to fasten it securely with the guard in place. In the end I threw the guard in the bin. Again only minus stars
---
Por: Van L
2017-08-02T00:00:00
Who designed this junk? To change a belt. like a major overhaul requiring three sizes of screwdrivers and a 10mm spanner? My previous machine needed one Allen key and three minutes of my time, this one has taken me ten minutes without replacing the covers!!!! The switch unit is very conveniently placed on the left end where you have to reach around a spinning disc to operate it or have the belt spinning toward you and throwing muck in your face! I seriously hope it blows up soon so that I can throw it away in cold blood. Star rating? Minus six.
---
Por: brian e
2017-03-08T00:00:00
simple pictorial assembly instructions are clear and easy to follow to get the machine up and running. The belt sander work/rest stop needed a bit of manual '' adjustment'' to get it straight and in line , apart from that a good, well made semi-pro machine.
---
Por: Simon C
2017-03-03T00:00:00
I was initially impressed by the product but during setup It became apparent that one of the plastic guards didn''t fit correctly at factory and had been re drilled to force it. This evidently cracked the part in two places. Not wanting to send the whole unit back for a small plastic part, I contacted Silverline through the website to request a part. More than a week later, no reply. Worse still I cant find any phone numbers to chase it up. Having used the machine for two minutes, a loud clunking noise was heard that physically made the machine jump once per rotation. Having investigated it, either the motor is misaligned for the whole cast iron chassis is bent. This is probably the root cause of why the plastic spark guard didn''t fit in the first place. Either way completely unusable. Its going back for a refund.
---
Por: Owen H
2017-03-01T00:00:00
Very good tool that is good for the finishing touches on the fabrication work of my projects. A low affordable price that makes it a very competitive machine.
---
Por: Ian H
2017-02-13T00:00:00
I found the assembly instructions were not easy to follow. I am an engineer and following drawings is my business so it should have been easy. The fitting of the disc to the shaft is poor as the disc runs out of true because the bore is oversize and maybe not even at 90 deg to the face. In general the disc is a very poor fit. The remainder of the machine seems to be good.
---
Por: nigel c
2017-02-10T00:00:00
It does exactly what it says on the box. My only criticism is that the extraction connection is a bit awkward to fit in to a standard extraction flexible pipe.
---
Por: John H
2017-01-31T00:00:00
Not very good! Poor fitting parts, inaccurate table tilt / angle guide.
---
Por: Walter R
2016-11-30T00:00:00
Very pleasing and efficient piece of equipment
---
Garantía 3 años
Este producto Silverline Lijadora de banda y disco 390 mm, 350 W dispone de 30 días de garantía desde la fecha de compra contra defectos de fabricación y materiales defectuosos. Registre su producto online para extender el periodo de garantía 3 años. Todas las piezas defectuosas serán reparadas de forma gratuita.