241501
Set di chiavi Trx 4 p.zi
E6 - E24
---
---
Manici lunghi dritti per applicazioni a coppia elevata
Indurito e temprato, al cromo vanadio fucinato a stampo
Finitura lucidata di alta qualità
Rotolo portautensili in nylon balistico ultraresistente
Include dimensioni E6 - E24
---
Acquista Online
Trovare un negozio
Valuta questo prodotto
6 valutazione/i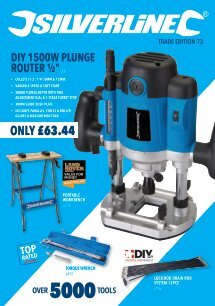 ---
Caratteristiche prodotto
| | |
| --- | --- |
| Impugnatura - principale - finitura | Lucidata interamente a specchio - Cromata |
| Finitura | Lucidata interamente a specchio - Cromata |
| Indurito | Indurita e temprata / 46 - 48 HRC |
| Peso prodotto | 0,342 kg |
| Stile | Trx |
---
Caratteristiche chiave
Manici lunghi dritte per applicazioni a coppia elevata. Temprato e fucinato a stampo. Finitura lucidata di alta qualità. Rotolo portautensili in nylon balistico ultraresistente. Misure E6 x E8, E10 x E12, E14 x E18 e E20 x E24.
---
Contenuto della scatola
1 x Chiave E6 x E8
1 x Chiave E10 x E12
1 x Chiave E14 x E18
1 x Chiave E20 x E24
---
Valutazioni da parte dei clienti
da David F
2020-03-20T00:00:00
Bought this f/torx set for a small hard to access job on an Opel, pleased with it in general. Reasonably priced, well balanced. As a former mechanic, most of my tools are Snap on, Britool and Elora which I can no longer justify or afford, I have found that my Silverline replacement/additional purchases to date have been very good value for money and I have put them to the test on our cars and my aging agricultural machinery without any failures or breakages. Most impressed and hope they continue to produce good quality and affordable tools well into the future
---
da jim
2020-01-26T00:00:00
Have used silverline tools for some time now, and find them just as good as more expensive leading brands, these trx spanners were just the job, and easily did the job they were bought for.
---
da Mike E
2020-01-04T00:00:00
These are top quality well made spanners. Needed them to strip a transfer case as no access for ratchet. The bolts where extremely seized but the spanners coped perfectly at loosening them.
---
da Kevin L
2019-10-01T00:00:00
I bought these tools to complete my toolset. Good quality for a small price! Good point for the covdr provided with the tools.
---
da Sebastien
2019-08-25T00:00:00
Strong tools very usefull
---
da Alain R
2016-08-22T00:00:00
Strong tool, properly manufactured. No fault to date.