251087
Bilance sospese resistenti
---
---
Alloggiamento robusto in metallo
Display a doppio quadrante
Gruaduazioni metriche e imperiali
2 ganci rigidi separati
---
Acquista Online
Trovare un negozio
Valuta questo prodotto
4 valutazione/i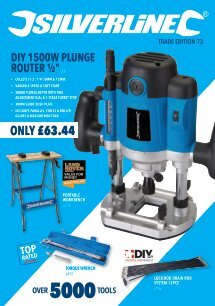 ---
Caratteristiche prodotto
| | |
| --- | --- |
| Capacità - carico max | 200 kg |
| Tipo di display | Quadrante |
| Peso prodotto | 0,924 kg |
---
Caratteristiche chiave
Ampio doppio quadrante con graduazione metrica ed imperiale. Metodo semplice di taratura a zero e ideale per il confronto di peso. Alloggiamento robusto in metallo con finitura verniciata resistente. 2 ganci rigidi separati.
---
Contenuto della scatola
1 x Bilance sospese resistenti fino a 200 kg
2 x Ganci per appendere
---
Valutazioni da parte dei clienti
da michael b
2019-01-07T00:00:00
---
da David
2017-06-18T00:00:00
Needed a set of scales to weigh several heavy items for postal rates Silverline jumped out as the more economical option for something that will not get regular use. When scales arrive they are well packaged in a cardboard box with protective polystyrene sleeve for scales and inserts for the robust hanging hooks, the paint coating is even and well applied, with large clear easily read dial and tare adjuster these are easy to use and after several measured check weighs have proven accurate. I did not actually need the 200kg capacity but they were cheaper than the 100kg and bigger has got to be better right. overall very happy with the scales and at the price lying in the garage doing nothing is not a problem as they are here any time they are needed. If like me you need occasionally to be using scales these i would recommend without hesitation.
---
da Taha
2016-10-24T00:00:00
This will replace the one that i did broke in my friend''''s house. So i will not use it but looks like fine.
---
da Kevin g
2016-10-10T00:00:00
Good set of scales working well good clear face