497837
Saldatore a gas portatile
195 mm
---
---
Saldatore a gas portatile preciso con controllo fiamma
Per progetti di alta precisione come la creazione di gioielli o di modelli
Ricaricabile con gas butano
Include 4 punte di saldatura
---
Acquista Online
Trovare un negozio
Valuta questo prodotto
21 valutazione/i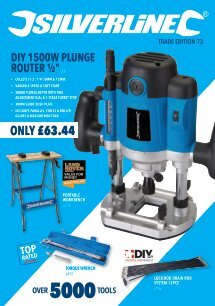 ---
Caratteristiche prodotto
| | |
| --- | --- |
| Materiale - Punta | Ottone, placcato al nichel |
| Peso prodotto | 0,106 kg |
---
Caratteristiche chiave
Saldatore a gas portatile, ad accensione elettronica, con regolazione dell'emissione di calore.Per progetti di alta precisione come la creazione di gioielli o di modelli. Ricaricabile con gas butano. Include 4 punte di saldatura.
---
Contenuto della scatola
1 x Supporto di saldatura
1 x punta piatta
3 x punte appuntite
1 x scheda dati di sicurezza
1 x Saldatore a gas portatile 195 mm
---
Valutazioni da parte dei clienti
da David h
2020-06-04T00:00:00
Filled tool with gas but torch will not express this gas so does not work. Dissapointed waste of money
---
da Pieter T
2020-06-01T00:00:00
This gas soldering iron / torch works very well and is so easy to use. It has its own ignitor and can be used for several soldering jobs with a single gas refill. I have only used it as a torch, but it comes with several soldering tips of varying size, which makes it suitable for a variety of tasks.
---
da Mr S
2020-03-27T00:00:00
Purchase this from silver line as fed up with the other cheaper rubbish out there. Small compact, and works really very well. Plus it's as a great competive price.
---
da Paul D
2019-12-04T00:00:00
Good quality delivered on time easy to use
---
da Paul D
2019-11-30T00:00:00
Item as advertised delivered early good value for money and easy to use
---
da Gerard v
2019-10-18T00:00:00
This Gas Soldering Iron makes building brass models more easy.
---
da Ian C
2019-10-10T00:00:00
This little gas soldering gun is every bit perfect for those jobs that need a little bit more heat i.e to heating metal for tinning before joining together with the solder.
---
da Martin J
2017-05-09T00:00:00
What an excellent piece of kit. Small enough to fit in a pocket but powerful enough to do most soldering jobs. Great for areas where you don''t have easy access to mains power and just need to do a quick repair job. Wish I had got one earlier, wouldn''t be without it now.
---
da John B
2017-03-17T00:00:00
This has soldering wipes the floor with all the previous soldering irons I have owned, I normally use electric for computer modifications but have started fitting car alarms and needed something mobile, this gas soldering iron was certainly the answer and I can''t recommend this item enough A++++
---
da soulier
2017-03-14T00:00:00
c''est bien pratique puissant et compact ,cela n''a pas l''air très solide mais le prix est correct un coffret serait le bienvenu
---
da Tom r
2017-03-11T00:00:00
Very handy tool and affordable. Highly Recommended.
---
da Kiry R
2017-02-27T00:00:00
This product is very practical, and useful, however the after sales service when it went wrong is still in need of some work. The soldering iron works well however when it went wrong, it went really wrong, first the ignition system sized to work, then when lit manually the gas regulator was faulty, and this, in my case anyway, was extremely dangerous. All in all a good product though, for the price, only the store i bought it from charged me £20 and i only just realised the RRP being £13.95
---
da Tony
2016-10-23T00:00:00
Great soldering iron for those jobs not near a socket or out in the field. Easy to use and set up. Needs shielding in high winds or draughts as this will affect the flame. Overall a good and easy to use product.
---
da Mick
2016-10-10T00:00:00
I''''ve had this for a while now and it has been used regularly without any problems. The gas lasts well and it is easy to use. I would have no problem recommending it to anyone.
---
da J R
2016-10-10T00:00:00
Fantastic tool for when you need to heat up larger wire and cables or old unknown solder types to restore older vintage electrical wiring. Instant adjustable heat - a great tool!
---
da Howard R
2016-10-10T00:00:00
Had a high hopes for this product but it fell to bits after several uses, with the tip coming loose very easily.
---
da Nick
2016-09-26T00:00:00
This is a great tool to keep in the tool box, great price and very handy for a multitude of uses.
---
da Brian C
2016-09-26T00:00:00
Excellent quality, no need to look for electricity, works instantly a must have for any serious toolbox. Plus it is fully adjustable wich makes it even better.
---
da David A
2016-09-02T00:00:00
Bought the soldering iron for a one off job but have found it useful a number of times since. Finely adjustable flame makes it excellent for heat shrinking electrical wire and the soldering tips are fine as long as you let them heat up properly. Gas reservoir capacity is fine for small to medium sized jobs. All in all, very good value for money and ideal for occasional use.
---
da Liz W
2016-08-31T00:00:00
Great gadget! No wires so tangle free, no restriction of movement, easy to use and work with precision. Would strongly recommend.
---
da Paul B
2016-08-30T00:00:00
Bought this after several attempts with cheap chinese models. This is a very good product and easy to use if a little heavy. The flame goes from very small to quite large so all types of soldering are possible, a very good all round tool. The only reason for giving only 4 stars is that when you pick it up part of your hand twists the gas cylinder and therefore turns the flame down. East to reset but a bit annoying.