633792
Morsa professionale 100 mm
---
---
Telaio in ghisa
Finitura verniciata a polvere
La ghisa resiste alla distorsione dovuta all'alta pressione
Impugnatura cromata e vite conduttrice
Capacità: 120 mm
---
Acquista Online
Trovare un negozio
Valuta questo prodotto
9 valutazione/i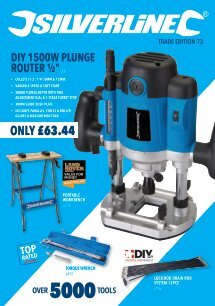 ---
Caratteristiche prodotto
| | |
| --- | --- |
| Capacità - ganascia | 120 mm |
| Meccanismo di regolazione | 110 mm |
| Tipo di serraggio | Vite con filettatura ACME |
| Finitura | Finitura martellata e verniciata |
| Impugnatura - principale - finitura | Cromata |
| Indurito | Ganasce, vite filettata e impugnatura a T |
| Peso prodotto | 4,326 kg |
| Stile | Morsa da banco professionale |
| Tipo di filettatura | Acme |
---
Caratteristiche chiave
Telaio in ghisa con finitura verniciata a polvere. Base fissa e piastre delle ganasce in acciaio indurito. Impugnatura cromata e vite conduttrice. La ghisa resiste alla distorsione dovuta all'alta pressione.
---
Contenuto della scatola
1 x Morsa professionale 100 mm
---
Valutazioni da parte dei clienti
da Rob B
2020-04-27T00:00:00
Very happy with the vice. For the price, it seems very sturdy at first use, and the lifetime guarantee does give you confidence that it will last...
---
da Mark r
2019-09-30T00:00:00
A fast and quality service.
---
da John A
2019-05-15T00:00:00
Great little vice,great price,well pleased
---
da John A
2019-05-08T00:00:00
Excellent little vice,looks good ,works well,great price,a winner all round
---
da stve d
2016-10-10T00:00:00
Looked a nice tool when it came out of the box and worked well for a month or so. Then whilst tightening the grip on my work piece the main body just broke in half! Obviously not up to the job and certainly wouldn''''t buy another one. Do what I did - spend a bit more money and get a proper one. (Had to give it one star rating to submit the review but it didn''''t deserve it)
---
da Guillaume T
2016-08-22T00:00:00
Awaiting nothing more than a cheap item from overseas ... And ending with a sturdy and reliable vise, used almost every day :) I recommand !
---
da Ron t
2016-08-22T00:00:00
Sturdy strong general purpose vice. Not too big but very useful for most tasks where an extra hand might have been required.
---
da Chouaib R
2016-08-22T00:00:00
---
da Bob N
2016-08-22T00:00:00
This vice is cheap and you get what you pay for , the build quality is low it does not work as well as I would expect even a cheap vice to perform.I have replaced it with a even cheaper Record vice that operates perfectly. purchased at a boot sale and although not new it was a far better buy . to sum up I was very disappointed with my purchase . having said all that other tools purchased from this company have been OK. perhaps the vice was the one that got away.