868552
Irrigatore ad impulso su puntale
1/2" Maschio - 300 mm
---
---
Irrigatore ad impulso su puntale
Corpo in metallo con ugello di ottone di precisione
Copertura di 360° e spruzzo regolabile
Connettore universale maschio 1/2"
Impianto di raccordo a catena
---
Acquista Online
Trovare un negozio
Valuta questo prodotto
22 valutazione/i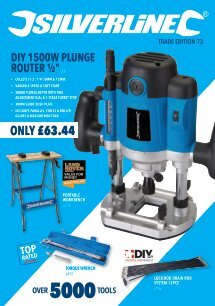 ---
Caratteristiche prodotto
| | |
| --- | --- |
| Finitura | Alluminio, ottone, vernice metallica |
| Peso prodotto | 0,306 kg |
---
Caratteristiche chiave
Irrigatore ad impulso su puntale, corpo in metallo con ugello di ottone di precisione. Copertura di 360 ° e spruzzo regolabile. Connettore universale maschio 1/2" con impianto di raccordo catena.
---
Contenuto della scatola
1 X Irrigatore ad impulso su puntale 300 MM
---
Valutazioni da parte dei clienti
da Paul H
2020-06-12T00:00:00
A well made and solid product very pleased with it
---
da Clive N
2020-06-10T00:00:00
Sprinkler works very well, is highly adjustable, once you have sussed how to work it, main problem, it seems to lose as much water underneath as it sprays but I intend to look at that.
---
da NickB
2020-06-08T00:00:00
Great value for money, fast delivery and it worked first time. Easy to get the hang of the collars which limit the directional rotation of the sprinkler head. Appears to be robust enough for domestic use, I have only used it twice though.
---
da Paul
2020-06-04T00:00:00
Item feels well made and easily adjustable, however it's supposed to be able to vary the degrees to which it turns. Unfortunately it just reaches the stop and doesn't reverse. Other reviews have said the same and I wish I'd listened.
---
da Josh
2020-06-04T00:00:00
Solid looking water sprinkler. Instructions for use not the clearest but a quick Google explains everything. Multiple settings once you learn how and waters the set area evenly.
---
da Gary T
2020-06-03T00:00:00
Arrived very quickly. Works very well. Great value
---
da Sean F
2020-05-24T00:00:00
First Class product, easy put to gather, WILL Buy More AAA++++
---
da Peter F
2020-05-24T00:00:00
Arrived swiftly after placing the order. Sturdy metal construction,_easy to set up and operate and a very efficient garden sprinkler.
---
da Maggie R
2020-05-08T00:00:00
Even though it looks it quite simple. Materials appear to be weather resistant. Easily adjustable. Can spray on full or part arcs. Height of spray and power combined with a deflector and an adjuster screw. Powerful so long as you have good mains pressure. Just brought another so we can combine 2 together and increase coverage area. Have a large garden.
---
da Adam W
2020-04-29T00:00:00
Purchased the Impulse Sprinkler because let''s face it, who can be bothered to do it by hand. The instructions are pretty much non existent but you should be able to figure it out. Move the clips to set your arc of spray, move the top cover to set distance and twiddle the screw to adjust the fan pattern. At first it wouldn''t return so a few minutes of Google told me that water pressure isn''t high enough. I checked my hose and I have it on a reel but the first bit that enters the reel has a slight link in it, after using a straight piece of tube the pressure is sorted and it returns 80% of the time. Did some slowmo video to see how it actually rotates and I was able to see that the swinging arm is basically a deflector and the top of the arm is like a scoop. I''ve stuck some tape at the top to make the ''scoop'' longer down the shaft, now it returns 100% of the time.
---
da Ian
2020-04-27T00:00:00
Worked well for two days, now very intermittent, plenty of water pressure, extremely strong. Goes in one direction then seems to jam before occasionally reversing, it switches to the other direction without hesitation. Disappointed.
---
da David S
2020-04-21T00:00:00
Very impressed with this product. Has a fantastic reach from one position and the features are great. Exactly what you need. No easily snapped plastic parts just good solid metal. Its cheap too.
---
da Tom C
2019-07-24T00:00:00
Good robust product that unfortunately needs high water pressure to work, higher pressure than available at my house. Requests for advice from Silverline went unanswered so the sprayer was returned.
---
da Simon P
2019-07-06T00:00:00
This is a mini version you can see on fields during dry periods. I understand why it is guaranteed for life as it is of very high quality. It's probably me however it takes a little time to sort out the trajectory of the spray, but afterwards the sprinkler works very well.
---
da Stuart N
2019-06-11T00:00:00
Bought this online, as fed up with expensive plastic sprinklers that give up the ghost in one season. When I unpackaged it I didn't notice that the little spring that fits into the trip pin for controlling direction of spray had come out... so tried it...worked, then stopped...stuck in end of arc location... inspected it, noticed the spring and saw the hole through the trip pin...got some small pliers and put it through the hole...hhmmm the leg of the spring was very short...and yes, it would not stay put in place...so I pulled it through again and bent the last 3/4 minute over so it would stay put...it does now stay put, but in use it does still occasionally stop and the end of the spray arc...so investigated...two things...firstly, pulling the spring through and bending the bottom over to keep it retained tightened it up, so it's not as easy to 'trip', and secondly, it appears the the 'arc adjuster collars' actually move from the set places in use, presumably by being gentry hammered by the rotating sprinkler head...a little bit at a time, so over a period of an hour I found the arc set by the collars had moved several metres, making and area I wanted to keep dry, sopping wet...so not very happy with that either... to round up the actual sprinkler head works fine, but the spring leg through the trip pin was too short (can you send me a replacement please), and the collars slip around, presumably the water from the sprayer acts as a lubricant aiding this movement... other than that fine...!! So to end this review I also bought another more expensive, non silverline, bigger better sprinkler...with a three spike cast footing...but have yet to try it...as all it's done since it arrived is ruddy rain...!!
---
da Andy G
2019-05-04T00:00:00
Not had much opportunity to use this as yet but tested once before rain meant not required but test went well. Seems well constructed, decent reach of spray and adjustable as expected. I have read reviews that the spike snaps off but I can only presume that it is being forced into ground that is too hard. First impressions are good but will await full summer to see if robust enough.
---
da Karen c
2019-04-19T00:00:00
Spread and length fabulous. Problem with rotation though as it only does 360 degrees after first few uses. When on other settings (eg 90,180 etc) it gets stuck at end of cycle and does not return . The clip mechanism does not click into the right position once it hits the post and therefore sticks. I purchased two more to see if I had a faulty one but they all seem to do the same thing.
---
da Paul P
2018-07-19T00:00:00
Brilliant machine - does short range as well as 8m radius, full circle and small wedge, fine and course spray.
---
da Brian B
2017-07-24T00:00:00
Sprinkler arrived quickly couple of minor adjustments and we were watering the lawn . Only got medium garden but from one place could cover it all.
---
da Brian B
2017-07-17T00:00:00
Great sprinkler adjustable spray and pressure storm to a mist. Very good service.
---
da mary m
2017-06-21T00:00:00
best sprinkler ever will recomend this item
---
da Steve M
2016-09-06T00:00:00
The item is of exceptional quality and has been in regular use since purchase and hopefully will last many more years