633935
Pojízdný hydraulický zvedák
2 tuny
---
---
Robusní a stabilní zdvihák
Velmi pevná konstrukce
Pevný obal
Otočné sedlo a držadlo
Conforms to EN1494/A1:2008
---
Kupte Online
Najít prodejce
Zhodnoťte tento produkt
55 recenze/í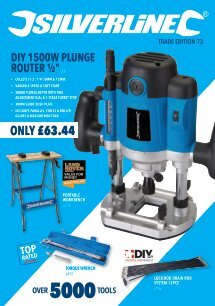 ---
Informace o produktu
| | |
| --- | --- |
| Kapacita - čelisti | Saddle capacity 55mm diameter |
| Nejvyšší možný zdvih | 135 - 335mm |
| Nosnost - maximální zatížení | 2000kg |
| Povrch | Painted |
| Handle - Primary - Finish | Painted |
| Tvrzené | Yes |
| Hmotnost | 9kg |
| Safety - Rating | SWL 2000kg |
| Material - Handle - Secondary | Plastic |
| Materiál - vedlejší složení | Steel |
---
Klíčové vlastnosti
Ocelový s plastovým držadlem. Robustní a stabilní zdvihák. Velmi pevná konstrukce se sklopným sedlem. Baleno v pevném obalu.
---
Balení obsahuje
1 x trolley jack
1 x jacking handle
1 x Instruction sheet
1 x Declaration of conformity
1 x Plastic carry handle
---
Hodnocení zákazníků
kým: Barry T
2022-09-17T00:00:00
In good condition out of box I''m sure it will work ok not used yet
---
kým: Christopher I
2022-07-11T00:00:00
Ideal for my needs as I do minor repairs to my car.
---
kým: R C
2022-07-10T00:00:00
Found it great value for money, and seems to work fine
---
kým: Geoff P
2022-04-13T00:00:00
This Trolley Jack is Small, easier to store and so easy to use!
---
kým: Stephen M
2020-05-31T00:00:00
I bought a trolley jack for the oil change on the car. It has its own carry handle, which was handy. It was brilliant and a lot safer than the stupid scissor jack.
---
kým: John
2020-05-24T00:00:00
Needed a jack to Jack my car up, purchased this and been great, even comes with a lifetime warranty as well!
---
kým: Henry
2020-05-02T00:00:00
---
kým: rick
2020-02-16T00:00:00
bought jackk to hold up corner of lightweight caravan whilst i removed a leg support to repair. Overnight the jack completely lowered itself which i found out in the morning when i went to that corner of the van and the van tilted. One refitting the repaired leg i had to give the jack a full single pump every 20 mins. Dangerous. It will be returned.
---
kým: Mark W
2020-02-15T00:00:00
Excellent piece of kit does my DIY jobs brilliantly. Its even handy and compact enough to pop in the boot of your car for a safe lift when changing a spare wheel.
---
kým: KB
2020-01-03T00:00:00
Good jack and reasonably priced.
---
kým: Peter
2019-12-28T00:00:00
I bought this jack as my original car scissor jack broke. This does the job each time it''s required with ease. Sturdy strong yet compact tool. Fantastic value for money and comes with lifetime warranty. I definitely recommend this product
---
kým: David H
2019-12-06T00:00:00
Every winter I have been putting on summer tyres and then removing them in the spring using the scissor jack that came with the car. Finally I decided I had had enough and would buy a trolley jack. This made the job much easier, quicker and less painful. The Silverline jack is well priced, simple to use and seems robust. Don''t forget to buy a rubber pad to protect the jacking points.
---
kým: Mr. D
2019-11-17T00:00:00
A serious bit of kit for my car.
---
kým: Lee F
2019-11-15T00:00:00
Great little Trolley Jack. Seems well made, and works perfectly. Used it to change two wheels with the Silverline Axle Stands, made the job an absolute breeze.
---
kým: Richard k
2019-10-20T00:00:00
Very happy with this product light weight easy to maintain great value for money and life time gaurntee .
---
kým: Colin G
2019-09-04T00:00:00
Light, compact but very sturdy and well put together, only used it once so far but makes jacking up the car effortless, lifetime guarantee is a bonus as well.
---
kým: Dennis F
2019-07-11T00:00:00
Trolley jack does what it says on the tin. Used it to change the brake pads on my car. It did drop slightly it height during use, I used an axle stand as well so not an issue.
---
kým: Martin
2019-06-16T00:00:00
The jack works as expected. The finish is not very durable as the paint was removed on stress areas after first use. I am definitely going to keep it in a dry place is it will likely rust otherwise.
---
kým: Nigel A
2019-06-11T00:00:00
Good little jack at a good price with the bonus of lifetime warranty you just cant get better than that ....
---
kým: Maurice S
2019-06-05T00:00:00
Excellent kit, for the price. Would recommend.
---
kým: Rhys
2019-04-26T00:00:00
This product is a great first jack for any DIYer looking to purchase one. It be far not the best on the market but is priced fair. It does the job perfectly enabling me to get under my car. However I will say that it by no means a low profile jack so make sure you know your dimensions.
---
kým: Dale H
2019-01-16T00:00:00
---
kým: Craig P
2019-01-14T00:00:00
Good build quality, great price. Lifted my SUV with no issues
---
kým: Llewellen F
2019-01-06T00:00:00
Used the jack on my 2 cars. Easily lifted the cars and works as it''s supposed to.
---
kým: John H
2019-01-02T00:00:00
Good item. Feels very well built and solid.
---
kým: James D
2018-12-04T00:00:00
A very easy to use trolley jack,that is made easier by means of the central lifting handle. It lifts my small van quickly. A well made tool at a very good price,well done!.
---
kým: Dick P
2018-10-06T00:00:00
It is heavy and is made out of thick steel, all the components such as the wheels are robust and it should easily last a lifetime, which is how long it is guaranteed for. It is nicely packaged and labelled by Silverline and consistent with this it works perfectly straight out of the box. The labels pull off easily. The paint is matt so it is not shiny, but the dirt still wipes off easily. Although a bit intimidating at first, it is a pleasure to use and quickly becomes a trusted partner. There is nothing fussy about it and it inspires confidence.
---
kým: Paul
2018-09-20T00:00:00
Superb little jack,plenty of power, well built at a superb low price. I would recommend this Jack to anyone.
---
kým: D D
2018-09-09T00:00:00
---
kým: Mas
2018-09-05T00:00:00
I've gone through few trolley jacks in the past few years usin them for work on a regular basis, this 2 Tonne Silverline jack is simply a fantastic value for money and out performs many more expensive jacks in the market. Doubled by the full lifetime warranty!!! What else do you need?! I highly recommend this product and will be purchasing more myself.
---
kým: Peter
2018-06-28T00:00:00
This is an exceptionally great quality hydraulic jack. I''ve even had friends ask me where to get this one! I would definitely recommend.
---
kým: Khalid
2018-05-22T00:00:00
This is a long time a looked for a tool like that to maintain my cars. Easy use, not too heavy et can store it in car. Great tool.
---
kým: Robert G
2018-02-24T00:00:00
After struggling with my old car jack and getting it stuck under the car,I decided to get a trolley jack,after looking on line I plummed for the Silverline trolley jack,it looked more robust than other jacks and was less expensive too. I cannot be more pleased with this product,it is the best £20 I have spent in ages,it saved me time and stress,thank you Silverline tools!
---
kým: Ian S
2017-09-18T00:00:00
Needed a second trolley jack to work on my granddaughters car so thought I would give this a try. This jack works a treat and is quite low to get under even a small Corsa and the lift and lowering was very positive and having the wheels allowed the jack to stay central under the lifting points whilst being used.
---
kým: D C
2017-07-24T00:00:00
Solid looking product but smaller than I was expecting - still more than capable of doing the job and great value
---
kým: Mohammad
2017-04-26T00:00:00
The jack looks the part and works pretty well and is cheaper than any other brand and to top it off it has a Life Time Guarentee
---
kým: Ian K
2017-04-26T00:00:00
Really good buy, excellent value for money. Easy to use.
---
kým: Nigel G
2017-04-24T00:00:00
Simple and effective, bought it with a pair of axle stands too. Had a scissor jack collapse whilst lifting my car so I bought these to make life a little safer. Good quality item with a lifetime warranty, what''s not to like.
---
kým: Mike W
2017-03-25T00:00:00
The trolly jack that I bought is of the same exceptional quality as all the other Silverline products that I have purchased
---
kým: Mike W
2017-03-25T00:00:00
I have bought a cordless drill (silverline) because I was so pleased with the last one I bought that I thought it would be great to have one at home and one in the car These drills are the best I have come across and I would recommend anyone who is looking for a drill to buy one
---
kým: G B
2017-03-18T00:00:00
Good item, does what is says etc... But a very misleading Advert on the Silverline website as you see a Hard Carry Case. But this is not included in the sale. After contacting Silverline Customer Services - Not Interested, there goes another customer to a new seller !!
---
kým: Nathan i
2017-02-23T00:00:00
Great product Great quality Great value Amazing
---
kým: simon a
2017-02-19T00:00:00
This jack although reasonably compact and lightweight, has no problems lifting my car and unlike my old jack all 4 wheels ( the jacks! ) stay firmly planted on the ground. Overall this seems a good solid tool that will give good service over the years.
---
kým: Peter, d
2017-02-15T00:00:00
Good product, well made. But you do not get a plastic carry case?
---
kým: Peter
2017-02-08T00:00:00
Good quality product, but did not come with a plastic carry case?
---
kým: Chris J
2017-02-03T00:00:00
This Jack is really impressive. I bought it so that if I have a puncture in my touring caravan tyre I stand a chance of being able to change it. On receiving it I used it to lift my caravan and turn the tyres so they didn''''t stand all winter in one place. It completed the task really well, I was so pleased and impressed! The only thing that I was slightly disappointed with was we didn''''t get a box to keep it in, but that the only negative I have. I will definitely make sure I always have this Jack in future. Brilliant!
---
kým: Clint G
2016-11-10T00:00:00
Purchased the Silverline 2 Tonne trolley Jack after my previous trolley jack packed in. I was pleasantly surprised at the cost of my new jack and the fact in came in a carry case. Can''''t fault this jack at all and it does just what''''s expected of it. Very happy indeed.
---
kým: Stephen C
2016-10-20T00:00:00
What a time saver! No more messing about with slow scissor jacks. The price was keen and the box a bonus.
---
kým: Andrew C
2016-10-10T00:00:00
I bought this to replace an old Halfords trolley jack that was leaking - at the price this made it not worth repairing the old one. This is a well made jack - it has a short throw so lifting a heavy car is not as easy as using a jack with a longer throw, but it does it with ease. If I had any complaints, the plastic handle slips of the jack handle easily and I''''d say the case is made of very poor plastic and mine cracked within a day or using it. That said it hasn''''t cracked further and it keeps it all nice and neat. Overall - pretty happy with it and would recommend.
---
kým: Graham
2016-09-26T00:00:00
---
kým: Mark H
2016-09-26T00:00:00
This compact trolley Jack is a small handy Jack for general DIY use storage is good in its own plastic case so making it easy to store in boot of car without getting other items dirty
---
kým: Geoff L
2016-09-05T00:00:00
Small and manouverable, bought this as a back up to my bigger trolley jack that is a bit of a handful to carry around. Use this for quick jobs on the front drive and take it with me if I''m helping out mates. Case didn''t last long and I squeezed the handle flat to stop the hand grip coming off, but good value and useful tool.
---
kým: Geoff L
2016-09-05T00:00:00
Small and manouverable, bought this as a back up to my bigger trolley jack that is a bit of a handful to carry around. Use this for quick jobs on the front drive and take it with me if I''m helping out mates. Case didn''t last long and I squeezed the handle flat to stop the hand grip coming off, but good value and useful tool.
---
kým: christopher w
2016-09-05T00:00:00
this is one of the best trolley jacks I have used. well worth the money.
---
kým: Peter W
2016-08-30T00:00:00
I have used this jack about six times and every time it has worked perfectly, a very good value for money jack.
---
Doživotní záruka
Teto Silverline Pojízdný hydraulický zvedák je během 30 dní od nákupu chráněn před vadami z důvodu použití špatného materiálu při výrobě nebo použitím nesprávného výrobního postupu. Tuto záruku můžete prodloužit tím, že svůj Doživotní registrujete během 30 dní od nákupu. Jakékoliv vadné výrobky budou opraveny nebo vyměněny zdarma.