845318
Pájecí sada, 9 dílů
100 W/30 W
---
---
100 W pájecí pistole pro práci s kabely a plechy
30 W páječka s jemným bodovým hrotem pro přesnou práci
Pro elektroniku, domácnost a autoservisní práce
Obsahuje stojan na páječku, polohovací nástroj, pájecí pastu, pájku
Odpájecí hrot, plně nastavitelný stojan s lupou a náhradní hrot pro pájecí pistoli
---
Kupte Online
Najít prodejce
Zhodnoťte tento produkt
8 recenze/í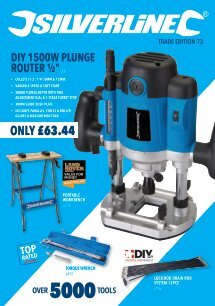 ---
Informace o produktu
| | |
| --- | --- |
| AC Range | 220 - 250V |
| Délka přívodního kabelu | 1200mm - Soldeering iron 1200m - Gun |
| Temperature Range | Soldering iron - 390 - 450°C Soldering gun - 500 - 550°C |
| Range | 390-450°C |
| Materiál - povrch | Nickel plated copper / nickel plated iron |
| Hmotnost | 1.988kg |
---
Klíčové vlastnosti
100 W pájecí pistole pro práci s kabely a plechy. 30 W páječka s jemným bodovým hrotem pro přesnou práci. Pro elektroniku, domácnost a autoservisní práce. Obsahuje stojan na páječku, polohovací nástroj, pájecí pastu, pájky, odpájecí nástroj, plně nastavitelný upínací přípravek s lupou a náhradní hrot pro pájecí pistoli. Vše v robustním kufříku.
---
Balení obsahuje
1x Soldering Iron
1x Helping hands
1x Solder sucker
1x tub of flux
1x Soldering gun
---
Hodnocení zákazníků
kým: Jay A
2020-05-06T00:00:00
I have only used this product ones, haven''t got an issue with it. It has great reviews on amazon and haven''t got anything wrong so far
---
kým: Zvonimir g
2020-03-20T00:00:00
Well made.very strong..hoping it will.last
---
kým: Adrian R
2019-11-08T00:00:00
I wanted a boxed kit to replace an old set that i kept together in a carrier bag. This is neater and has everything needed for many varied jobs. I looked at many and found this to be the best all round set at a reasonable price. Exactly what I wanted. Perfect.
---
kým: brian b
2017-01-18T00:00:00
ideal little kit for d.i.y , modelling and some larger jobs also great that everything you need is in one box
---
kým: Benjamin C
2016-10-11T00:00:00
For the first 2 uses of the soldering iron... it worked perfectly, however it stopped functioning after that use.
---
kým: david
2016-10-03T00:00:00
I PURCHASED THIT ITEM ,AND IT WORKS BRILLIANT ,THE QUALITY OF THIS IS EXCEPTIONAL IT IS A 1000 X BETTER THAN THE LAST KIT I BOUGHT AND I HAVE ALLREADY GOT THE PURCHCHASE PRICE BACK WITH THIS 10 X OVER BY NOW IT IS A TRULY PROFESIONAL KIT THAT IS SO EASY TO USE AND OPERATE ONLY ONE REGRET. I SHOULD HAVE BOUGHT THIS KIT INSTEAD OF THE LAST ONE I PURCHASED AS THE OTHER WAS RUBBISH, I AM DELIGHTED WITH EVERYTHING IN THIS AMAZING KIT, I WILL STICK TO THIS BRAND FROM NOW ON , AS I HAVE PURCHASED OTHER ITEMS FROM THIS BRAND FROM SHOPS AND EVERYTHIG IS GREAT IT DOES EVERYTHING YOU COULD WISH FOR ,THANK YOU FOR SUCH FANTASTIC PRODUCTS AT SUCH A FANTASTIC PRICE I DONT KNOW HOW YOU DO YOUR PRODUCTS SO CHEAP AND AT SUCH OF EXCEPTIONAL QUALITY, DONT GET SECOND BEST ,(BUY THE BEST THIS PRODUCT
---
kým: andrew h
2016-09-26T00:00:00
Great kit, every thing you need
---
kým: Paul R
2016-08-31T00:00:00
Everything so far that had been purchased far exceeded my and others expectations, to the point where you say to yourselves ''who needs Snap on '' 😆
---
3-letá záruka
Teto Silverline Pájecí sada, 9 dílů je během 30 dní od nákupu chráněn před vadami z důvodu použití špatného materiálu při výrobě nebo použitím nesprávného výrobního postupu. Tuto záruku můžete prodloužit tím, že svůj 3-letá registrujete během 30 dní od nákupu. Jakékoliv vadné výrobky budou opraveny nebo vyměněny zdarma.