328015
Clés Trx à poignée en T, 10 pcs
---
---
Jeu de clés en acier chrome-vanadium
Poignées en T en plastique moulé
Support métallique robuste
Double extrémité
Tailles assorties : T9, T10, T15, T20, T25, T27, T30, T40, T45 et T50
---
Achetez en ligne
Trouver un magasin
Évaluez ce produit
17 évaluations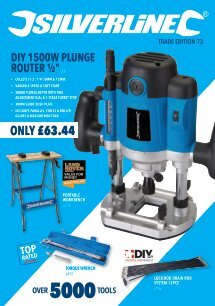 ---
Caractéristiques techniques du produit
| | |
| --- | --- |
| Type de conducteur | Rond |
| Finition | Satiné |
| Poignée/manche - primaire - finition | Plastique |
| Trempé | Oui |
| Poids du produit | 0,95 kg |
| Style | Trx |
---
Caractéristiques principales
Jeu de clés en acier chrome-vanadium à double extrémité avec poignée en T en plastique moulé, présenté sur support métallique robuste. Clés de tailles assorties comprises entre T9 et T50.
---
Contenu
10 x Clés Trx avec poignée en T
---
Évaluations de clients
par : Mal c
2022-03-06T00:00:00
Good value set , holder is handy for storing can get grip on stubborn fixings , very 😊
---
par : Kevin E
2020-06-05T00:00:00
These torque keys with T-handles are ideal for the home workshop. Comfortable and well finished, they seem to be up for typical domestic use. The rack is useful in presenting them in size order and is a useful addition, albeit it has a rather odd mounting point. Recommended.
---
par : Jack W
2020-06-04T00:00:00
I''ve managed to take a decade old bike back to new with the help of these silverlines. Brilliant presentation on the shelf and even better performance on the job, can''t reccomend enough
---
par : Sandy
2020-06-03T00:00:00
These are well balanced and perfect for repairs to bicycles. The handle may get in the way for some bolts like on the caliper though.
---
par : Kevin E
2020-05-28T00:00:00
This is just one of a number of Silverline products I have recently bought and I am totally satisfied with their quality and performance when measured against the pricing point. I am an amateur, home user and can recommend them to anyone who intends to use them for similar types of use. Better than one might expect for budget priced tools and supported by an excellent lifetime guarantee.
---
par : Colin G
2020-05-28T00:00:00
I have a mixture of tools and machinery ranging from the very expensive (e.g. Festool) to the more affordable items from Silverline. I was blown away by this 10 piece Torx set. They are very solid items indeed and at the price of around £10 represent extrememly good value. They even come with a stand that can be attched to a wall! Brilliant.
---
par : Jeff R
2020-05-11T00:00:00
I have used the Tx key set a few times since I purchased them and so far I'm very impressed with them. I bought them to use mainly on my BMW motorcycle but I'm sure they well come in handy for a multitude of tasks. I thought the price was pretty reasonable considering the quality of these tools.
---
par : klaus s
2020-03-30T00:00:00
gute qualität, haltbar und stabil
---
par : klaus s
2020-03-23T00:00:00
sauber gearbeitet, gute qualität, gute präzision .
---
par : David C
2019-12-09T00:00:00
This ideal for me when I am working on my motorcycle as all the fasteners are Torx of varying sizes. Quality is great and the cost of the keys is very good.
---
par : Daan
2019-10-06T00:00:00
Affordable and complete (security) Torx set. All sizes available. Works well, handle is comfortable to use and it''s easy to put a bit more power on with it.
---
par : Mitch P
2019-09-18T00:00:00
Great value for a decent product. Would recommend these for the DIY mechanic.
---
par : Matt
2019-08-01T00:00:00
Excellent tools very strong, holder is a strange design though doesn't fit against a verticle surface very well
---
par : Matt
2019-07-31T00:00:00
Very solid well made set with handy sleeve to keep spanners tidy. Impressed
---
par : Mark
2019-05-24T00:00:00
Really good set plus a good Warranty
---
par : Jason T
2019-01-06T00:00:00
Good product, well made and just the right range of sizes.
---
par : David D
2018-07-20T00:00:00
Good quality, stand great. Handles feel solid would use socket version if bolt feels really tight but will undo most things. Already have the Allen Key version 323710 so these are a great addition to workshop.
---
Garantie à vie
Ce produit Silverline est garanti pendant une période de 30 jours à partir de la date d'achat contre tout vice de matériaux ou défaut de fabrication. Vous pouvez obtenir une garantie à vie en enregistrant votre produit en ligne. Tout bien présentant un défaut sera réparé ou remplacé gratuitement.