477936
Détecteur 3-en-1 compact
1 pile 9 V (PP3)
---
---
Réglage simple de détection
Auto-étalonnage
Signaux d'alerte sonores et visuels par LED
Boîtier robuste en plastique
1 pile 9 V (PP3) requise
---
Achetez en ligne
Trouver un magasin
Évaluez ce produit
11 évaluations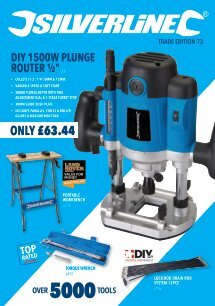 ---
Caractéristiques techniques du produit
| | |
| --- | --- |
| Nombre de batteries/piles | 1 |
| Type de batterie/pile | 9 V |
| Finition | Lisse |
| Poids du produit | 0,126 kg |
---
Caractéristiques principales
Détecteur 3-en-1 permettant de déceler les éléments de bois tels que les montants et les solives, les câbles CA sous tension et les objets métalliques. Signaux d'alerte sonores et visuels par LED. 1 pile 9 V (PP3) requise.
---
Contenu
Détecteur 3-en-1 compact
Notice de sécurité
Déclaration de conformité
---
Évaluations de clients
par : Simon B
2020-02-21T00:00:00
Bought to replace a detector twice the price (which was useless) and hasn''t let me down yet. Very happy
---
par : Mr T
2020-01-11T00:00:00
I love it. Its easy to use and does the job properly. All 3 modes work efficiently.
---
par : S H
2019-12-28T00:00:00
I read the previous reviews on this site and bought this item from Argos. It has completely failed to do any of the tasks it claims it can do. It says it has calibrated by beeping twice then totally fails to detect anything. An absolute waste of time. Having read a number of reviews elsewhere I'm not the only buyer to have this response. How the reviews on this site can all be 5/5 is beyond me. Or have Argos bought a dodgy batch at cut-price simply to sell-on? Maybe I'm just an old cynic!
---
par : Rod C
2019-08-20T00:00:00
Very easy to use. Gives accurate response.
---
par : Ian P
2019-07-23T00:00:00
very good price for a quality product that did the job perfectly. What more can I say.
---
par : Yorkshire C
2018-01-16T00:00:00
I bought this from Torne Valley, Tickhill. Very easy to use. On AC WIRE setting, the middle three lights will flash when an electric current is detected and then the top light will stay constant and bleep when a live wire is found. I can hold this detector 2" away from the wall and it can still detect the cables. After searching for cables, I select the METAL setting and check the wall for any other obstructions. Just select the appropriate setting and then hold the TEST button whilst in use.
---
par : Roger E
2017-05-28T00:00:00
I have always wanted a detector to help with diy as the way some jobs have been done in my flat a 5 year old could have done better. This device has really helped and shown quite clearly where cables have been laid. Certainly not where a person with any intelligence would have put them. This is an excellent device for any toolbox. Well worth the money.
---
par : Brian
2017-04-22T00:00:00
What a great product finds all 3 materials with ease great piece of kit at such a reasonable price. Many thanks. Silverline.
---
par : alan h
2017-02-22T00:00:00
easy to use comfortable to hold does exactly what it says it does great bit of kit
---
par : Gordon B
2016-10-11T00:00:00
Excellent piece of kit to have in any tool box.
---
par : William M
2016-10-10T00:00:00
Good product at reasonable price.
---
Garantie 3 ans
Ce produit Silverline est garanti pendant une période de 30 jours à partir de la date d'achat contre tout vice de matériaux ou défaut de fabrication. Vous pouvez obtenir une garantie à vie en enregistrant votre produit en ligne. Tout bien présentant un défaut sera réparé ou remplacé gratuitement.