633615
Pince à sertir à cliquet Expert
220 mm
---
---
Pince en acier embouti et durci
Mécanisme à cliquet pour une opération de sertissage plus précise et maîtrisée
Mécanisme de cliquet amplifiant la force exercée et réduisant la fatigue de la main
Fonction de blocage de la poignée
Pour cosses isolées de 1,5 ; 2,5 et 6 mm²
---
Achetez en ligne
Trouver un magasin
Évaluez ce produit
20 évaluations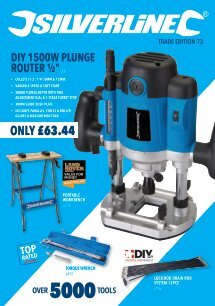 ---
Caractéristiques techniques du produit
| | |
| --- | --- |
| Fonction 01 | Pour cosses isolées de 1,5 ; 2,5 et 6 mm² |
| Poignée/manche - primaire - finition | Lisse |
| Trempé | Oui |
| Poids du produit | 0,513 kg |
---
Caractéristiques principales
Pince en acier embouti et durci avec mécanisme à cliquet pour une opération de sertissage plus précise et maîtrisée. Mécanisme de cliquet amplifiant la force exercée et réduisant la fatigue de la main et fonction de blocage de la poignée. Pour cosses isolées de 1,5 ; 2,5 et 6 mm².
---
Contenu
Pince à sertir à cliquet Expert
---
Évaluations de clients
par : bill s
2016-11-28T00:00:00
Worked well on my boat wiring in a confined space.
---
par : Michael
2016-08-30T00:00:00
These are very nice ratcheting crimpers at a great price. Far better than the big-box specials for only a few bucks more.
---
par : Adam
2020-02-12T00:00:00
Quality product at a competitive price. Especially like the lifetime guarantee!
---
par : rod d
2020-01-04T00:00:00
I have used a similiar tool at work, bui thos is the first time I have had one at home. I had a couple of pressed-steel tools, but found one was so badly made it hardly worked. This is a HUGE step up-market.
---
par : Ian H
2020-01-02T00:00:00
Excellent tool easy to use, good solid crimp and very good price.
---
par : Rod D
2019-12-28T00:00:00
I have used several simple crimp tools made from pressed flat steel, this ratchet tool with lots of leverage is a delight to use. Real professional standard.
---
par : Rod D
2019-12-28T00:00:00
This is an EXCELLENT frost scraper, as widely used in Europe. The metal blade takes off light or heavy frost - not big frozen drops or frozen snow - quickly and completely. I love mine so much I bought a spare, since this kind of scraper is not easy to find in shops.
---
par : Dave D
2019-12-10T00:00:00
Great product at a great price Makes joining wires easy adjustable Would recommend
---
par : Mark
2019-11-05T00:00:00
Great quality at a good price
---
par : Aumair
2019-07-11T00:00:00
Purchased after my previous pair broke, pricing, build quality & usage of these crimps are very good & does the job as required
---
par : Robin
2019-07-11T00:00:00
I found this crimping tool to be easy to use with yellow through-crimp connectors on 6mm cable. The ratcheting mechanism takes little effort and the twin teeth give a really secure crimp. It is possible to lock the handle in the closed position when not in use, though there''s a knack to it. Recommended.
---
par : Sajid H
2019-06-14T00:00:00
Perfect tools in silver line brand especially when i had life time gaurantee on one of there products
---
par : Ray W
2019-06-11T00:00:00
Excellent tool Well made Easy to use. Gives great confidence that it has done the job properly. Would definitely recommend
---
par : David B
2019-05-06T00:00:00
Robust tool sturdy and solid
---
par : David
2019-04-30T00:00:00
Sturdy bit of kit which performs well.
---
par : Ian H
2017-07-31T00:00:00
I tend to tinker with my car and I bought this to replace a ''single action'' crimper which was forever seizing just when I needed it. This new one, having the ratchet mechanism, is very easy to use and gives a good secure action tightening the connector to the cable with ease. Definitely a well worthwhile the addition to my toolbox.
---
par : Vladimir
2017-05-08T00:00:00
Massive tool crimps aluminium terminals easily. Handles are comfortable. However once terminal is between the jaws, it locks, so only way to get it off is to squeeze the jaws all the way, then ratchet unlocks. No wire cutting or stripping functions.
---
par : david b
2017-04-21T00:00:00
Allows spade to be held in jaws whilst feeding in wire, use ratchet to crimp one handed Well made, poss a little heavy
---
par : Crosbie D
2017-03-10T00:00:00
Just excellent, as does what it is supposed to,, and very sturdy construction
---
par : Stuart R
2017-02-20T00:00:00
Very good value for money. Produces a very tight crimp with out damaging the plastic sleev of the terminal
---
Garantie à vie
Ce produit Silverline est garanti pendant une période de 30 jours à partir de la date d'achat contre tout vice de matériaux ou défaut de fabrication. Vous pouvez obtenir une garantie à vie en enregistrant votre produit en ligne. Tout bien présentant un défaut sera réparé ou remplacé gratuitement.