868778
Riveteuse treillis
3,2 - 6,4 mm
---
---
Pour travailler d'une seule main et idéal pour les utilisations répétitives
Tête et treillis en acier au carbone super résistant
Embouts : 3,2 mm, 4 mm, 4,8 mm, 6 mm et 6,4 mm
---
Achetez en ligne
Trouver un magasin
Évaluez ce produit
10 évaluations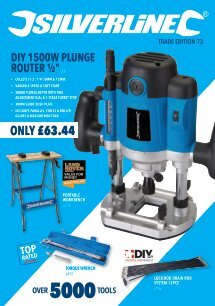 ---
Caractéristiques techniques du produit
| | |
| --- | --- |
| Taille de la cartouche/recharge | Embouts de 3,2 mm, 4 mm, 4,8 mm, 6 mm et 6,4 mm |
| Finition | Chromé, peint |
| Poignée/manche - primaire - finition | Peint |
| Trempé | Embout |
| Poids du produit | 1,558 kg |
| Style | Riveteuse forme treillis |
---
Caractéristiques principales
Tête et treillis en acier au carbone super résistant. Idéale pour les utilisations répétitives. Fournie avec 5 embouts : 3,2 mm, 4 mm, 4,8 mm, 6 mm et 6,4 mm.
---
Contenu
Clé
Embouts de 3,2 mm, 4 mm, 4,8 mm, 6 mm et 6,4 mm
---
Évaluations de clients
par : Andy B
2020-05-16T00:00:00
Unfortunately the Lazy Tong Riveter I ordered was broken when I got it out of its box so seller gave me a full refund
---
par : Martin R
2020-03-05T00:00:00
I have a number of Silverline Tools and at with the quality and prices being so good, I''m going to keep adding to them. Excent Quality at Fantastic Prices.
---
par : Ricardo
2018-05-19T00:00:00
Great tool, super easy to use and what's best the lifetime guarantee you get when you register it, totally recommend.
---
par : Ryan b
2018-05-11T00:00:00
Very good product for the money
---
par : martin s
2017-02-28T00:00:00
Only used about a dozen 3/16" rivets and the threads stripped in the aluminium body where the steel head screws in, will be requesting a replacement or refund.
---
par : Dermot W
2016-10-10T00:00:00
Still working well no complaints
---
par : Michael W
2016-09-19T00:00:00
good price, good tool, always pleased with silverline, never had a faulty tool yet.
---
par : Tony w
2016-09-19T00:00:00
---
par : John A
2016-08-30T00:00:00
I found that the Silverline Lazy Tong Riveter was ideal for the job of replacing double glazing sash window friction hinges. The windows in our property are over 20 years old and unlike more modern windows are secured to the frames using 5mm aluminium rivets instead of self tapping screws found on more modern installations. These rivets leave over large holes after removal preventing the use of screws. The riveter was both easy and convenient to use and I would definitely recommend the product to any DIY enthusiast who feels confident in tackling the job. The tool is robust and with a 2 year guarantee well worth the price.
---
par : Phil E
2016-08-22T00:00:00
Having returned the first riveter when it broke after about 100 rivets , I tried again with it''s replacement ..... It lasted for 5 after which I took it back for a refund. Service from Tool station , however , was excellent . They replaced the original without any quibble and immediately refunded my money when I returned the second.
---
Garantie à vie
Ce produit Silverline est garanti pendant une période de 30 jours à partir de la date d'achat contre tout vice de matériaux ou défaut de fabrication. Vous pouvez obtenir une garantie à vie en enregistrant votre produit en ligne. Tout bien présentant un défaut sera réparé ou remplacé gratuitement.