871414
Récipient magnétique
150 mm
---
---
En acier inoxydable première qualité
Retient les écrous, boulons et éléments en acier
Base caoutchouté, non-marquant
---
Achetez en ligne
Trouver un magasin
Évaluez ce produit
11 évaluations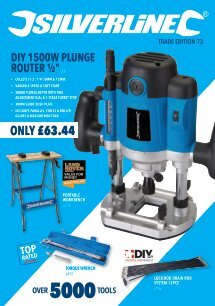 ---
Caractéristiques techniques du produit
| | |
| --- | --- |
| Finition | Inox poli |
| Matériau - construction secondaire | Aimant avec revêtement en caoutchouc |
| Poids du produit | 0,297 kg |
---
Caractéristiques principales
Récipient magnétique en acier inoxydable pour petites pièces. Se fixe solidement aux surfaces ferreuses sans les marquer.
---
Contenu
---
Évaluations de clients
par : Laurence
2020-06-11T00:00:00
Does what it must do. Strong magnet and good size
---
par : Nicholas R
2020-05-31T00:00:00
I've been using this magnetic bowl for quite some time now and it's been so useful on keeping all of my screws together. Skipped a few mini heart attacks with this thing
---
par : Robert L
2018-09-13T00:00:00
Great product and does the job well. Would recommend
---
par : Pablo S
2018-04-25T00:00:00
Una bandeja muy útil y que te da un salto de calidad en tus trabajos. Todos los tornillos siempre a mano. Se pega en cualquier lado incluso boca abajo y tiene suficiente fuerza para sujetar varias herramientas.
---
par : david e
2018-03-03T00:00:00
a must for keeping screws, washers, bolts altogether in one place no hunting for the missing screw
---
par : Miroslaw
2017-09-27T00:00:00
This is pretty much a perfect execution of a simple idea. The tray looks surprisingly good, the magnet is very strong and the overall quality is superb - not at all what I expected considering the price.
---
par : Gilles P
2017-01-20T00:00:00
---
par : Gilles
2017-01-13T00:00:00
Regarding to the price, this tray is excellent and very useful
---
par : Rafael N
2016-11-11T00:00:00
This tray is great. The magnet is very strong and you can put it over any metallic surface without marking it thanks to its rubberized base. You will never lose a bolt again!
---
par : Simon H
2016-10-10T00:00:00
Great quality. Decent size and high sides on the bowl. Rubber protection on the magnet is good. The magnet also is very strong holding nuts and bolts well and the dish itself to the car body etc. I haven''''t lost any nuts, bolts, sockets or small tools since I''''ve had it!
---
par : Terry
2016-08-30T00:00:00
I bought this because I had a bolt, and then I didn't, it fell in a place too much hassle to get at so I went and paid LandRover silly money for a new one. This tray grabs the wing of the car with a strong grip, paint work is protected by a layer of rubber it then firmly holds (or it would have if I'd bought it before starting the job) the bolt until needed. Its a great bit of kit, very strong and very shiny, its stuck on my fridge door right now. When you get one you'll wonder how you managed without it.
---
Garantie à vie
Ce produit Silverline est garanti pendant une période de 30 jours à partir de la date d'achat contre tout vice de matériaux ou défaut de fabrication. Vous pouvez obtenir une garantie à vie en enregistrant votre produit en ligne. Tout bien présentant un défaut sera réparé ou remplacé gratuitement.