972660
Ponceuse stationnaire à bande et à disque 390 mm, 350 W
350 W
---
---
Plateau de ponçage de 390 x 125 mm, inclinable avec guide d'onglet
Surface de bande inclinable entre 0 et 90°
Moteur à induction ultra-résistant à paliers étanches
Bande de 390 mm de longueur et disque de 150 mm de diamètre
Fournis : Bande grain 80, disque auto-agrippant grain 80, table inclinable et guide coupe d'onglets
---
Achetez en ligne
Trouver un magasin
Évaluez ce produit
11 évaluations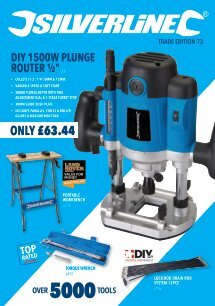 ---
Caractéristiques techniques du produit
| | |
| --- | --- |
| Finition | Peinture métal |
| Puissance | 350 W |
| Classe | IP20 |
| Taille de la bande abrasive | 914 x 100 mm et 915 x 100 mm |
| Taille de la feuille abrasive | 150 mm |
| Vitesse à vide | 1 450 min-1 |
| Poids du produit | 14,6 kg |
| Taille de la table | 390 x 125 mm |
| Diamètre du disque | 914 mm |
| Durée de service max. | 30 minutes |
| Cycle d'utilisation | Cycle de service : S2 30 minutes (cycle court) |
---
Vidéos
---
Caractéristiques principales
Ponceuse stationnaire associant ponceuse à bande et ponceuse à disque de 150 mm. Moteur à induction ultra-résistant à paliers étanches. Deux orifices d'extraction des poussières. Plateau de ponçage inclinable avec guide d'onglet. Inclinaison de la ponceuse à bande réglable entre 0 et 90°. Interrupteur étanche à la poussière et pieds caoutchoutés. Idéale pour le ponçage général de divers matériaux tels que le métal, le bois et le plastique. Bande de 915 x 100 mm avec longueur de ponçage de 390 mm. Vitesse à vide : 1 450 tr/min (disque), 5 m/s (bande). Fournie avec : bande de grain 80, disque autoagrippant de grain 80, table inclinable et guide à biseau.
---
Contenu
1 x Ponceuse stationnaire à bande et à disque
---
Évaluations de clients
par : James oneill
2019-01-01T00:00:00
Its exactly what i was looking well worth the price would recomend this
---
par : Andre Stapelberg
2018-03-13T00:00:00
Very solid and enough power for DIY use.
---
par : Van Leiper
2017-08-02T00:00:00
A. dd to my previous review. The disc guard proved to be too flimsy it cracked in two places when fitting and the holes did not seem to be correct. To get the disc to run true was a major headache and it was impossible to fasten it securely with the guard in place. In the end I threw the guard in the bin. Again only minus stars
---
par : Van Leiper
2017-08-02T00:00:00
Who designed this junk? To change a belt. like a major overhaul requiring three sizes of screwdrivers and a 10mm spanner? My previous machine needed one Allen key and three minutes of my time, this one has taken me ten minutes without replacing the covers!!!! The switch unit is very conveniently placed on the left end where you have to reach around a spinning disc to operate it or have the belt spinning toward you and throwing muck in your face! I seriously hope it blows up soon so that I can throw it away in cold blood. Star rating? Minus six.
---
par : brian ewins
2017-03-08T00:00:00
simple pictorial assembly instructions are clear and easy to follow to get the machine up and running. The belt sander work/rest stop needed a bit of manual '' adjustment'' to get it straight and in line , apart from that a good, well made semi-pro machine.
---
par : Simon Chapman
2017-03-03T00:00:00
I was initially impressed by the product but during setup It became apparent that one of the plastic guards didn''t fit correctly at factory and had been re drilled to force it. This evidently cracked the part in two places. Not wanting to send the whole unit back for a small plastic part, I contacted Silverline through the website to request a part. More than a week later, no reply. Worse still I cant find any phone numbers to chase it up. Having used the machine for two minutes, a loud clunking noise was heard that physically made the machine jump once per rotation. Having investigated it, either the motor is misaligned for the whole cast iron chassis is bent. This is probably the root cause of why the plastic spark guard didn''t fit in the first place. Either way completely unusable. Its going back for a refund.
---
par : Owen Henwood
2017-03-01T00:00:00
Very good tool that is good for the finishing touches on the fabrication work of my projects. A low affordable price that makes it a very competitive machine.
---
par : Ian Holt
2017-02-13T00:00:00
I found the assembly instructions were not easy to follow. I am an engineer and following drawings is my business so it should have been easy. The fitting of the disc to the shaft is poor as the disc runs out of true because the bore is oversize and maybe not even at 90 deg to the face. In general the disc is a very poor fit. The remainder of the machine seems to be good.
---
par : nigel carf
2017-02-10T00:00:00
It does exactly what it says on the box. My only criticism is that the extraction connection is a bit awkward to fit in to a standard extraction flexible pipe.
---
par : John Howsego
2017-01-31T00:00:00
Not very good! Poor fitting parts, inaccurate table tilt / angle guide.
---
par : Walter Rinaldi-Butcher
2016-11-30T00:00:00
Very pleasing and efficient piece of equipment
---
Garantie 3 ans
Ce produit Silverline est garanti pendant une période de 30 jours à partir de la date d'achat contre tout vice de matériaux ou défaut de fabrication. Vous pouvez obtenir une garantie à vie en enregistrant votre produit en ligne. Tout bien présentant un défaut sera réparé ou remplacé gratuitement.