VC17
Étau inclinable
70 mm
---
---
En fonte
Mordaches caoutchouc de 70 mm de long d'une capacité d'ouverture de 50 mm
Tête pivotante sur 360° et inclinable jusqu'à 45°
Patins de caoutchouc empêchant de marquer les surfaces
---
Achetez en ligne
Trouver un magasin
Évaluez ce produit
11 évaluations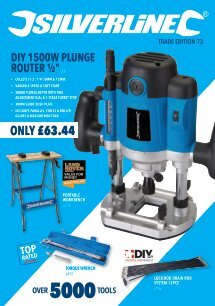 ---
Caractéristiques techniques du produit
| | |
| --- | --- |
| Finition | Peint |
| Poids du produit | 0,777 kg |
| Capacité - mâchoire | 50 mm |
---
Caractéristiques principales
Étau de table en fonte à agrafe. Mordaches caoutchouc de 70 mm de long d'une capacité de 50 mm. Tête pivotante sur 360° et inclinable jusqu'à 45°. Patins de caoutchouc empêchant de marquer les surfaces.
---
Évaluations de clients
par : Angus M
2019-12-07T00:00:00
Arrived in good time and has proved to be a versatile and useful piece of equipment.
---
par : Donald W
2019-06-01T00:00:00
Good quality and seems better than one of the cheaper version I had bought before at game fare stall as it split on me
---
par : Salvador T
2019-05-29T00:00:00
Soy un aficionado tardío al bricolage. No dispongo de mucho dinero para esta afición. Por este motivo expreso mi gratitud al diseñador de este accesorio, que aporta grandes capacidades de utilización a un precio más que razonable, increíble: sólida fijación a la mesa de trabajo; infinitas posiciones de las mordazas, sobre la base de la articulación esférica; y apertura de las mordazas suficiente para la mayoría de los trabajos que puedo realizar, constituyen valioso argumentario para el producto que he adquirido con mayor convencimiento.
---
par : Salvador T
2019-05-11T00:00:00
el diseñador de este artículo (vice ángulo multi) conoce las necesidades que tienen los trabajadores profesionales de la carpintería y los aficionados al bricolaje. Lo demuestra esta pequeña gran herramienta auxiliar, que tantos problemas ayuda a resolver. Tantos, que yo que soy un principiante, todavía no he descubierto ni la mitad. Gracias, diseñador!!!
---
par : Edwin
2019-01-26T00:00:00
Excellent quality and great design.
---
par : Edwin
2019-01-19T00:00:00
Good quality and great design at a reasonable price.
---
par : Fabio C
2018-11-20T00:00:00
Very valid and functional product, used for production and restoration of knives. Highly recommended
---
par : David B
2017-06-04T00:00:00
Top item will by more of these from SILVERLINE.
---
par : James I
2017-01-05T00:00:00
Excellent and versatile tool that helps me a lot with my carving. I would recommend it to anyone.
---
par : Massimo R
2016-10-10T00:00:00
Good for those who need a multi purpose tool on their workbench. Materials are good, not excellent, but the price is fair.
---
par : Jack F
2016-09-05T00:00:00
Absolutely perfect for the intended purpose - re-gripping golf clubs. Holds club firmly in place and with the rubber inserts does not damage the club shaft, even with graphite shafted clubs. Obviously has many other uses but for my purposes it is excellent. Very good value for money.
---
Garantie à vie
Ce produit Silverline est garanti pendant une période de 30 jours à partir de la date d'achat contre tout vice de matériaux ou défaut de fabrication. Vous pouvez obtenir une garantie à vie en enregistrant votre produit en ligne. Tout bien présentant un défaut sera réparé ou remplacé gratuitement.