151205
Ratel spankopsleutel
10 en 13 mm spankoppen
---
---
Chemisch gezwart metalen lichaam
Dubbele kop voor de meeste 10 mm en 13 mm spankoppen
Omkeerbaar ratelmechanisme
Duurzaam rubberen handvat
11 tanden/6 mm punt, 12 tanden/6 mm punt
---
Koop online
Vind een handelaar
Beoordeel dit product
3 review(s)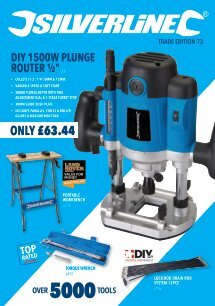 ---
Product specificaties
| | |
| --- | --- |
| Gewicht | 0,105 kg |
| Afwerking | Geverfd |
---
Product beschrijving
Chemisch gezwart metalen lichaam met dubbele kop voor de meeste 10 mm en 13 mm spankoppen. Duurzaam rubberen handvat. 11 tanden/6 mm punt, 12 tanden/6 mm punt.
---
Doos inhoud
---
Klanten reviews
Door: Paul C
2018-12-23T00:00:00
Really pleased with item, fast delivery and good value
---
Door: Matt m
2017-03-13T00:00:00
Brilliant chuck key well worth the money and durable
---
Door: Ronnie T
2016-09-05T00:00:00
I love this ratchet Chuck Key as I a a disabled Veteran with limited use of my left side and hand. I cant hold a standard one let alone turn it to tighten the drill head. The ratchet chuck means I can now do DIY on my own without the need to either put my drill in a vice or get some one to change the bits for me. It has made me a little more confident that I can now go out in the garage and work by myself on my car when drilling is needed. So far I have fitted new shelves in my garage, drilled metal parts and also a few things around the house. It is a bargain item for priceless tool for me.