225127
7-delige zeskant bit set met 3/8" aandrijving
Zeskant 3 - 10 mm
---
---
Gepolijste, chroom vanadium stalen doppen
Geharde S2 zeskant bits
3, 4, 5, 6, 7, 8 en 10 mm
---
Koop online
Vind een handelaar
Beoordeel dit product
7 review(s)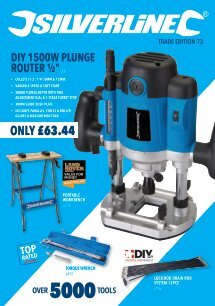 ---
Product specificaties
| | |
| --- | --- |
| Afwerking | Volledig gepolijst CRV met gekartelde ring, satijn bits |
| Gehard | Gehard en gesmeed |
| Gewicht | 0,323 kg |
---
Product beschrijving
Geharde zeskant bits met satijnafwerking, in gepolijste, chroom vanadium stalen doppen met vierkant aandrijving. Inhoud: zeskant 3, 4, 5, 6, 7, 8 en 10 mm.
---
Doos inhoud
7 x zeskant bits (3, 4, 5, 6, 7, 8 en 10 mm)
---
Klanten reviews
Door: Jack C
2019-06-10T00:00:00
This is just one of many bits of Silverline now in my toolbox. I''ve been very impressed with Silverline tools, especially for the price point. So much so that I rarely look at other brands these days if there''s a Silverline offering available. Bought these for the 7mm to do my brakes - did the job, no rounding off which I was worried about because they were done up excessively tight by the previous owner! Would definitely recommend!
---
Door: Ash
2018-12-15T00:00:00
I am very fond of this little set. It looks good quality and it is very durable
---
Door: Ali
2018-07-26T00:00:00
I''m professional mechanics use silverline tools for the price this tool''s is very good and done the job.no complane.
---
Door: Barry R
2017-11-28T00:00:00
Absolutely awesome tools as always from silverline!!!! Will always shop with silverline and recommend them to all I know !! Thank you silverline !!
---
Door: Laurie N
2017-04-05T00:00:00
Only used two of the bits so far for bicycle maintenance. most have been perfect, but for pedals that require a good bit of elbow grease and is awkward to tighten whilst everything is trying to spin, the hex drive used has shown some signs of premature wear after just one use.
---
Door: Tom P
2017-02-15T00:00:00
Well made and great value for money
---
Door: Justin S
2016-09-09T00:00:00
Really can''t moan at the price of these for the quality! Up there with the best with out a doubt. All the sizes in one handy storage pack too. Definitely recommended