282625
Accu en lading tester
6 V en 12 V
---
---
Voor huis en werkplaats gebruik
Geeft een nauwkeurige meting van de conditie van een accu
Geschikt voor 6 V en 12 V loodaccu's
2 x 300 mm kabels
---
Koop online
Vind een handelaar
Beoordeel dit product
11 review(s)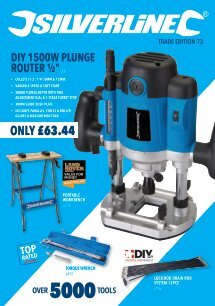 ---
Product specificaties
| | |
| --- | --- |
| Nauwkeurigheid | 0,1 |
| Capaciteit - maximale last | 1000 CCA accu |
| Klemmethode | Veer |
| Afwerking | Zwart oxide |
| Hoofdhandvat afwerking | Getextureerd |
| Veiligheidsinformatieblad | Nee |
| Materiaal - beschermkap | Staal |
| Materiaal - secundaire constructie | Draad geleider CCA |
| Materiaal - punt | Koper gecoate aansluitingspunten |
| Maximale Ah waarde | 1000 |
| Minimale Ah waarde | 200 |
| Overbelasting bescherming | Nee |
| Gewicht | 0,938 kg |
| Bereik | 0- 16 V, 0 - 1000 CCA |
| Resolutie | 0,2 V, 200 CCA |
---
Product beschrijving
De accu en lading tester geeft een nauwkeurige meting van de conditie van een accu. Geschikt voor 6 V en 12 V accu's. Het apparaat is tevens te gebruiken voor het testen van laadsystemen. Kabellengte: 2 x 300 mm.
---
Doos inhoud
Instructies
1 x accu ladingtester
---
Klanten reviews
Door: I J
2020-04-20T00:00:00
A very good sturdy tool. Easy to use for someone who is not technically minded.
---
Door: Paul F
2020-01-31T00:00:00
Fantastic saved me a whole load of wasted money on a new Battery when this tester pointed me in the right direction. Recommended.
---
Door: Ian H
2019-09-28T00:00:00
Purchased this item to determine the condition of my golf trolley battery, it showed mine was completely shot. Product is well made, a great price and free delivery. Perfect!!
---
Door: Mike R
2018-02-24T00:00:00
A very useful piece of kit, especially at this price. I have 4 batteries on my boat and a similar number on the public trip boat I skipper, and like all boaters, keeping them in a good state is an on-going task. This low-cost tester makes it easy to observe the condition. Gets hot so read the instructions carefully! Great price and excellent delivery service.
---
Door: Mike R
2018-02-24T00:00:00
This does what it says on the tin - so read the tin carefully! It is a single stage charger so does not treat your batteries as well as a multistage does. But, for a quick re-charge, does the job. Good price and rapid delivery.
---
Door: Edmund T
2017-05-09T00:00:00
The product looks very well built and very straight forward to use. I have tested it on two of my sit on mower batteries and it works perfectly. Considering some other makes cost up to £50, this is very good value for money.
---
Door: William
2017-03-31T00:00:00
Ottimo prodotto! Molto utile e indispensabile per conoscere lo stato attuale della vostra batteria. Il test di carico è importantissimo perché anche se la batteria è carica, non è detto che sia in grado di avviare il motore. Acquisto consigliato!!
---
Door: Dave
2017-02-17T00:00:00
Very solid construction, spring-loaded test button, so you limit test time. Diagnosed my battery as good and it is. The fault was the starter. So saved me buying a battery I didn''t need.
---
Door: Christophe J
2016-10-10T00:00:00
Work fine for my motorbike repair garage. I use it quite usually.
---
Door: Trevor G
2016-10-10T00:00:00
I have found my Battery Tester a great asset to my tool collection. With the winter months fast approaching Battery quality is of paramount importance so by carrying out regular checks using my Tester enables me to ensure that I, plus my friends and family have a reliable Batteries fitted to our vehicles. A great piece of kit.
---
Door: John B
2015-06-27T00:00:00
Recieved yesterday &amp used on my Mobility Scooter 12 volt 75AH batteries today gives all the information I required on both battries.