868731
Lasmagneet
---
---
Krachtige magneet
Houdt werkstukken in een 45°, 90° of 135° hoek vast
Houdt het werkstuk stevig op zijn plaats
Maakt onbeperkt gebruik van handen mogelijk voor nauwkeurig en nauwkeurig werk
Te gebruiken voor laswerk, soldeerwerk, samenstelling en pijpinstallatie
---
Koop online
Vind een handelaar
Beoordeel dit product
10 review(s)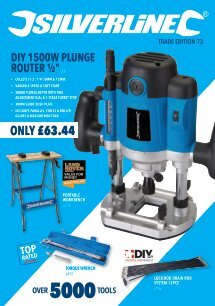 ---
Product specificaties
| | |
| --- | --- |
| Hoek | 45°, 90°, 135° |
| Capaciteit - gewicht | 13 kg |
| Afwerking | Geëmailleerd |
| Gewicht | 0,625 kg |
---
Product beschrijving
Krachtige magneet voor het in plaats houden van werkstukken in een 45°, 90° of 135° hoek, zodat u beide handen vrij houdt voor laswerk, soldeerwerk, samenstelling en pijpinstallatie.
---
Doos inhoud
---
Klanten reviews
Door: Enrique G
2020-06-04T00:00:00
Esta escuadra magnética es excelente. Potente imán, válida para multiples usos, además de soldar. Resistente.
---
Door: Enrique
2020-06-04T00:00:00
impressive magnetic power, very useful. can''t work without it.
---
Door: Nick
2019-11-16T00:00:00
Good quality and powerful magnets for the price. Useful for welding as well as many other things involving working with metal.
---
Door: Fabio
2019-11-15T00:00:00
Benissimo. Funziona alla grande
---
Door: VILLETET
2019-10-25T00:00:00
solide et efficace, fait le boulot.
---
Door: John
2018-12-10T00:00:00
A good strong well-made magnet wouldn''t be without them, they are the second pair of hands you always need, you can use them for holding tools, nuts bolts, screws so they don''t roll off of the bench, hold your work at the angle you require for marking out or welding.
---
Door: Luigi R
2018-10-23T00:00:00
great product, arrived on time, excellent quality. I highly recommend it. I am very satisfied
---
Door: Mark H
2018-06-30T00:00:00
Got these magnets for welding a lot of frames together and are great very strong holds the pieces together firmly so can get a good tac of weld on great piece of kit.
---
Door: Paulo V
2017-09-22T00:00:00
---
Door: Jürgen H
2017-05-07T00:00:00